TV Review: Little Women (BBC1)
Plus: Snow Bears (BBC1)
Sean O'Grady
Tuesday 26 December 2017 14:21 Comments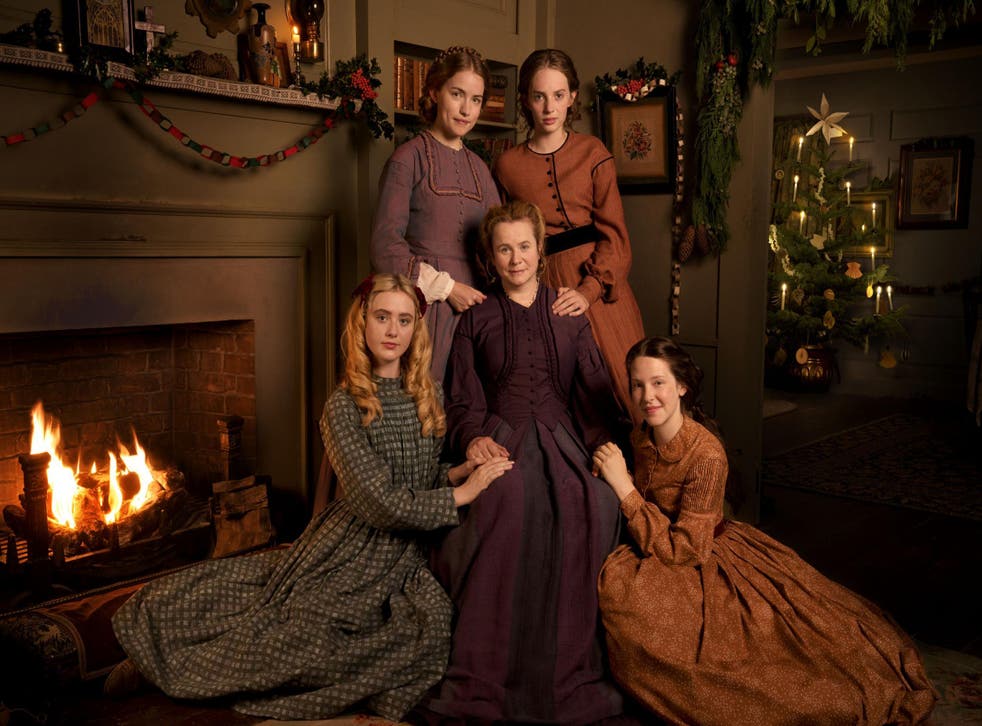 Now I'm probably not what you'd call the "core audience" for a television adaption of Louisa May Alcott's celebrated novel Little Women (more a Planet of the Apes sort of chap, me, if you see what I mean). Still and all, I did wonder how anyone could sit through the first half of this piece of up-and-down routine do-it-by-numbers frankly lazy exercise in costume drama.
A good half-hour or so was spent on the young March sisters of the tale setting themselves up as dutiful, generous and fiercely patriotic good-goodies, their mum Marmee (Emily Watson) naturally out good-goodying them with her husband/their dad away fighting for the right side in the American Civil War (that's for Abe Lincoln, for the Union and against slavery, in case any Trumpites are in any doubt). Emily Watson has the sort of face that doesn't have to do very much to evince feelings of empathy in an audience when she's in any role, but even her natural appeal was left a bit cloying. One day maybe they'll let her play a right bitch instead of those put-upon types she usually gets. I digress.
The tedium left my mind wandering far away, to spreadsheets and production schedules, and agents' fees, and imagining what it must have cost the BBC to assemble such a strong cast, and to recreate such perfect historical scenes, all, of course, suitably snowy. Either they were extremely lucky with the weather or an industrial quantity of artificial snow was lavished on set.
I was less distracted by the scenes with the legend that is Michael Gambon (Mr Laurence), who at first seemed like a promising sort of old sod, but his cantankery was witnessed all too fleetingly I'm afraid, and was softening badly by the end. Of course I was also delighted to see Angela Lansbury (as the fearsome Aunt March), still fit for dramatic purpose at 92. These days she bears a curious resemblance to Hillary Clinton, but I'll let that pass.
I own up to being curious about dates, history and trivial stuff, and, being a bit bored, I reached for the old iPad, as you do, and looked up when Angela Lansbury's grandfather, the one-time leader of the Labour Party, George Lansbury, was born. Sure enough, he himself arrived back in 1859. That's about a decade before Little Women was published, and just before the American Civil War started. How about that? That was more interesting than what was going on on screen. (Lansbury, by the way, was Labour leader in its very worst historical phase, from 1932 to 1935. He was a firm socialist and somewhat naïve pacifist. No further comment).
Anyway, one of the few benefits of having put Little Women (the book) down almost as soon as I picked it up at school a very long time ago is that I can't recall much about what happens in it, so I was pleasantly surprised when fratricidal war suddenly broke out among the sisters, and the evidently evil Amy (nicely rendered by Kathryn Newton) burned the novel that Jo (Maya Hawke) was writing with such application, her hopes invested in it. Then came the moment where Jo saved her sister's life, and they seemed reconciled, and they, Meg (Willa Fitzgerald and Beth (Annes Elwy, the most freckly person on television, ever) started getting interested in boys and this boy started getting bored again by the little women.
If this version of Little Women proves anything it is that chucking decent actors, some famous names, a classic novel and a substantial sum of licence-payers' cash at a project is not enough to make it succeed, on any level except the cinematography. The only real redeeming feature was that – and here I return to my notion of its core audience – it worked as a sort of sumptuous televisual wallpaper, ideally suited to a Boxing Day evening when no great mental or physical effort should be asked of any viewer. Best consumed, in other words, through intermittent drinking, grazing and dozing.
Do you ever wonder what goes through a polar bear's mind? Evidently the BBC did, and was kind enough to tell us in Snow Bears. This followed a fairly standard formula for wildlife shows – take a year in the life of some creature, probably a "family", and watch how they conquer, or not, the challenges of life. Invariably there are "children" involved, and this was no exception. Mum plus her two cubs awoke from hibernation in the spring and set about getting as far north as possible before the ice broke up and they'd be left on the island of Svalbard, ironically too hot for comfort and with insufficient food.
So we had a good race against time theme going on, and an awful lot of time involved mum and the cubs (one boy, one girl) racing to get away from the various randy male polar bears who apparently spend weeks stalking a prospective mate, whether she's up for it or not. The cubs, by the way get, eaten during this process.
Access unlimited streaming of movies and TV shows with Amazon Prime Video Sign up now for a 30-day free trial
Sign up
All this was great, but I wondered if it was entirely necessary for the voiceover to overlay what is, basically, survival instinct and simple bear-level mental reasoning, with a sort of Disneyesque anthropomorphic overload about their motivations. I doubt that "mum" ever thought to herself, "the family can't afford any more hold-ups" or, after one of the cubs messed up her ambush of a tasty ringed seal, she thought it "time for a bit of discipline, polar-bear style" on her lad, but what do I know? It's Christmas 2017, after all, and very likely there'll soon be no more of these magnificent beasts left in the world by, say Christmas 2117, so we may as well anthropomorphise to our heart's content in the meantime because we all know global warming will finish them off. It's just as well that polar bears don't know what's going through the humans' minds right now. Happy Christmas.
Register for free to continue reading
Registration is a free and easy way to support our truly independent journalism
By registering, you will also enjoy limited access to Premium articles, exclusive newsletters, commenting, and virtual events with our leading journalists
Already have an account? sign in
Join our new commenting forum
Join thought-provoking conversations, follow other Independent readers and see their replies