TV Review, The Split (BBC1): Taking pleasure from watching people tear themselves apart
Plus: Cunk on Britain (BBC2)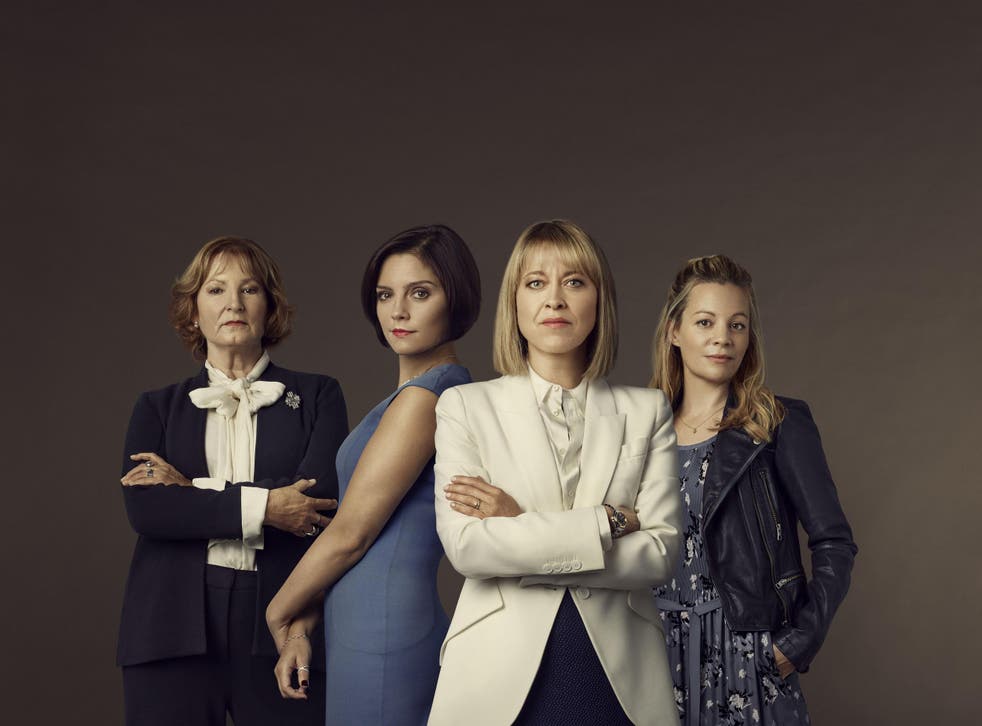 "Do you enjoy watching people tear themselves apart?" an uncomprehending civilian asks one of the many divorce lawyers during the opening episode of The Split. It was obviously intended to be some sort of put down, but the question might have been better directed to the audience who, me included, were watching this drama mostly on the basis that they would indeed be enjoying watching people tear themselves apart; nothing wrong with it, either, and if it was good enough for Shakespeare then it's good enough for BBC1.
Such enjoyment was lavishly provided during the course of the first 60 minutes of this six-part series, with a quite bewildering string of rows, divisions and schisms. Taken together the characters were much the most fissiparous bunch to be gathered together since the last time Ukip tried to have a party conference.
Where to start? Well, why not the central figure of Hannah, played with her usual accomplishment by Nicola Walker. Hannah Stern is a sort of humanoid family lawyer; one who prefers, apparently, to see her clients reach more or less civilised agreements about the kids and the house, as opposed to racking up vast fees by finagling them into the courts, which I was surprised to learn is actually unethical, if not illegal (or unlawful. I can never remember which). She split from her mum and sisters' "old fashioned family solicitors" practice to go and work for some vast corporate mob. Her mum and sister didn't like that and they spend quite a lot of time trying to undermine her marriage to the slightly smug Nathan (Stephen Mangan) and to poach her wealthy corporate clients. She, in turn, seems perpetually on the verge of adultery with a handsome chap in her office. He, on the other hand, might also be after her sister, the one who is after Hannah's husband, and Hannah's bloke looks like he doesn't mind the attention. Soon, I'm guessing, they will all be jumping in and out of bed and then tearing each other apart for our entertainment.
I should also throw in, as the scriptwriters so evidently did, that her mum (Fiona Button) and dad (Anthony Head) split up when Hannah was seven, and he's just turned up, randomly, to freak the girls out and, in due course, help them to tear each other apart all over again. Just like he did when he walked out ("to buy a paper") on them three decades ago: "My father died that day," as Hannah tells her very much alive and very much shameless daddy. Hopefully he'll get into a right old barney his ex, the "doyenne of family lawyers", and formidable matriarch. I shall be very disappointed if they decide to get back together again in the autumn of their lives. Very disappointed. If I could I'd sue for emotional damages.
Just to add the complexity of the plotlines (and I have given you a simplified version here), we're also treated to a couple of high profile couples, also tearing themselves apart. One is a multimillionaire businessman and his long-suffering missus, who's best friend has started an affair with him. Stephen Tompkinson plays the rich cad, and, luckily for him, it's the usual emotionally repressed sort of figure he knocks off for the readies. Meera Syal is better as the wife, and the moment when she catches the bastard snogging his new bird in the lobby of the Dorchester Hotel (adding somehow to the sense of injury) was affecting.
The other celeb couple were a stand-up comedian, Rex Pope (Mathew Baynton) whose wife, funnily enough, has ran off with his best friend. The arguments centred on his new routine which comprised a series of passable dirty jokes about his ex. This was crafted partly as an act of spite and partly to pay for the split. He was represented by Hannah; her sister acted for the woman. Again this was mostly entertaining stuff about people tearing themselves apart, but there was a grotesquely unconvincing sentimental moment of contrition and reconciliation by the comic, having been sensitively nursed towards it by the saintly-but-flawed Hannah. She carefully explained to the divot how upset the kid would be when he went on YouTube to see daddy making fun of mummy's genitalia in front of a live audience at the Manchester Arena. This sickly scene, overlaid with some gratuitous soppy music, was far more uncomfortable to watch than any of the many episodes of past, current and prospective marital betrayal that made up the rest of the show. That was a real low moment for Abi Morgan's script, and I can only pray that the comic relents and blurts out something deeply obscene about the former Mrs Pope on The One Show or something, for which his weekend access to his only child will be cancelled forthwith. That'd be good.
The only thing (so far) missing from all the cruelties played out on The Split is a fight over custody of some pets, which would also add a nice element of dark humour to events. Not dignified creatures, then, such as a black labrador or a Persian cat, but something intrinsically ridiculous, like a family of long-haired guinea pigs named after the Kardashians (who might conceivably be themselves split up as a result of the breakdown in their human family's relationships – the guinea pigs I mean, not the Kardashians) or one of those hairless cats like Doctor Evil had in the Austin Powers movies. The judgement of Solomon awaits them too, I hope.
So, like a good divorce lawyer, to watch this unusually complicated drama you will need to do some preparatory work, pay full attention to the proceedings and, most essential, you have to be able to enjoy watching people tear themselves apart. I'm in.
Diane Morgan continues to excel herself as the ingénue Philomena Cunk in Cunk on Britain, a parody of those grand historical super-series the BBC does so well that it can afford to laugh at itself. Which has almost caught up with the present day. Morgan/Cunk's deadpan delivery of killing lines is one of the highlights of my week, and, in all fairness, I should fully credit the writing team behind them, led by Charlie Brooker, who used to waste his talents as a telly critic. Who else could come up with a description of the musical crazes of the 1920s as "women with Lego haircuts dancing like they were surprised"? We need Morgan and Brooker more than ever, as, in their words, Britain stands at a fork in its crossroads.
Join our new commenting forum
Join thought-provoking conversations, follow other Independent readers and see their replies