Valentine's Day 2016: Jane Austen tops poll to find most romantic line from literature, film and TV
No prizes for guessing that the romance novel queen would take the crown again
Jess Denham
Tuesday 09 February 2016 15:48 Comments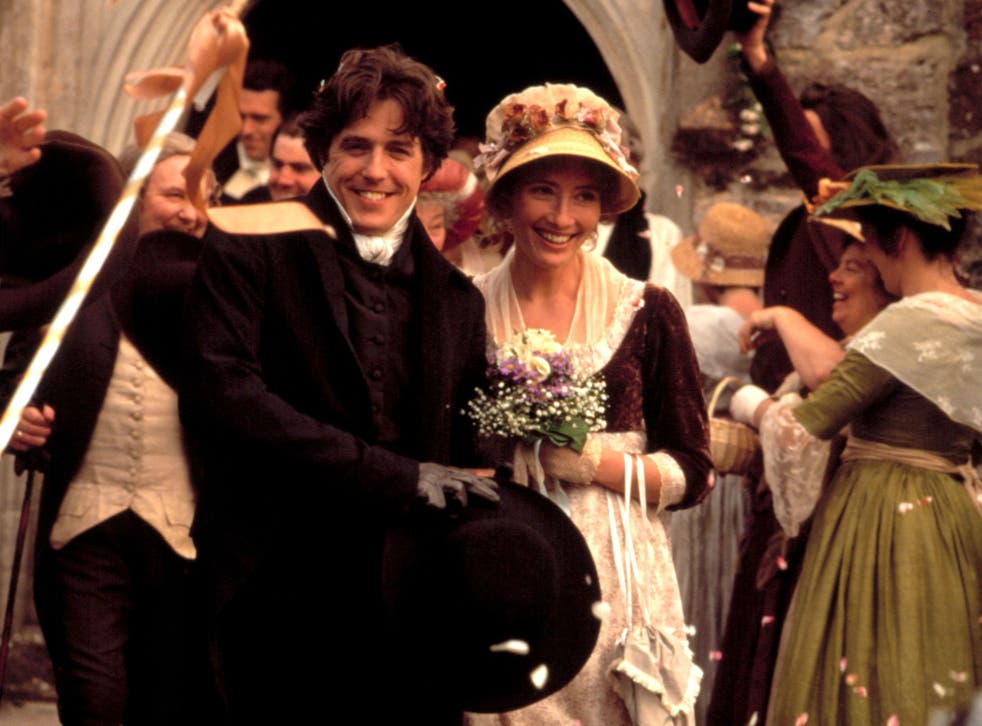 If you're planning on declaring undying love to your significant other this Valentine's Day, it's time to get practicing the following quote from Jane Austen's Sense and Sensibility.
"My heart is, and always will be, yours", said by Edward Ferrars to Elinor Dashwood in the movie adaptation of the 19th-century classic has been voted the most romantic quote from literature, film and television drama, at least according to Drama viewers.
Emma Thompson wrote the Oscar-winning screenplay for the 1995 film, directed by Ang Lee and also starring Hugh Grant, Kate Winslet and the late Alan Rickman. The line earned 16 per cent of the vote, cast by 2,000 British women polled by the channel.
Second favourite with 14 per cent was Baby's revelation of her true feelings for Patrick Swayze's Johnny in Dirty Dancing. "I'm scared of what I saw, I'm scared of what I did, of who I am, and most of all I'm scared of walking out of this room and never feeling the rest of my whole life the way I feel when I'm with you," Jennifer Grey says, shortly before that raunchy "Cry To Me" bedroom scene.
Best and worst romantic movies

Show all 20
Jack telling Rose "promise me you'll survive" before he freezes to death in Titanic came third with 11 per cent (bit awkward given doorgate, but hey) while the adorable end to When Harry Met Sally placed fourth with 11 per cent.
"When you realise you want to spend the rest of your life with somebody, you want the rest of your life to start as soon as possible," Billy Crystal's Harry told Meg Ryan's Sally on New Year's Eve, as the world wept.
Rounding out the top five with 10 per cent of the votes was "Whatever our souls are made of, his and mine are the same" from Emily Bronte's Wuthering Heights.
Other contenders for the soppy crown were Julia Roberts telling Hugh Grant that she's "just a girl, standing in front of a boy, asking him to love her" in Notting Hill; Colin Firth's Mr Darcy telling Jennifer Ehle's Elizabeth Bennet how "ardently he admires and loves her" in the BBC's Pride and Prejudice; and Gabriel Oak telling Bathsheba "at home by the fire, whenever you look up there I shall be" in Thomas Hardy's Far From the Madding Crowd.
On a less romantic note, that arguably creepy moment with the placards from Love Actually also made the cut, despite researchers recently suggesting that such scenes risk reinforcing the "stalker myth".
Register for free to continue reading
Registration is a free and easy way to support our truly independent journalism
By registering, you will also enjoy limited access to Premium articles, exclusive newsletters, commenting, and virtual events with our leading journalists
Already have an account? sign in
Join our new commenting forum
Join thought-provoking conversations, follow other Independent readers and see their replies