Vantablack - the blackest black: Leading sculptor Anish Kapoor announces plans to use new substance
Vantablack was first created by Surrey NanoSystems - who say they are delighted by Sir Anish's interest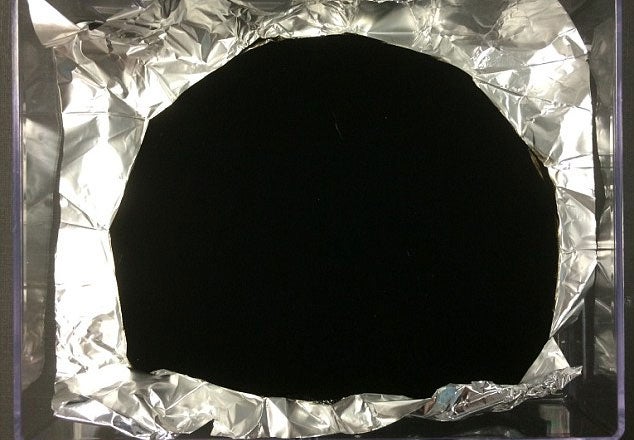 In July British scientists unveiled the creation of a "super black" – a substance so dark that according to some it looks "like there's nothing there."
Now, acclaimed British artist and sculptor Sir Anish Kapoor has said he plans to use the "very expensive" material in his latest installation.
Speaking to Dazed online, Sir Anish said: "The material is astonishing, so deeply black that your eyes can't really see it at all," Kapoor said.
"It is like staring into the kind of black hole found in outer space."
Born in Bombay Sir Anish has lived and worked in London since he was a student here, first at Hornsely College of Arts and later at Chelsea School of Art and Design. In 2013 he received a knighthood for services to visual arts.
His hypnotic, disorientating work would – some say – be perfect for the Vantablack substance.
Created by a British company Surrey NanoSystems earlier this year, the material is so black that is absorbs all but 0.035 per cent of visual light – a new world record.
It is so dark the human eye cannot understand what it is seeing.
Chief technology officer of Surrey NanoSystems Ben Jensen said: "Vantablack is a major breakthrough and we think it could change the way we see the universe.
"We are delighted that an artist of Anish Kapoor's stature and reputation is interested in exploring its possibilities in the creative sphere."
Vantablack works through carbon nanotube, grown on sheets of aluminium foil, which are so tiny (10,000 times thinner than a human hair) that light particles cannot get into them, although they can pass into the gaps between. Once there, however, all but a tiny remnant of the light bounces around until it is absorbed.
When the substance was first shown to the public - back in July - Mr Jenson said: "You expect to see the hills and all you can see … it's like black, like a hole, like there's nothing there. It just looks so strange".
Join our commenting forum
Join thought-provoking conversations, follow other Independent readers and see their replies