Where do your hair extensions come from?
Victoria Melody's one-woman show 'Hair Peace' took her on a journey across the globe to find out where, and who, her hair extensions came from
Victoria Melody
Tuesday 31 May 2016 14:01 Comments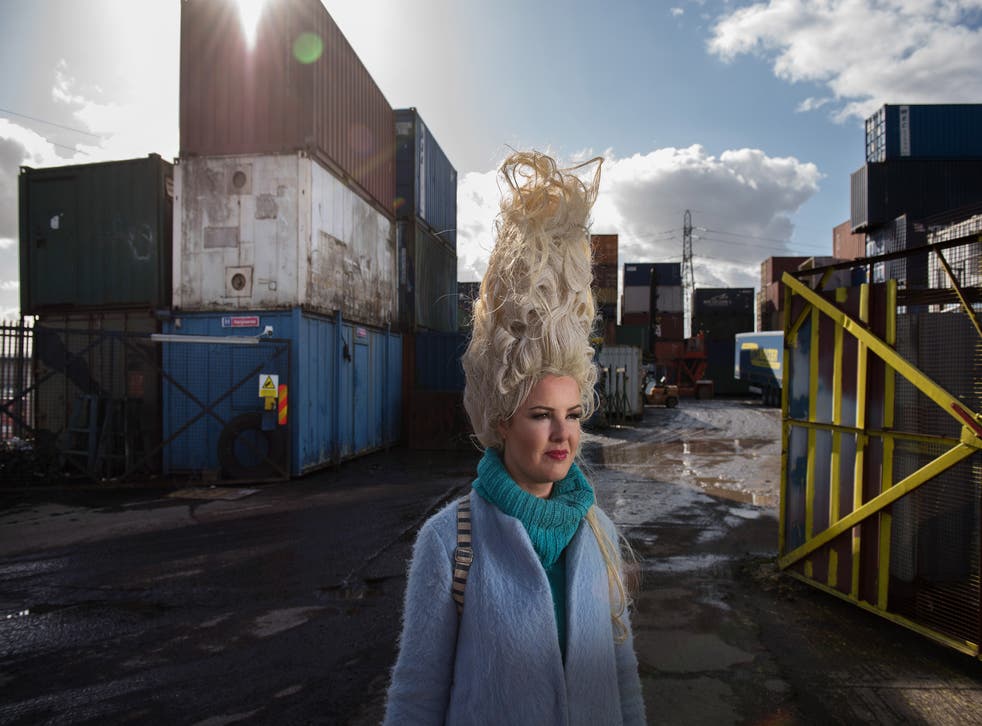 A hairdresser inspired this journey.
I make films and theatre shows mainly about Britain's pastimes, passions and tribes. Fascinated by anthropology, I immerse myself into communities and become an active participant in their rituals as research for my work. In the past I have become a pigeon racer, a northern soul dancer, a championship dog handler, a beauty queen and I'm currently in training to become a funeral director.
My current show Hair Peace is an investigative comedy that spirals out from my previous show Major Tom, a true story about me entering my basset hound Major Tom into dog shows and myself into beauty pageants, winning Mrs Brighton.
To look like a genuine beauty queen, I needed to undertake some changes. My friends did double-takes; fake tanned within an inch of my life, hypnotised to imagine I had a gastric band and bleached blonde to boot.
At the hair salon I was told that to cut it as a beauty queen I needed hair extensions. The hairdresser didn't know where the hair was from, but chirped: "It's just like wearing another woman's knickers that have been washed." No, I replied, it's like wearing another woman's real fingernails!
During my reign as Mrs Brighton, I was given three sets of extensions: one from India, one from Russia and a mystery set. Curious to find out where this hair came from, I set out on a mission to find faces in a faceless industry.
After speaking to people from around the world about the hair trade, working with academics at Warwick University and going into schools and hairdresser salons here in the UK, my first stop was India.
Hair is a huge export for India. Most of the hair comes from South Indian temples where men, women and children shave their heads in a Hindu ritual. The temples sell the hair on to factories in a strange reverse of the egoless act of the initial act.
Through translators and the wonders of social media, I found a woman called Neeharika and accompanied her on a pilgrimage to have her head tonsured (shaved). Her story became crucial to the show.
Next stop Russia, where hair dealers drove me to rural villages to buy hair straight off of women's heads. This was a much less idealistic transaction about hard cash and necessity.
Russian hair is the most sought after because unlike Indian hair it is virgin – not bleached or coloured. I visited Russia's only hair factory where the owner told me there is not enough supply to meet demand, they are running out of hair.
Jenya had been growing her hair for 19 years, it hung thick and shiny down to her bum. The dealer paid her £30. I didn't have the heart to tell her my Mrs Brighton Russian hair extensions cost me £1,000.
Facts are often so much more interesting and bizarre than fiction. Hair is measured in kilograms and sold in bales, like hay. It's dehumanised. No one needs to visualise the person whose hair it was because it arrives neatly packaged. The path is laid for this big business, because they've removed the humanity.
Hair Peace returns the human stories to this industry. The humour is not only in the absurd but also from watching me adrift in other people's worlds. It is comedy with social conscience and self-conscious extensions.
'Hair Piece' by Victoria Melody is at the Battersea Arts Centre, London, from 13 to 25 June
Register for free to continue reading
Registration is a free and easy way to support our truly independent journalism
By registering, you will also enjoy limited access to Premium articles, exclusive newsletters, commenting, and virtual events with our leading journalists
Already have an account? sign in
Join our new commenting forum
Join thought-provoking conversations, follow other Independent readers and see their replies