Downton's Jim Carter on the Skiffle star who shook his young Yorkshire soul
Jim Carter, best known as Mr Carson, talks about interviewing some of the greats of Rock about the king of skiffle, Lonnie Donegan, who inspired them all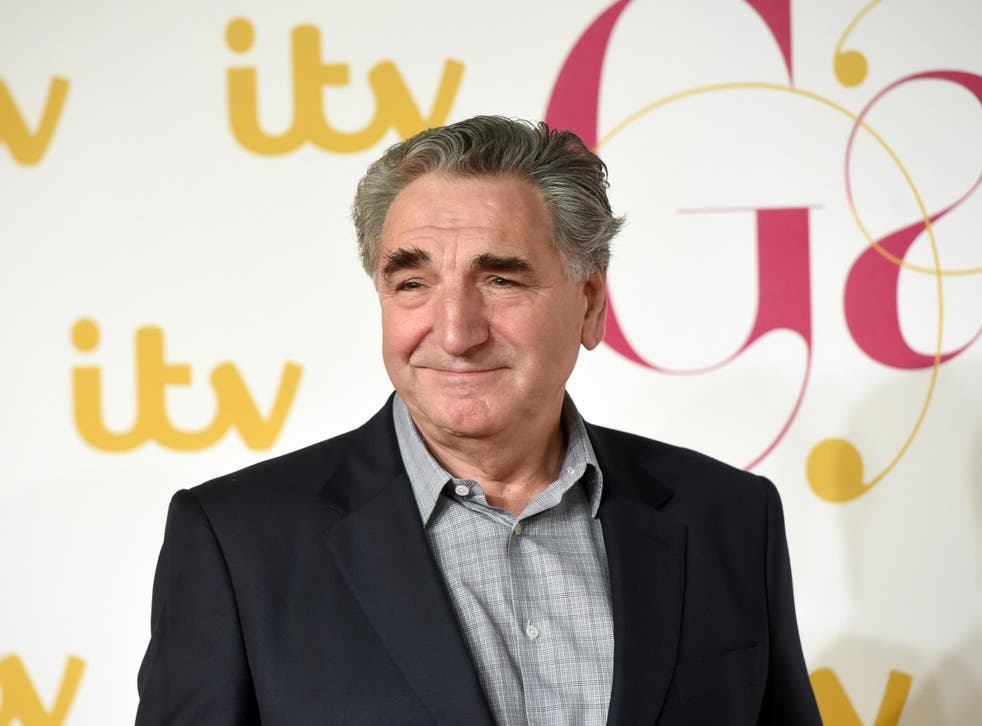 Downton Abbey may have finally shuttered its giant oak doors, but Jim Carter (aka killjoy butler Mr Carson) is still stuck in the past – but happily so.
The actor spent much of his scant downtime during the production of last year's final series tracing the footsteps of his hero, filming an ITV documentary, Lonnie Donegan And Me. At 67 years old, Carter is still flying the flag for the musician who shook his world as a rock'n'roll-loving child in smalltown Yorkshire. Donegan was the "king of skiffle", a revolutionary whom Carter considers too-often forgotten and/or misjudged in the annals of British music.
"Elvis was a contemporary of Lonnie's, but Elvis was unobtainable. He was American, he was super sexy, he was cool. He was from an alien plant," begins Carter by way of explaining his adolescent passion for the Scots-born Londoner who played a mean, urgent guitar and sang with a blistering, yodelling voice. "But Lonnie was one of us. He was homegrown, but singing that Lead Belly [blues] stuff. And he didn't sound pastiche. He sounded authentic."
Growing up in Harrogate, "the quite conservative north", Carter heard the promise of another world in Lonnie's multiple hit singles (a run of 17 UK Top Tens in the late Fifties).
"I was so lucky being born in 1948 – I caught the timing of being a teenager just right. The youth market didn't exist before me, really. And there was a feeling when you heard his music that, God, there's a whole world out there."
He wasn't the only Fifties kid having his ears blown. In the documentary Carter interviews an star-studded roll-call of fellow fans.
"You wanted to be in a skiffle group and Lonnie was the megastar – 'I wanna be like that,'" enthuses Sir Paul McCartney. "After Lonnie, rock'n'roll happened – Buddy Holly, Elvis, all the rock'n'roll stars, and we emulated that," he adds, reminding us of the seeds of The Beatles in a Liverpool schoolboy skiffle band called The Quarrymen. "All the kids in school and all your friends in the street all tried to form a skiffle band. I became the bass player of a tea-chest bass – made quite a good noise."
"We owed him a great debt that he made it easy for us," acknowledges Ringo Starr. "A lot of us got out of the factory thanks to Lonnie."
The reverberations were also felt down south where west Londoner Roger Daltrey was so inspired by Donegan's playing that he made himself an acoustic guitar. And they were felt in Belfast, where a young Van Morrison was transfixed by Donegan's 1955 breakthrough hit "Rock Island Line". He describes hearing the song on a 78rpm record bought by his dad, as like experiencing "a bolt of lightning… I can't explain it… At that point, as soon as I heard it, something changed."
Jack White is another fan. Carter travelled to Nashville to hear the former White Stripe sing the praises of a musician who, for all his showbiz stylings (dinner jacket, "comedy" banter) and novelty songs ("Does Your Chewing Gum Lose Its Flavour (On The Bedpost Overnight?)", "My Old Man's A Dustman"), was an explosive performer.
"The attack of the songs was wild, that wildness is rock'n'roll, that attitude is rock'n'roll," notes White. "It's really emotional and he's expressing emotions in a really wild way. That's a very dangerous place to be."
Reflecting now on the experience of paying Donegan his dues, Carter is thrilled at the experience of hearing some of the greatest names in music share his enthusiasm.
"And the great thing was, they weren't talking about themselves – they were talking about somebody they all felt they owed a debt to. And were happy to acknowledge that. That was my bonus. I could have played each interview verbatim. It was a shame to cut anything cause they had all this magic stuff to say." Indeed, one "star" interviewee was left on the cutting-room floor: Labour MP and former minister Alan Johnson.
"He and I sat in his office overlooking the Houses of Parliament, singing Does "Your Chewing Gum Lose Its Flavour?" while he played guitar," says Carter, clearly still tickled.
Donegan fell out of favour in the Sixties as The Beatles, The Stones and The Who took charge of the revolution the skiffler had helped instigate. But Carter kept the faith with the inveterate performer who plugged away till he fell ill during a UK tour in 2002, dying shortly thereafter. In his documentary he shows off his collection of memorabilia, including a signed ticket from a boozy gig in London in 1981. He also presents to camera a contemporary photograph of himself in which he is possibly drunk and proud owner of a very large moustache. Surely that had been grown for an acting role?
"No," grimaces the amiable thesp. "Oh dear," he adds with a chuckle. "I had a big moustache for a long time, from the hippie days. I looked like every 'Wanted' poster. If I went abroad, I always got stopped – 'oh look, here comes Carlos The Jackal,'" he laughs.
The final time he saw Lonnie Donegan was in 1999, at John Peel's Meltdown.
"There were lots of old farts like me in the foyer, waiting for Lonnie," he remembers. "It's a shame John wasn't alive – he was the number one Lonnie fan. He's the one who should have been doing the programme, really," Carter concludes with a below-stairs modesty of which Mr Carson would have approved.
Jim Carter: Lonnie Donegan And Me, ITV, Sunday 17th April, 10.20pm
Join our new commenting forum
Join thought-provoking conversations, follow other Independent readers and see their replies