Spice Girls exhibition: Viva Forever shows the enduring allure of Girl Power
Going back in time through merchandise and memorabilia, you can't resist the Nineties nostalgia and the glitzy brand of feminism you still wannabe part of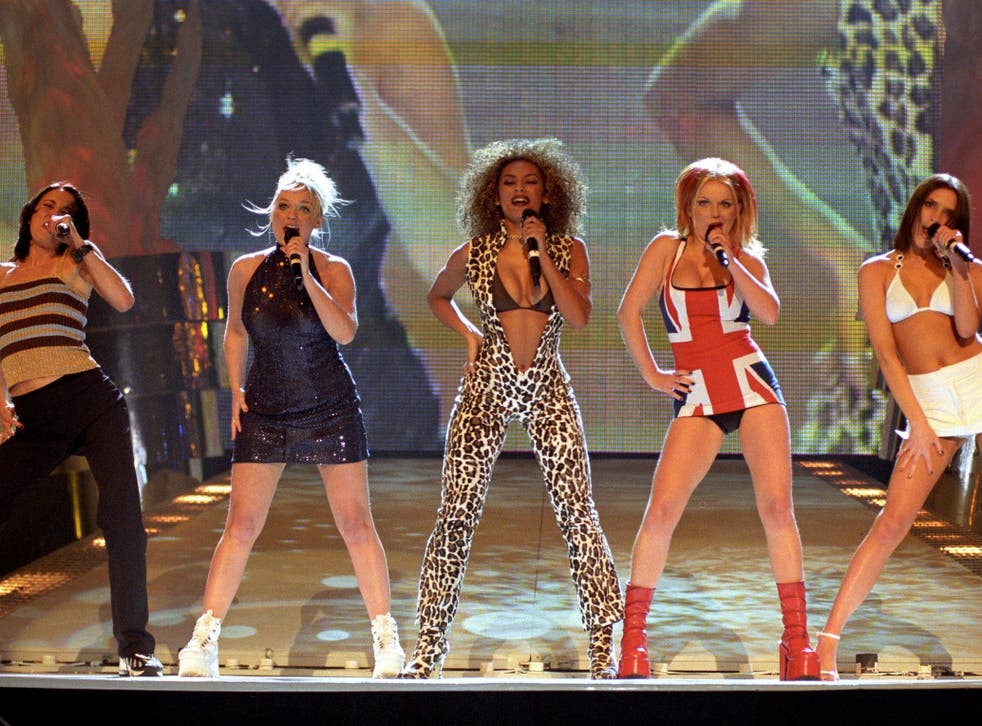 If there was ever anything you could call a phenomenon, it would be the Spice Girls.
The Fab Five entered the public's consciousness in a way not seen since The Beatles. They became the unofficial soundtrack for a genius piece of political spin known as Cool Britannia; dragged the music industry out of its male-dominated Britpop indie-funk into a cheesy pop utopia, and flourished at the intersection of music, branding and merchandise the way no other band had done before.
With the release of their unapologetically sexual, demanding and female solidarity-driven debut "Wannabe", the band rode the (originally punk) wave of Girl Power to the mainstream, managing at once to rip it from its radical roots, sound the horn of third-wave feminism, and parcel it up in a more palatable chart-topping hit that still echoes today.
For many that came before it, the radical riot grrrl movement and punk feminists, this commercialised iteration of Girl Power and band of self-confessed Thatcherites was an outrage: a watering down of political fire and a merchandised abhorrence in the place of real music. But for others, these seemingly uneducated, brash lower-middle class girls tore feminism down from its lofty academic rafters and repackaged it for the ladettes.
Feminism, as the girls so famously put it in their 1997 book Girl Power, had become a dirty word. It needed a "kick up the arse".
This tension was beautifully encapsulated in 1997, when some mad genius at The Guardian sent avant-garde feminist punk poet Kathy Acker to interview the group.
But how could I understand any of this at the time? I was only five.
For me and many of my contemporaries who adored and worshipped the Spice Girls, grew up with the spirit of Girl Power and looked to the band as our proto-feminist heroes, it can be awkward two decades later to square our Nineties childhood nostalgia with our fourth-wave feminist sensibilities.
So, when I heard that an exhibition of Spice Girls memorabilia was coming to London, I was intrigued to step back in time and look at the manufactured glitz of Girl Power that had so inspired me as a child, through the eyes of a cynical, politicised adult.
This exhibition is the brainchild of Alan Smith-Allison, another childhood devotee. He explains that as a gay teenager living in rural Scotland, he greeted the arrival of "Wannabe" and the Spice Girls message of "be yourself" eagerly.
He began collecting memorabilia almost immediately, buying his first costume in 2006, and the collection grew to an obsession when the girls reunited in 2007.
The collection now consists of an eyewatering 7,000 items, including around 300 costumes, dolls, toys, CDs, videos, magazines, mopeds, endless merchandise and even an entire mocked-up bedroom, resplendent with Spice Girls bedsheets and posters. That unforgettable double-decker bus from the (fortunately forgettable) Spice World film, borrowed from the Isle of Wight and restored by crowdfunding, is also along for the ride.
Smith-Allison now owns about 140 costume items – clearly his main love – as well as around 3,000 items of memorabilia.
He launched the #SpiceUp movement in Cyprus in 2016, which was a huge success. "Seeing how colourful and vibrant all of the costumes and memorabilia looked together, I knew we had to take the exhibition further and get more costumes and collections involved," he says.
He collaborated with Liz West: artist and Guinness World Record holder for the largest collector of Spice Girls memorabilia, with about 150 costumes and shoes. Smith-Allison also brought some of the original costume designers on the team, as well as other collectors and experts, and added to the collection considerably.
The exhibit is curated to follow their career, all the way from "Wannabe" to their appearance at the closing ceremony of the London Olympics, so you can track their development chronologically.
The costumes hang almost creepily on the mannequins, but my fangirl brain fills in the details and the backdrop setting to some of the more well known pieces.
It becomes immediately clear that Mel B, AKA Scary Spice, is his favourite. Her love of leopard print and outre style is something that Smith-Allison clearly venerates. I can't help but linger by her red PVC trench coat, which she wore to meet Nelson Mandela. Bold doesn't cover it.
There's an audible gasp and a flutter of selfies when he shows us those red sole and leopard print Buffalo boots which were custom made for her, with her name designed across the shoe. Allison-Smith explains that the B had not been cut out properly. If you look closely, you can see where Mel B had taken a marker pen to the widely expensive footwear and coloured in the B to her satisfaction.
Geri Halliwell's union jack dress (actually a tea towel sewn onto a black mini) sadly remains in Las Vegas, but her red corset with the union jack detailing from the London Olympic appearance takes pride of place here. Smith-Allison bemoans the dearth of Baby Spice costumes. Emma Bunton, he explains with chagrin, hung onto many of her most famous outfits for nostalgia reasons.
However, the sheer volume of merchandise and branding on display is overwhelming. I'm hit by a wave of nostalgia as soon as I see the Pepsi section – their first major sponsorship deal, and one of their biggest to date. Something I'd forgotten? Their collaboration with Walkers Crisps, when each Spice Girl was characterised with their own flavour, and that TV advert with Gary Lineker.
But it was their collaboration with Impulse that really caught my attention: a selection of body sprays and shower gels, accompanied by a totally naked advert.
For a young girl, seeing your favourite girl band strutting unclothed to the sound of the music that had made them so rich was an unforgettably powerful moment.
As Allison-Smith points out: "They are unique in having so much merch. They set a precedent – it wasn't just in the UK, but on such a worldwide stage: Europe, the US … so I don't think I'll ever finish the collection."
He also points to a certain defiance in their use of sponsorship. When critics claimed that the girls couldn't sing live, they performed two concerts in Istanbul, sponsored by Pepsi and screened on pay-per-view TV, so millions of fans could watch from their homes. The concert was released on VHS and became a bestseller.
Of course, the merchandise reflects the manufactured nature of the Spice Girls themselves. This was no youthful girl band that had tooled around with their instruments in someone's garage throughout their teenage years: this was a group formed in response to an advert in Stage magazine, by father and son management partnership Chris and Bob Herbert, who were decisively and – some might say cynically – planning the next big pop stars.
The group were carefully selected, put to work with choreographers and coaches, forced into cohabitation in Maidenhead and moulded into "personas".
That said, their breakthrough moment came when they rejected an unfavourable deal that their management was pushing them towards in 1995, fleeing the Maidenhead home in the middle of the night to break into Herbert's office, steal the master recordings of their songs, and escape helter-skelter in Halliwell's old banger. They called songwriter Eliot Kennedy from a payphone, eventually persuading him to let them live in his house.
This, says Allison-Smith, demonstrates the true spirit of the Spice Girls: their independence, their longing to succeed, their fearless defiance and their can-do attitude.
And he's picked his moment carefully: he says he sees a resurgence in interest and popularity concurrent with the momentum of feminism at the moment: of #MeToo, of TimesUp, of increasing transparency in the gender pay gap and heightened sensibilities regarding gender equality.
But when I ask him which side of the debate he's on: Girl Power vs Riot Grrrl, he neatly sidesteps the question, saying the Spice Girls eschewed these labels; that it wasn't about feminism, but about being who you are.
Of course, this rings a little hollow, seeing as the Spice Girls were explicitly labelled: Baby, Posh, Ginger, Sporty, Scary…
Plus, it's less about the band's intention than how their message was co-opted: who could forget in 2016, when their hit "Wannabe" was given a feminist makeover, #WhatIReallyWant, which saw women around the world calling for gender equality.
Or when, that same year, the girls became unlikely viral heroes on the discovery of some previously unseen footage: a 1997 video showing the group filming an advert for the Polaroid Spice Cam.
In the clip, you see the girls confront the (male) ad team, Pete Bradley and Marc Hatfield, who are insisting they show more skin: that would be "every man's fantasy". To which the women – the so-called Pop Tarts of the 1990s – responded: "F**k off."
So how does one square radical punk-fuelled feminism with a childhood love for the Spice Girls: Girl Power in all their glittery platform-heeled glory?
Take a leaf out of Kathy Acker's book, who wrote (almost with surprise): "I like these girls. I like being with them."
You can't help but acknowledge the darker side of the Spice Girls behemoth: the semi-creepy infantilisation of Emma B; the racist hypersexualisation and arguable misogynoir of how Mel C was represented; the demonisation of Ginger in the media after she chose independence from the group, and so on.
But then again, they were also allowed to be exactly who they were – or who they were marketed to be, anyway. Mel C became a heroine for sporty girls who also wanted to be seen as sexy and fun; Victoria became a global entrepreneur phenomenon and was always seen as the more powerful of the Beckham brand.
They demanded respect as equals, were radically sexual but resisted becoming sexually objectified, and crashed through the music industry glass ceiling, dancing as they did so.
Young women identified themselves through the prism of these fabricated "personalities" – expressing themselves as a Posh or a Baby at will – and female friendship and solidarity was front and centre: "If you wannabe my lover / you gotta get with my friends."
Indeed, the exhibition is dedicated to Smith-Allison's best friend. The pink sparkly elephant at the front commemorates Nand, who died five months to the day before the exhibition opened in London, and the project is raising money for breast cancer care in her honour.
The message Smith-Allison takes from the band? "Work hard, and try hard, be yourself, and you can do whatever you want. That's what the Spice Girls were, and always will be, forever."
​The Spice Girl Exhibition is now open at the Business Design Centre, Islington, until 20 August, and at the Manchester Central Convention Complex from 24 August to 4 September
Join our new commenting forum
Join thought-provoking conversations, follow other Independent readers and see their replies