The Turner in Margate: Art and the seaside resort that time forgot
Zoe Ettinger visits the town hosts this year's Turner Prize exhibition and explores how the arrival of the Turner Contemporary in 2011 changed the crumbling town where Tracey Emin grew up, TS Eliot wrote The Wasteland and JMW Turner loved to paint
Wednesday 02 October 2019 13:40
comments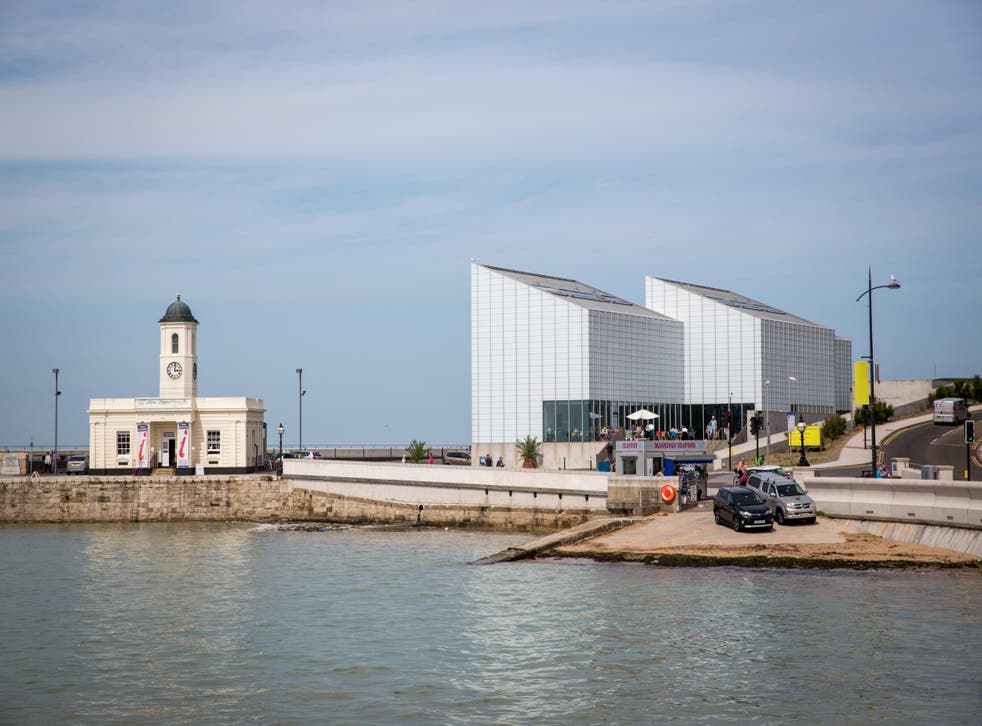 In December, the Turner Prize will be announced in Margate. It will mark an historic moment for the once nearly defunct seaside town. Since the Turner Contemporary was opened there nine years ago, the place has undergone serious change, both in structure and community.
Prior to the Turner, Margate seemed to be going the way of many British coastal resorts. Its once great tourist attraction, Dreamland, an amusement park that saw its first rides taken in 1880 had been in a state of disrepair for decades.
However, the town has remained a beacon of artist ingenuity. JMW Turner himself moved there aged 11 while his mother was treated for psychiatric illness in London. He lived in a guesthouse where the museum now stands. As an adult, he periodically returned to paint the first place he saw the seaside, and a series of his paintings entitled simply, Margate, were shown at the Tate in 2014.
Tracey Emin also grew up in Margate. Her famous 1998 work, "My bed" was exhibited at the Turner in 2017. The artist also showed the work when she was nominated for the Turner prize in 1999, but lost out to Steve McQueen, nominated for his film and video works, which included "Deadpan", a black and white silent film of Buster Keaton, the famous 1920s actor and stuntman.
Emin recently opened a studio space in Margate, which she plans to turn into a museum when she dies. In an interview with Art Magazine, she said, "The studio is big enough for a museum and I'm synonymous with Margate, so that's a nice thing to look forward to. Alright, I might be dead but I might be able to come back and rearrange a few things every now and then."
Yet for the latter part of the 20th century, the town slowly became desolate. Margate was still a fashionable resort when TS Eliot stayed there in 1921 while recuperating from a nervous strain and wrote an early draft of The Wasteland (1922). The completed poem contains the line: "On Margate Sands I can connect nothing with nothing."
But in 2010, according to the Office of National statistics, Margate reported some of the highest rates of deprivation for English seaside destinations, beating out Blackpool by a small margin.
Things have changed rapidly since the construction of the Turner, as millions were invested in its construction. It is now the largest contemporary art space in south east England.
Designed by renowned architect David Chipperfield, the outside of the building is an exemplar of minimalism and utility, composed of six interconnected white cubes. As Chipperfield said in a 2014 interview, "The one thing you can't do in architecture, at least in my opinion, is to limit your way of thinking to a style, or a material, you have to be responsive to the circumstances of a project". That he did, as the outer façade is made to withstand harsh seafront weathe​r.
Inside, the museum is strikingly beautiful, even before you reach the exhibitions. The large, modern space is in stark contrast to the town's classic seaside architecture. One glass wall overlooking the North Sea lights up the space, showing the same beauty that Turner saw there as a child.
The prosperity brought by the museum and its cultural draw has spread throughout the community.
Stores selling beach accessories line the boardwalk; there's a stand on the pier selling typical British seafood, fish and chips along with jellied eels. Just outside the train station is the recreated Dreamland, restored from dilapidation to its former glory. I spy its famous (and listed) wooden rollercoaster, the Scenic Railway. Opened in 1920, it is the oldest rollercoaster in Britain. A local artist tells me it periodically catches fire and is rebuilt. A phoenix from the ashes, it seems a fitting metaphor for the town itself.
Charles Woodham, 23, grew up in Margate. He remembers when he was a child that "the whole Margate seafront was empty. Just loads of empty storefronts. There was no touristy vibe." He says that the town "had a rough name for itself", and was hit worse than other places by the financial crisis.
However, things changed when the Turner came around. "All the money that's there now, that's new," Woodham says. Yet the initial investment in the Turner didn't receive an entirely positive public reaction. Many saw it as an unnecessary gentrification, and that the money would be better spent investing in Dreamland, says Woodham, who recalls people questioning: "Why aren't they investing in the actual issues in Margate?"
Woodham says that gentrification is still an issue, as the artist influx has increased rent prices for locals. "To Londoners it's really cheap, but when you've lived in Margate your whole life, you can't afford to live in the old town any more," he says.
Ally Blackgrove, 32, the owner of Handsome Freaks Vintage, also shared her view of the changing town. She grew up near Margate, but remembers being wary of going there past dark. "It was pretty dodgy, the stores were all dead, but in that space we sort of started our own artist community here." Years ago, she was in a band called 2 Wounded Birds, and Tracey Emin invited them to play at the opening of the Turner. She says the arrival of artists to Margate started even before the museum's opening, but was definitely bolstered by it.
The Turner certainly brought change to Margate. Suddenly, it was in the news. As it was being constructed in 2011, the Queen paid a visit to both the town and new museum, where Auguste Rodin's famous 1882 sculpture, The Kiss, was being displayed. Woodham remembers the visit as quite the event for the small town, as he played French horn in the school band that played for her arrival.
Recently, Indie rock band The Libertines, have invested in a hotel there, called Albion Rooms. They built a studio within it, and are currently recording their next album. Their space is open to be used by other artists. So far one local rapper has recorded there, but more are sure to follow.
It follows suit with the community sentiment that art should be open to all. Free arts and film programmes for deprived adults and children, as well as adults with learning difficulties have been created by a team of artists and organisations led by Anna Colin, the director of Open School East, an adult education centre.
The manager of Albion Rooms, Dean Fragile, is a friend of the band and a supporter of the open recording studio. He moved to Margate 15 years ago, and initially opened the hotel as an event space for local musicians. He remembers starting out over a decade ago when their most popular gigs would draw a crowd of 100. At the time, that was everyone in the area who was interested in music, he says.
"When I first came here it was a ghost town. All the shops were boarded up," says Fragile. "But I just sort of fell in love with the place, and that's why I bought the space". After some time, he convinced The Libertines to come visit him, and they too decided to invest in Margate. For them, the arts community was already there, the Turner just put it on the map for the rest of England.
For towns like Margate, cultural inductions like the Turner can provide much-needed prosperity. As Woodham says, "Whereas before young people just couldn't wait to get out of there, now they're going back." It's breathed new life into a community that may have otherwise disappeared.
Support free-thinking journalism and attend Independent events
Join our new commenting forum
Join thought-provoking conversations, follow other Independent readers and see their replies