Beijing hit by worst sandstorm in a decade
Hundreds of flights cancelled as Beijing faces worst sandstorm in a decade
Maroosha Muzaffar
Monday 15 March 2021 17:30 Comments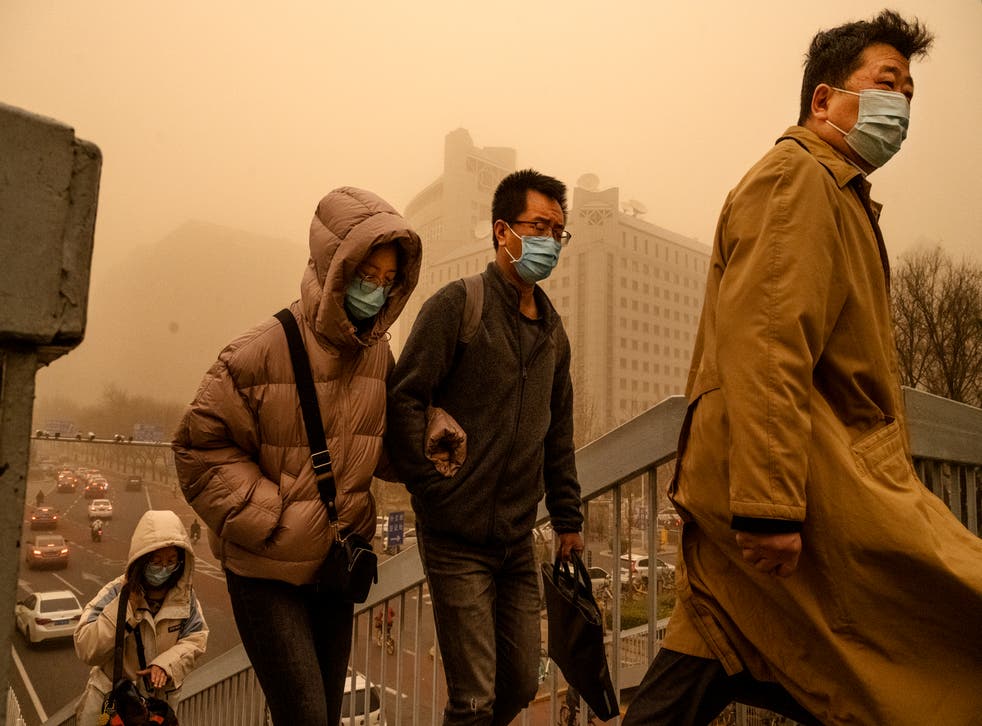 At least 400 flights were cancelled in Beijing before noon due to high winds and low visibility owing to what experts are calling the "worst sandstorm in a decade."
As per reports, the China Meteorological Administration issued a yellow alert for a sandstorm on Monday around 7:25 AM and warned citizens against any outdoor activities.
The strong sandstorm covered the city in plumes of thick, orange dust, reducing visibility in most areas to less than 1000 meters and plummeting the air quality to hazardous levels. At some places, social media users claimed that the air quality index had reached 2000. 
Many social media users posted videos of the dramatic and eerie sandstorms in Beijing and expressed worry about the already severe levels of air pollution. Some called the situation "life-threateningly bad." 
Authorities said that the sandstorm originated from inner Mongolia and other parts of northwestern China and enveloped the city in the thick dust that led to traffic snarls and cancelled flights. In Mongolia, at least 10 are reported dead and at least 341 missing. The China Meteorological Administration claimed that the storm was the worst in at least 10 years and spread into surrounding provinces of Beijing — Gansu, Shanxi and Hebei. 
Beijing officials had asked schools to close down and bus services added to reduce citizens' exposure to hazardous conditions.
The National Meteorological Center forecasted that the sandstorm would affect 12 provinces and regions from Xinjiang in the far northwest to Heilongjiang in the northeast and the eastern coastal port city of Tianjin, reports said. In a post on its website, the centre said that "this is the most intense sandstorm weather our country has seen in 10 years."
Reuters reported that the "tops of tower blocks in central Beijing were visible on Monday morning, and commuters could be seen wearing improvised headwear to protect their faces and hair." One Beijing resident Flora Zou, 25, told Reuters, "It looks like the end of the world. In this kind of weather I really, really don't want to be outside."
Meanwhile, flights have also been grounded in Hohhot, the capital of China's Inner Mongolia.
As per reports, the environment ministry said that the sandstorm should clear by Wednesday or Thursday shifting south towards the Yangtze River delta.
Li Shou, climate advisor with Greenpeace East Asia, tweeted, "Beijing is what an ecological crisis looks like. After two weeks of smog and static air, the strong wind carries a sand storm in, sending AQI off the chart. It's hard to claim we are moving forward when you can't see what's in front."
Experts say that such storms used to occur regularly in the springtime due to its closeness to the Gobi Desert and that massive plantation drives in recent years have reduced the effects in some areas.
Zhou Jinfeng, secretary-general of China Biodiversity Conservation and Green Development Foundation, was quoted in a news report as saying, "like COVID-19, which is believed to have spread from bats and other wild animals, sandstorms are a reminder of the need to respect nature. Together with the pandemic, that's another big lesson we should take and we should change our behaviour."
The Communist Party, after pressure from the international community, has pledged to be carbon neutral by 2060.
Register for free to continue reading
Registration is a free and easy way to support our truly independent journalism
By registering, you will also enjoy limited access to Premium articles, exclusive newsletters, commenting, and virtual events with our leading journalists
Already have an account? sign in
Join our new commenting forum
Join thought-provoking conversations, follow other Independent readers and see their replies