New satellite images show scale of Chinese expansion at un-demarcated border with India
Analysts say rising number of hardened shelters at airbases may impact India's ability to deter or defend against Chinese air power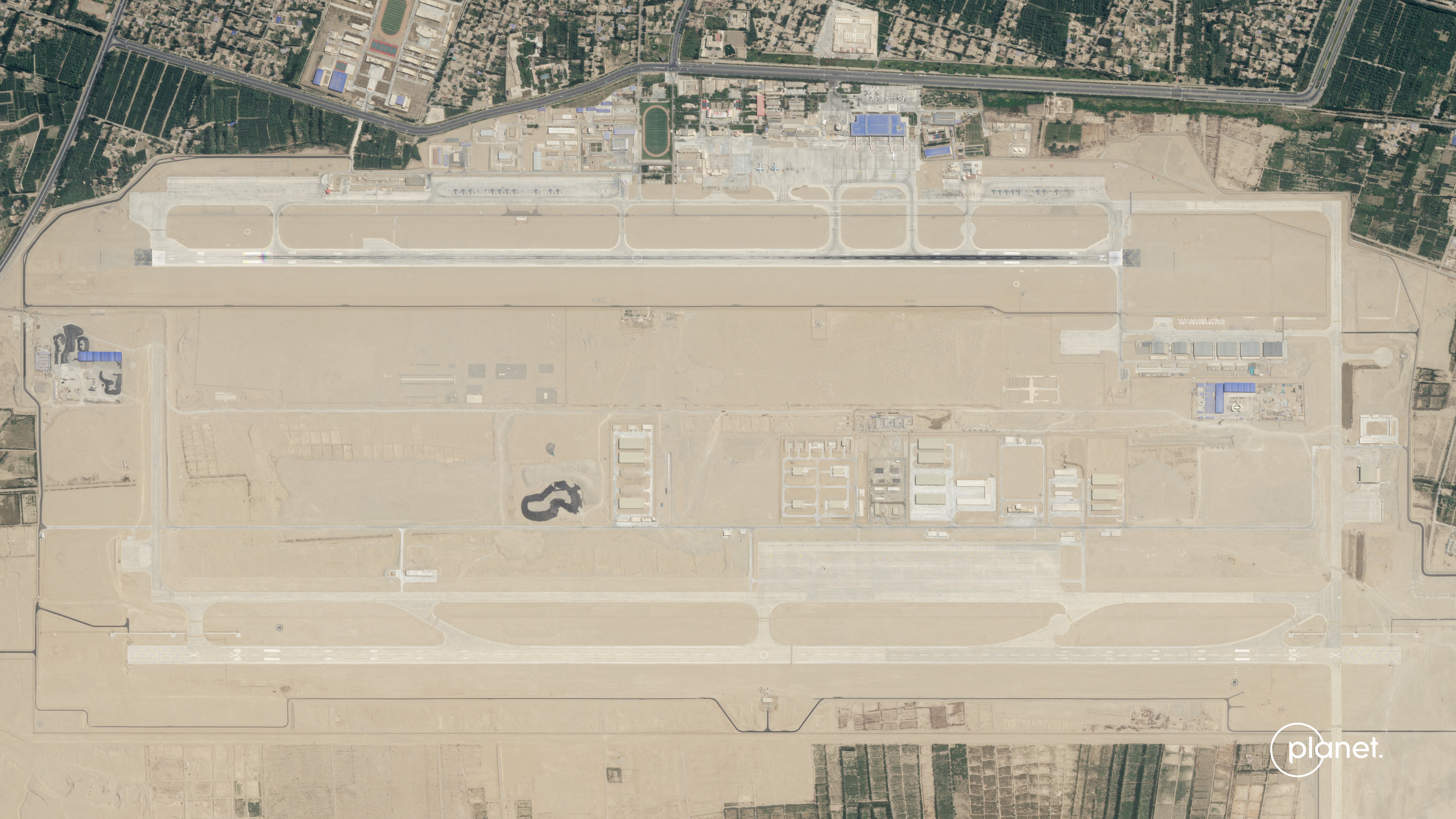 China has substantially expanded its airfields along the contested border with India to bolster its air power and developed a range of offensive capabilities since a brutal military standoff in 2020, new satellite images show.
Beijing has expanded airfields, helipads, railway facilities, missile bases, roads and bridges along the Line of Actual Control (LAC) to counter India's comparative advantages, according to satellite images shared with The Independent by Planet Labs PBC, a San Francisco-based Earth imaging company.
The images of airfields at Hotan, Ngari Gunsa, and Lhasa in southwest China showed that Beijing has expanded facilities by building new runways, fortified shelters to protect combat jets, and construction of new operations buildings, according to an analysis of the same images by Indian daily newspaper Hindustan Times.
These three Chinese airfields are strategically positioned across India's northern region, stretching from west to east.
The two nuclear-powered South Asian nations, which have a decades-old history of rival border claims, have been working to de-escalate the latest tensions on their loosely demarcated de facto border, known as the LAC, for three years.
Relations between New Delhi and Beijing plummeted to the worst level in years following skirmishes and a bloody battle in June 2020 in the Galwan Valley, which left 20 Indian and four Chinese personnel dead.
The Hotan airfield in southwestern Xinjiang, located about 400km from Leh in India, received a new runway, new aircraft and military operations support buildings, according to a satellite image from May 2023.
Recent images also show unmanned aerial vehicles (UAVs) operating from the airfield.
Earlier images from June 2020 showed no construction or development in the area near the airfield. The airfield was reportedly last expanded in 2002.
The Ngari Gunsa airfield in Tibet Autonomous Region is located 200km away from the Pangong Lake, the scene of multiple clashes between the two militaries.
The airfield became operational in 2010 and underwent expansion following the 2017 standoff at the disputed region of Doklam.
Satellite images from June 2020 showed only one aircraft apron with combat jets, however, an image from May this year revealed developments, including construction of a new taxiway and improvements made to the runway. At least 16 hardened aircraft shelters and new aircraft and military operations support buildings were also spotted in 2023.
The airport in the administrative capital of the Tibet Autonomous Region has been long used for both civilian and military applications. The Lhasa airport is located less than 250km from Tawang – the westernmost part of India's Arunachal Pradesh state and at the centre of Chinese claims in the eastern sector.
New satellite images show a fresh runway and a new apron under construction with at least 30 new hardened aircraft shelters and new support buildings.
Over the past few years, there has been ongoing construction of underground facilities situated south of the Lhasa airfield, according to the report.
The developments indicate China's strategic objective of enhancing its military capabilities to offset India's position in the region, Damien Symon, a researcher at The Intel Lab, told Hindustan Times.
"The ongoing construction activities, along with significant and diverse deployments at these sites, including the use of UAVs and advanced aircraft, underscore China's efforts to enhance its offensive capabilities, especially in light of the active border situation with India.
"It is crucial to recognise these developments fundamentally transform the dynamics of air warfare, extending China's operational range and presenting challenges to India's deterrence strategies," Mr Symon added.
Meanwhile, the impasse in negotiations to disengage along the LAC continued this week as New Delhi hosted the first in-person India-China border talks in more than four years.
India's foreign ministry said both sides agreed to hold the 19th round of high-level military talks at an early date for the restoration of peace.
"The two sides reviewed the situation along the LAC in the Western Sector of India-China border areas and discussed proposals for disengagement in remaining areas in a frank and open manner," a statement from the foreign ministry said.
Join our commenting forum
Join thought-provoking conversations, follow other Independent readers and see their replies