Hong Kong activist who 'drove motorcycle at police' jailed in first trial under new national security law
Tong Ying-kit, 24, could be jailed for life under the tough new law in Hong Kong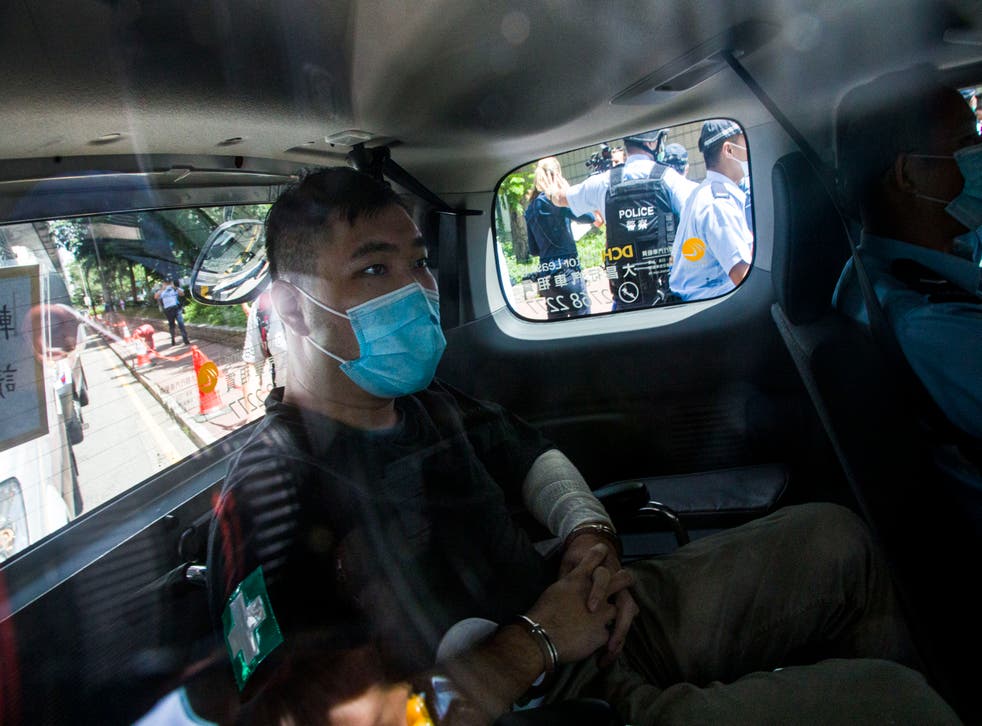 An activist in Hong Kong who allegedly drove his motorcycle at a group of police officers has become the first person jailed under the city's strict new national security laws.
In a case that is being watched closely as precedent for how future national security trials will be handled, the Hong Kong High Court on Tuesday found Tong Ying-kit, 24, guilty of "secessionism and terrorism".
Tong was one of more than 100 suspects arrested on suspicion of breaching the national security law, which was passed in June last year and has met with international concern. It bans acts of sedition, secessionism, terrorism and foreign interference, but critics say it could be used to erode the city's residents relative freedom compared to the mainland.
Tong was accused of driving his motorcycle into a group of policemen last year in July and injuring three. He was carrying a flag at the time that said "Liberate Hong Kong, revolution of our times", prosecutors said.
He had previously been denied bail and was eventually tried by a panel of three judges who Carrie Lam, Hong Kong's Beijing-backed chief executive, had selected.
The High Court will sentence Tong at a later date, but local media reported that he could be jailed for life under the tough new law.
Tong had pleaded not guilty to the charges.
Pro-democracy activists have previously said that the protest slogan on Tong's flag when he drove into a group of policemen was open to interpretation.
And Tong's attorneys had argued before the court that the slogan was not necessarily a call for independence from China. Clive Grossman, Tong's lead defence attorney, was quoted by the New York Times saying: "Just as if somebody says let's go fight for our rights, that doesn't necessarily mean get out a gun and start shooting people."
Tong's 15-day trial saw three academics debate the meaning of the protest slogan that was banned by the government. Hong Kong Free Press reported that the government at the time said that it carried connotations of "pro-independence, secession and subversion."
In its ruling, the Hong Kong High Court agreed with the government's interpretation of the slogan — that it is prohibited under the new law. It's a decision that experts say could have a profound impact on freedom of speech in the city.
Nathan Law, a pro-democracy activist from Hong Kong who has been granted asylum in the UK, called the proceedings a "political show trial".
"This verdict violates the spirit of the rule of law," he said. "The judicial system in Hong Kong is weaponised to suppress. Our right to free expression is severely curtailed, and a sense of white terror continues to linger in Hong Kong."
Yamini Mishra, Amnesty International's Asia-Pacific regional director, said: "To convict Tong Ying-kit of 'secession' for displaying a flag bearing a widely used [as a] political slogan is a violation of international law, under which expression must not be criminalised unless it poses a concrete threat. This feels like the beginning of the end for freedom of expression in Hong Kong."
She added: "People should be free to use political slogans during protests, and Tong Ying-kit should not be punished for exercising his right to free speech."
Join our new commenting forum
Join thought-provoking conversations, follow other Independent readers and see their replies