Fukushima plant: South Korea considers legal action to block Japan's release of contaminated water
'There are many concerns here,' says president Moon Jae-In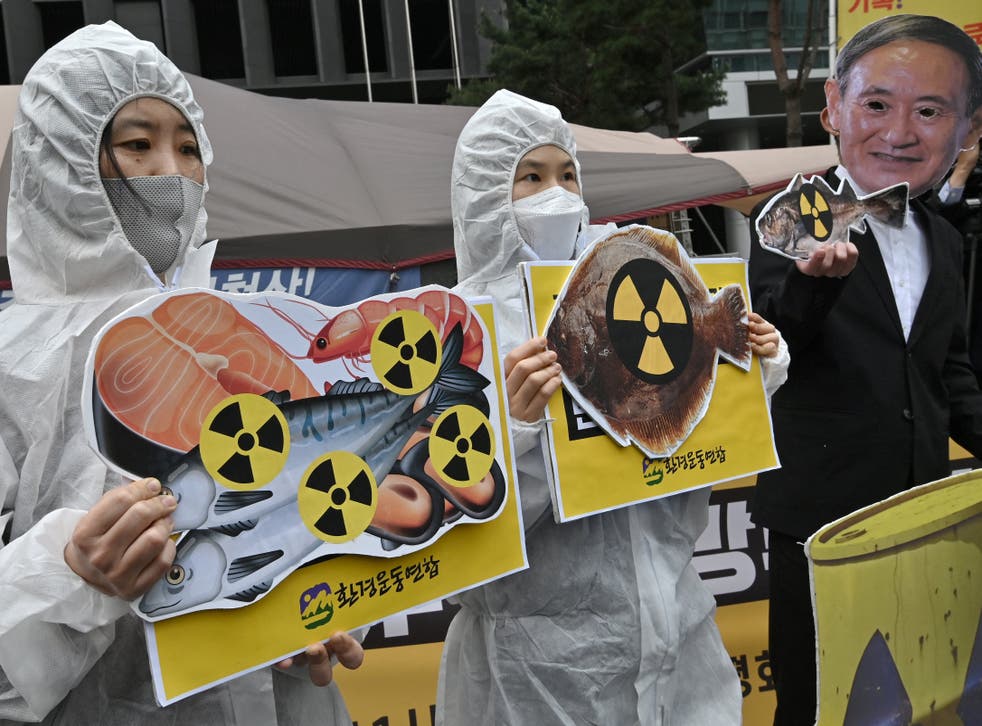 South Korea will consider launching legal action against Japan over its decision to release contaminated water from its Fukushima nuclear plant into the sea, the country's president says.
Environmental and fishing groups, China and Taiwan all also oppose the plan, saying radioactive water would harm people, the environment and marine life.
South Korean president Moon Jae-in has ordered officials to explore referring the issue to the International Tribunal for the Law of the Sea, to prevent the scheme going ahead, his spokesman says.
Japan wants to release more than a million tonnes of contaminated water into the Pacific Ocean, starting in two years' time, from the plant that was crippled by an earthquake and tsunami in 2011.
The plant's operator, Tokyo Electric Power, is warning that it will run out of space to store the waste water next year. The company says the water to be released has been treated to remove most of the radioactivity. However, tritium, a radioactive hydrogen isotope, remains.
South Korea has strongly protested against the decision, summoning Koichi Aiboshi, Tokyo's ambassador in Seoul, and convening an emergency meeting to plan its response.
Greenpeace Japan said the decision failed to "protect the environment and neglected the large-scale opposition and concerns of the local Fukushima residents, as well as the neighbouring citizens around Japan".
"There are many concerns here about the decision, as a country that is geologically closest and shares the sea with Japan," Mr Moon said, asking Mr Aiboshi to convey his worries to Tokyo, according to a spokesperson for the president.
In 2011, the powerful earthquake and tsunami damaged the Fukushima plant's cooling systems, causing three reactor cores to melt.
In the decade since, cooling water has constantly escaped from the damaged primary containment vessels into the basements of the reactor buildings. To make up for the loss, additional water has been pumped into the reactors to cool the melted fuel remaining inside them.
Water is also pumped out and treated, part of which is recycled as coolant, and the remainder stored in about 1,000 tanks at the plant.
The Japanese government has said it will do its utmost to support local fisheries and provide compensation for any damage.
Join our new commenting forum
Join thought-provoking conversations, follow other Independent readers and see their replies