Kim Jong-un heading for Russia by train ahead of weapons talks with Putin
Kim Jong-un leaves North Korea for the first time in more than four years will hold a 'full-scale' visit with Russia's president – including a 'formal lunch'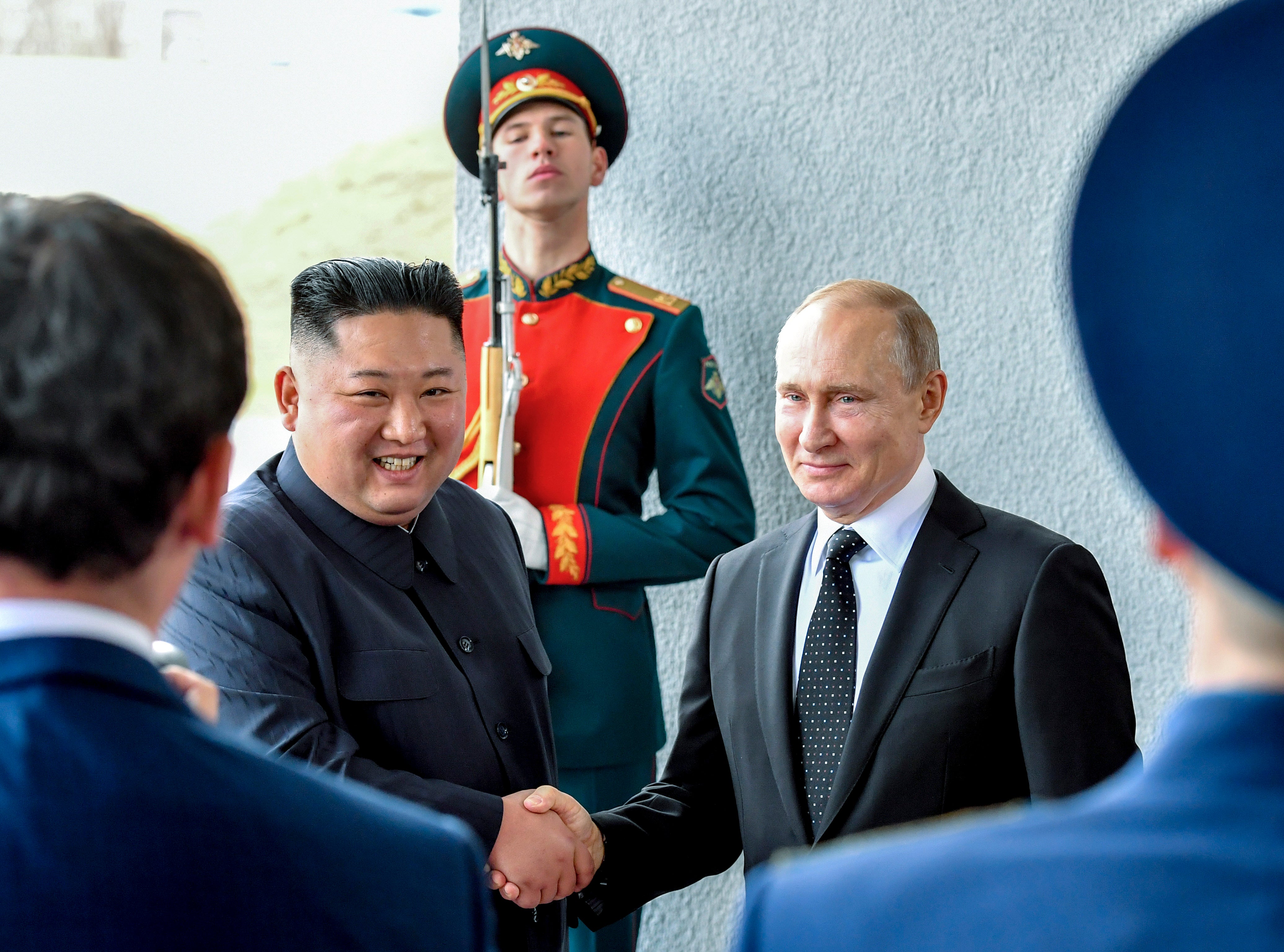 Leer en Español
North Korean leader Kim Jong-un has left Pyongyang in his armoured train to meet with Vladimir Putin in Russia.
Western intelligence agencies expect the two to discuss North Korea supplying weapons and ammunition to support Russia's war machine in Ukraine. Moscow is expending thousands of artillery shells a day during its invasion and is struggling to keep up with the demand. Tough sanctions imposed by Kyiv's Western allies have forced Mr Putin to turn towards the few nations openly supporting the 18-month invasion.
The Krelim said that the visit "in the coming days" will include a formal lunch. "It will be a full-scale visit. A formal lunch is also planned," the Kremlin spokesman, Dmitry Peskov, said.
South Korean media, citing government sources, said that the train had left the North Korean capital on Sunday evening and that the summit would likely be held on Tuesday or Wednesday in Vladivostok – which is just 80 miles from the Russia-North Korea border.
The extreme weight of the bulletproof train, with its signature olive green colour, will make for a relatively slow journey. It is expected to cover the 683 miles to Vladivostok in about 20 hours, travelling at a speed of about 37 miles per hour, with a long stopover at the border to switch wheels that fit Russian railway tracks.
It will be the first foreign visit by Mr Kim in more than four years, with the nation's borders sealed during the Covid-19 pandemic. Mr Kim's last trip abroad in 2019 was also to Vladivostok for his first summit with Mr Putin.
The Pentagon said that Mr Kim was on his way. "We do expect some type of meeting [and] based on the information we've been provided, KJU is travelling to Russia," Pentagon spokesman, Brigadier General Pat Ryder, said.
The Russian president is due to speak this week at the Eastern Economic Forum in Vladivostok. The day of Mr Putin's speech is not yet clear.
Locals in Vladivostok reported a higher police presence than usual on the streets. "Both countries show their teeth to the whole world and can stand for themselves. So there is something in common," said resident Fyodor, who did not give her surname.
Another resident, Svetlana said: "He [Kim Jong-un] is such a cryptic person, so I don't even know if he will come or not. But I think he must come – we have some changes going on, so it must be interesting for him what happens in Russia."
The Kremlin said last week that Moscow intends to deepen its "mutually respectful relations" with Pyongyang, one of its close Cold War allies and also one of a small handful of countries to back Russia's proclaimed annexation of parts of Ukraine in 2022.
The United States has said it would be a "huge mistake" for North Korea to supply Russia with weapons to use in Ukraine and warned Pyongyang would "pay a price".
North Korea has tens of millions of artillery shells and rockets based on Soviet designs that could potentially give a huge boost to the Russian army, analysts say.
In exchange, they speculate, Mr Kim could seek badly needed energy and food aid and advanced weapons technologies, including those related to intercontinental ballistic missiles, nuclear-capable ballistic missile submarines and military reconnaissance satellites.
There are concerns that potential Russian technology transfers would increase the threat posed by Kim's growing arsenal of nuclear weapons and missiles that are designed to target the United States, South Korea, and Japan. However, some analysts say a potential meeting between Kim and Putin would be more about symbolic gains than substantial military cooperation.
Russia, which has always closely guarded its most important weapons technologies, even from key allies such as China, could be unwilling to make major technology transfers with North Korea for what is likely to be limited war supplies transported over a small rail link between the countries, they say
Sergei Shoigu, the Russian defence minister, visited the North Korean capital in July, alongside officials from China, Pyongyang's largest trading partner. US National Security Council spokesman John Kirby said Mr Shoigu had tried to "convince Pyongyang to sell artillery ammunition" to Russia during the visit.
Mr Putin and Mr Kim are said to have exchanged letters in the wake of Mr Shoigu's visit, where the defence minister was shown weapons by the North Korean leader – including the Hwasong intercontinental ballistic missile. According to analysts from NK News, a specialist site focusing on North Korea, the display also included two new drone designs, including one resembling the primary offensive strike drone used by the US Air Force.
Mr Kirby said the letters between Mr Kim and Mr Putin were "more at the surface level," but the North Korean leader is known for sending effusive letters to other world leaders he considers allies – or at least useful. In June, Mr Kim sent a message to Mr Putin marking Russia's national day, where he said he would "hold hands" with the Russian leader and that the nation had the full support of North Korea's people.
Reuters and Associated Press contributed to this report
Join our commenting forum
Join thought-provoking conversations, follow other Independent readers and see their replies