North Korea: Photos show expansion at uranium site
New facility could boost production by 25 per cent , experts say
Liam James
Saturday 18 September 2021 15:14 Comments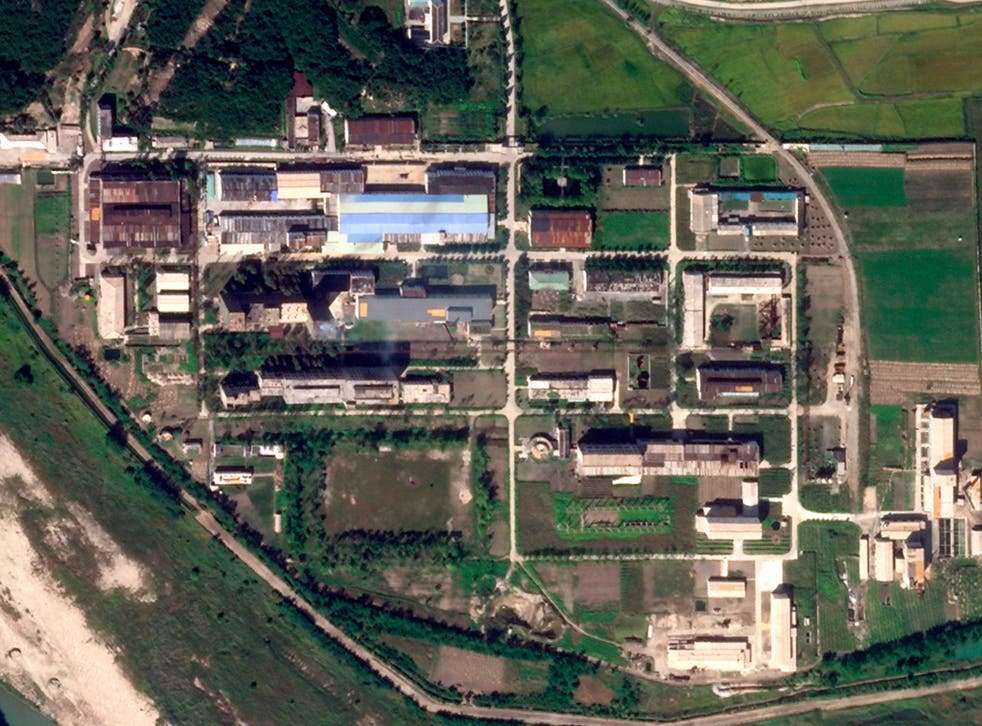 Satellite images show that North Korea is expanding a uranium enrichment plant at its Yongbyon nuclear complex.
Experts said this was a sign the country intends to increase production of weapons-grade uranium by as much as 25 per cent.
A report from Middlebury Institute of International Studies at Monterey said the photos taken by Maxar showed construction in a plot adjoining the Yongbyon plant.
An image taken on 1 September showed an excavator on a site where trees had been cleared and the ground had been prepared for construction, the report said.
A second image, taken on 14 September, showed foundation work, a new wall enclosing the area and an access point made by removing panels from the side of the existing enrichment building.
The new area is approximately 1,000 sq m (10,760 sq ft), enough space to house 1,000 additional centrifuges to the 4,000 currently at the site, Jeffrey Lewis, co-author of the report, said.
Yongbyon also has capacity to produce weapons-grade plutonium and satellite photos from last month showed signs production had resumed.
At a 2019 summit with Donald Trump, Kim Jong un offered to dismantle the complex in exchange for major sanctions relief, but the Americans rejected what they saw as a limited step in denuclearisation.
Some US and South Korean experts speculate North Korea is covertly running at least one additional uranium-enrichment plan.
North Korea this week fired both cruise and ballistic misslies into the sea, drawing condemnation from Japan.
Experts said the tests reflected a push to boost North Korea's weapons arsenal amid a stalemate in nuclear diplomacy between Pyongyang and Washington.
Additional reporting by Associated Press
Register for free to continue reading
Registration is a free and easy way to support our truly independent journalism
By registering, you will also enjoy limited access to Premium articles, exclusive newsletters, commenting, and virtual events with our leading journalists
Already have an account? sign in
Join our new commenting forum
Join thought-provoking conversations, follow other Independent readers and see their replies