Body of China's missing 'glacier bro' found by police at 'his favourite waterfall'
Body of missing Chinese adventurer who documented impact of climate change on glaciers found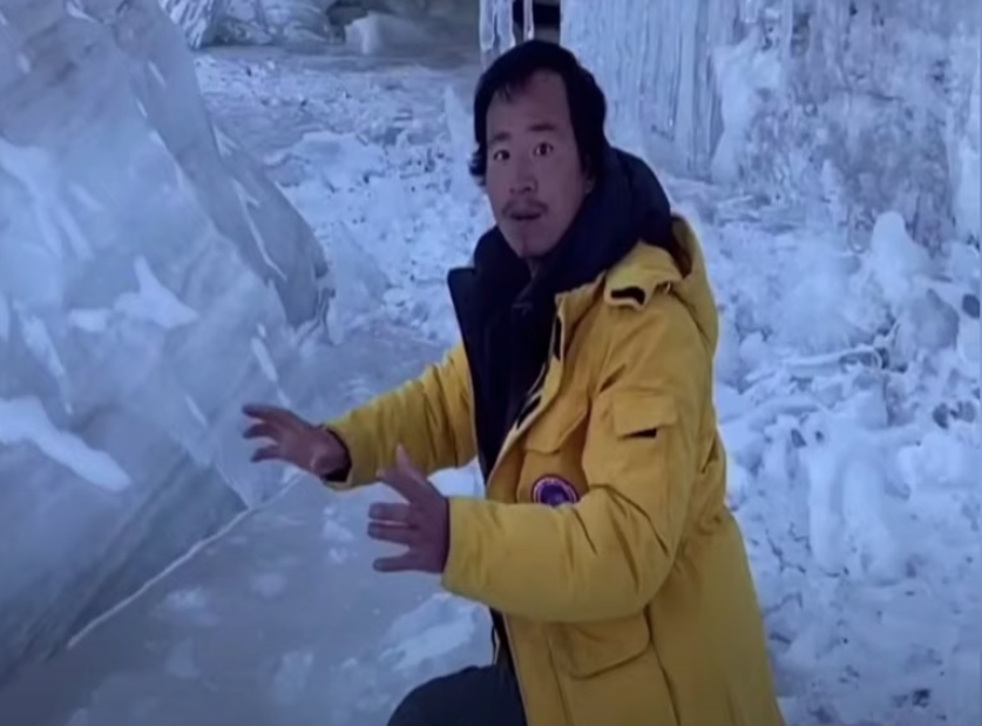 Tibetan authorities have found the body of internet-famous Chinese adventurer and environmentalist Wang Xiangjun who went missing last year, downstream of his "favourite glacier waterfall."
Wang, who was also known as the "glacier chaser," went missing in December last year after reportedly falling into icy waters, which was caught on camera. His disappearance had led to several conspiracy theories.
However, on Tuesday the public security bureau of Lhari County in Southwest China's Tibet Autonomous Region claimed that they have found the body of "glacier bro" Wang Xiangjun, putting an end to speculation about his fate.
Police and local authorities had started a search for the 30-year-old environmentalist at the spot where he had gone missing. Reports say that at least 200 personnel were deployed in the search.
Wang had photographed more than 70 glaciers in southwest China since 2013 when he quit his job and started documenting glaciers. He had at least three million followers on the Chinese social media platform Douyin where he chronicled his adventures. His fans soon gave him the nickname of "Tibet adventure king" and "glacier bro."
"My brother is staying in his favourite waterfall. I hope you won't go there and make a fuss, please respect the dead. He has been obsessed with glaciers all his life and dedicated his life to it. That's his best place to be," Wang's younger brother announced on one of his accounts on video streaming platform Kuaishou, the South China Morning Post reported.
Various rumours regarding his death, including one which claimed that his companions on the journey killed him, were circulated online but police rubbished all of these accusations.
Read more:
"After a preliminary investigation, the deceased is suspected to be Wang Xiangjun, who previously fell into the water. At present, further identity confirmation is being carried out in accordance with legal procedures," the Lhari Public Security Bureau said.
Wang was fascinated with glaciers and at the 25th United Nations Climate Change Conference in 2019 where he delivered a speech, he said that his mission was to raise awareness about the disappearing glaciers and global warming in China through his photographers and videos.
In 2010, Wang — who was born in Guangan in southwest China's Sichuan province to farmer parents — quit his job in a factory in Shenzhen in Guangdong province just after six months of joining, SCMP reported. After this, he took up several jobs for short periods of time to save up money.
"Over the following years he swam in the Lancang River, backpacked through a rainforest, saw a volcano mouth, and eventually climbed the Yulong mountain where he saw his first glacier," the report said.
For the next seven years, he chased glaciers. Reports quoted him as saying that "It's frightening and exciting at the same time. Sometimes, you could walk alongside a river for four days, the glacier is at the end."
He sometimes took some friends along but often travelled with his dog named Potato. According to a 2015 report, at least 82 per cent of China's glaciers have retreated.
After the news that his body has been found, several of his fans took to social media to pay tributes to him and his body of work. One user said, "Rest in peace in the glaciers that you love so much."
Join our new commenting forum
Join thought-provoking conversations, follow other Independent readers and see their replies