17 dead and over 100 missing in floods in southern Indian temple town
The calamity occurred due to a depression that formed over the Bay of Bengal
Peony Hirwani
Saturday 20 November 2021 11:47 Comments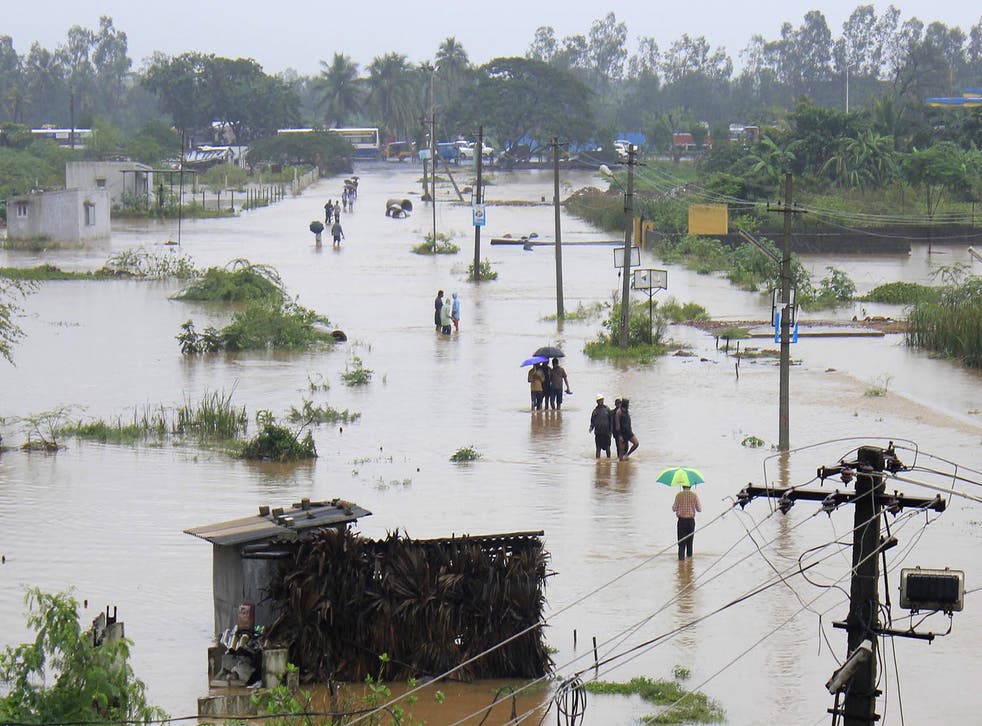 At least 17 people are dead and over 100 feared missing in flash floods in the southern Indian state of Andhra Pradesh.
A depression over the Bay of Bengal caused flash floods in the districts of Chittoor, Kadapa, Kurnool, and Anantpur, according to Times of India.
In the pilgrimage town of Tirupati, photos and videos on social media showed flooded roads and submerged vehicles.
The government has deployed seven teams from the National Disaster Relief Force (NDRF) for search and rescue operations in the region.
Fire department operators, revenue teams, and the local police are also helping those in need.
In one of the districts, 10 people who were stranded in Veldurthi village were rescued by Indian Air Force personnel using a Mi-17 helicopter.
Out of those who are dead, three casualties are confirmed to be children, along with one aged woman. According to NDTV, they died after an old three-story building collapsed due to heavy rains late at night. The outlet also reports that four more people are trapped in the rubble.
The chief minister will undertake an aerial survey of the flood-hit districts on Saturday, his office said in a release.
Some of the other people who died were unsuspecting devotees who were offering prayers in a Siva temple on the occasion of Kartika Pournami, a Hindu religious occasion. They were washed away in the Rajampet area.
According to Scroll.in, Indian Prime Minister Narendra Modi spoke with AP chief minister YS Jagan Mohan Reddy on Friday, in which he promised all required assistance to the state.
CM Reddy has also announced a compensation of Rs 500,000 (£5,004) to the families of the deceased.
While authorities tackle the situation in the region, many trains, buses, and flights have been either cancelled or diverted.
In other news, the executive officer of Tirumala Tirupati Devasthanam (TTD), an independent trust which manages the temples, has appealed to the worshippers to not believe in fake videos of the flood.
Dr KS Jawahar Reddy claimed that he inspected the ongoing restoration works being done at one of the main roads to and from Tirupati on Friday (19 November).
"Once the boulders are cleared, we will open the road," he told India Today, adding: "Some miscreants are creating unnecessary panic among pilgrims by posting incorrect videos. We have taken all safety measures for devotees who were stranded both at Tirupati and also in Tirumala."
Register for free to continue reading
Registration is a free and easy way to support our truly independent journalism
By registering, you will also enjoy limited access to Premium articles, exclusive newsletters, commenting, and virtual events with our leading journalists
Already have an account? sign in
Join our new commenting forum
Join thought-provoking conversations, follow other Independent readers and see their replies