First 'Oxygen Express' train arrives in Delhi as new Covid cases remain above 320,000 across India
Delhi is also running out of hospital beds for more than 90,000 cases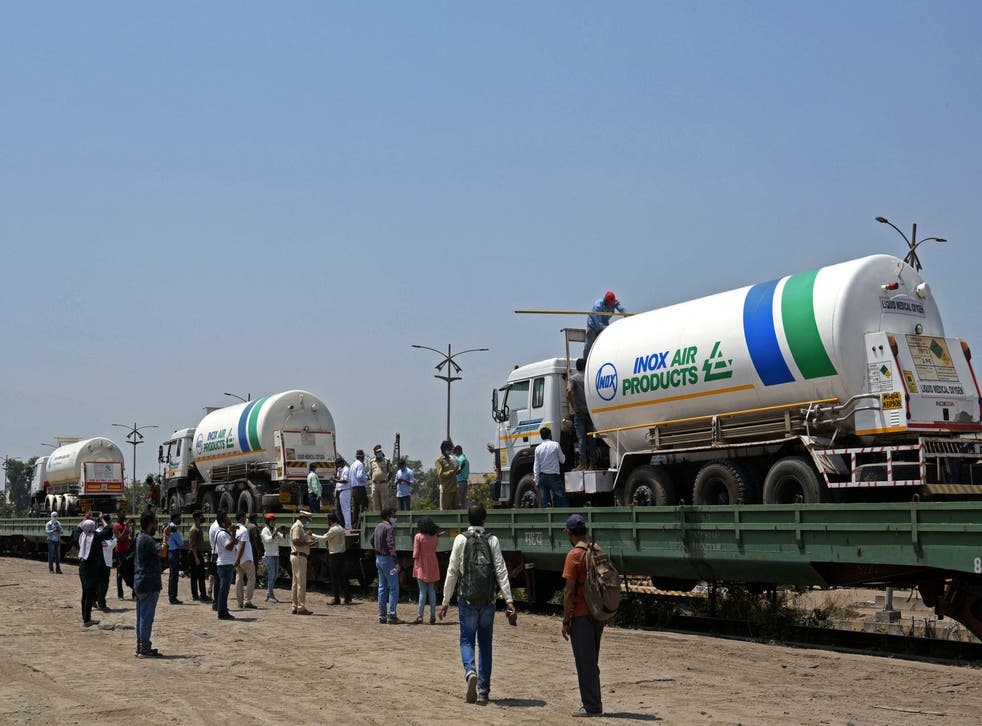 Leer en Español
The first "Oxygen Express" train loaded with around 70 tonnes of oxygen arrived in Delhi as the Indian capital suffered an acute shortage of the life-saving gas.
The train docked at a railway station in Delhi on Monday night for the oxygen tankers to be disbursed by the Delhi government to various hospitals in dire need.
"Oxygen Express has reached Delhi from Raigarh, Chhattisgarh with oxygen for patients in the capital," railway minister Piyush Goyal said in a tweet.
"Indian Railways is leaving no stone unturned in our collective fight against Covid-19, & ensuring sufficient availability of life-saving resources across the country," Mr Goyal added.
The healthcare system in India is sinking beneath the weight of coronavirus, which is spreading at an alarming rate. India officially reported 323,000 new cases on Tuesday, 8.4 per cent less than Monday as the testing rate dropped, and 2,771 deaths in a single day spike.
India added more than 300,000 cases for the sixth straight day with Delhi recording 20,201 cases and the highest 380 deaths. However, experts say the nationwide tally of deaths and cases could be underreported.
As the situation is turning worse, a top health official of the country has recommended people wear a face mask even when at home to stem the tidal wave of Covid-19 cases in the country.
Dr V K Paul, of India's federal think tank Niti Ayog, said: "I want to say that time has come that we should start wearing masks at home even in normal circumstances." He said because the virus is "highly transmissible" extra care should be taken if someone in the family is infected.
In Delhi, the majority of the hospitals, including the biggest, have been sending SOS calls to the government over the last week after their oxygen tanks hit extremely low levels, putting the lives of thousands of patients at risk.
The hospitals are running short of intensive care unit (ICU) beds, doctors and life-saving medicines with most of them turning away patients.
Shortages of oxygen were also reported in the worst-hit state, Maharashtra, and from hospitals in Uttar Pradesh, Rajasthan, Gujarat, and Haryana.
Indian railways, the largest rail network in Asia, launched a dedicated "Oxygen Express" service to ferry medical oxygen to states amid shortages. It has delivered nearly 450 tonnes of oxygen as of Tuesday, said the ministry.
The Ministry of Home Affairs claimed the issue is not with the shortage of oxygen but a problem in its transportation. To address the growing crisis the central government imported 20 cryogenic tankers of 10 and 20 metric tonne capacity to be allocated to states.
The Delhi High Court pulled up state government-led by Arvind Kejriwal, saying the "entire system has failed" on the issue of rampant black marketing of oxygen cylinders and crucial medicines like remdesivir despite actions.
"This is a mess that the state government has been unable to resolve," the bench of justices said, asking the Delhi government to take action against the culprits.
Meanwhile, global efforts are being made by a host of countries like the US, UK, Saudi Arabia, Singapore, Denmark, Bhutan and several others to provide medical aid to India in the time of crisis.
The Delhi government is airlifting 21 oxygen plants from France and 18 oxygen tanks from Bangkok with the help of the Indian airforce.
In total 44 oxygen plants will be set up in Delhi, including those imported from France, in a major relief to the city which did not have even a single plant and solely relied upon imports from other states.
"We are importing 21 ready-to-use oxygen plants from France. They can be brought to use immediately. These will be installed at different hospitals and this will help us in resolving the oxygen crisis in those hospitals," said Delhi chief Arvind Kejriwal.
Delhi has almost run out of ICU beds for Covid patients, said Mr Kejriwal, with new facilities coming up only in the second week of May.
According to the Delhi government application that provides real-time data on the availability of beds, only 14 ICU beds are remaining and 1,800 normal beds are vacant for more than 92,358 cases in the city alone.
Along with healthcare facilities, makeshift pyres are being built in Delhi's parking lots, parks, and empty grounds to expand the crematorium spaces. The expansion has been happening gradually over the weeks as heartbreaking scenes show bodies lining up inside and outside crematoriums, waiting for hours for last rights to be performed.
In the crematorium of Sarai Kale Khan area, at least 27 new platforms to perform rites have been built and 80 were added in the park around the premises. Authorities are also looking for more spaces near the city's Yamuna river bed.
Amid speculations of discrepancies in the death count, an investigation by NDTV found at least 1,150 Covid deaths were missing from Delhi's official death log last week. Similar large-scale discrepancies were found in other states.
Violent scenes unfolded in Delhi's Apollo hospital, where members of a Covid positive female patient reportedly attacked hospital staff. According to initial information, the patient was denied admission to the ICU ward.
Register for free to continue reading
Registration is a free and easy way to support our truly independent journalism
By registering, you will also enjoy limited access to Premium articles, exclusive newsletters, commenting, and virtual events with our leading journalists
Already have an account? sign in
Register for free to continue reading
Registration is a free and easy way to support our truly independent journalism
By registering, you will also enjoy limited access to Premium articles, exclusive newsletters, commenting, and virtual events with our leading journalists
Already have an account? sign in
Join our new commenting forum
Join thought-provoking conversations, follow other Independent readers and see their replies