Four Hindu activists arrested in India for killing cows to try and frame Muslims
Report says Ram Navami riots were 'pre-planned and orchestrated'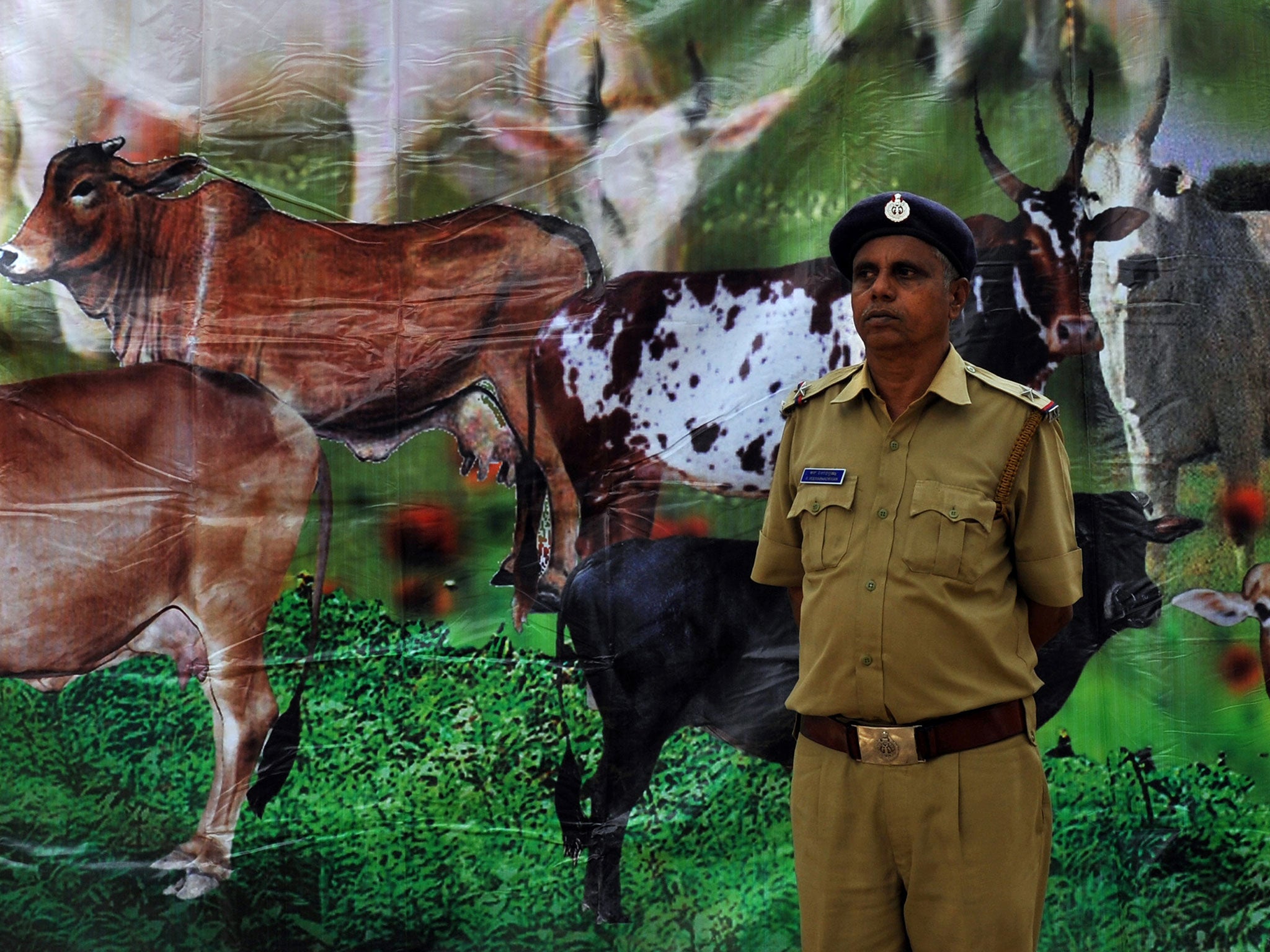 Four members of a right-wing group were arrested after they allegedly slaughtered cows to frame Muslim men as religious tensions continued to grip parts of India following the Hindu festival of Ram Navami.
Police in the northern Uttar Pradesh state arrested members of the All India Hindu Mahasabha in connection with a false complaint against four Muslim men, accusing them of slaughtering a cow last month, The Wire reported.
Uttar Pradesh has stringent laws against cow slaughter – considered sacred in the Hindu religion and punishable with imprisonment of a maximum of 10 years and a fine of up to Rs 500,000.
Muslim men have been lynched by mobs in the past on the mere suspicion of killing of cows.
Several Indian states saw large-scale violence between Hindus and Muslims on the Hindu festival of Ram Navami on 30 March.
The conspiracy to implicate the Muslim men was allegedly hatched on the eve of the festival in the Gautam Nagar area of Agra city, Uttar Pradesh.
According to the police, the members of All India Hindu Mahasabha, including leader Jitendra Kumar, filed a police complaint alleging that he witnessed four Muslim men slaughtering a cow in the thickets near Gautam Nagar and were planning to sell the beef.
He accused locals Mohammad Rizwan and his three sons Nakeem, Vijju, and Shanu in the police complaint.
A complaint was registered against Mr Rizwan and his three sons at Etmaddulah police station under sections of the UP Prevention of Cow Slaughter Act after the police found cow meat on the reported spot.
However, during the investigation it emerged that the Muslim men who were accused by the members of All India Hindu Mahasabha were innocent and were being implicated in the case due to a personal grudge.
The police found the spokesperson of Akhil Bharat Hindu Mahasabha, Sanjay Jat, as allegedly the main conspirator.
"The cow was slaughtered on the eve of Ram Navami to disturb social harmony. We had unconfirmed reports about such an incident but got conclusive evidence when they tried to implicate some innocent people," a police officer told Indian newspaper TheTelegraph.
Tensions have been simmering in Jamshedpur's Kadma area in Jharkhand, and in Biranpur area of Chhattisgarh where a 23-year-old man was killed following religious clashes over the weekend.
In Jamshedpur, a complaint was registered after violence erupted in Kadma on Sunday evening over the alleged desecration of a religious flag.
Mobs pelted bricks at each other and shops and vehicles were set ablaze after members of a local organisation found a piece of meat rolled into a religious flag.
Police imposed prohibitory orders under Section 144 which ban gathering of three or more people and shut down the internet across the town.
A video showed a fire blazing in Shastri Nagar and a mob gathered on the streets as clashes erupted between two sides.
Prabhat Kumar, special superintendent of police of Jamshedpur, said the situation was now under control.
"Those who had gathered have been sent home. The force has been deployed in the entire area, a company of RAF (Rapid Action Force) is deployed. Some people have also been detained," he said.
Meanwhile, around 12 people were arrested after a man was killed and three police personnel were injured following a fight between teens that escalated to religious violence in Bemetara district of Chhattisgarh.
The police had to use force to control the situation after riots erupted and prohibitory orders were issued in the area on Saturday.
Tensions had been brewing in the area since January when a meeting was held over rising instances of interfaith marriages and Hindus were appealed to cut ties with members of the Muslim community.
On Monday, a fact-finding committee on the violation of human rights during Ram Navami riots in West Bengal said in its interim report that the riots were "pre-planned, orchestrated and instigated".
Widespread violence and clashes erupted between Hindus and Muslims on Ram Navami festival on 30 March in West Bengal state's Howrah and Hooghly area, leaving dozen of people injured. The clashes erupted as members of Hindu groups took out processions to mark the festival.
Join our commenting forum
Join thought-provoking conversations, follow other Independent readers and see their replies