Police in India arrest two men in connection with freezing deaths of four people near US-Canada border
Their bodies were found in an empty field in Manitoba, 12 metres from the US border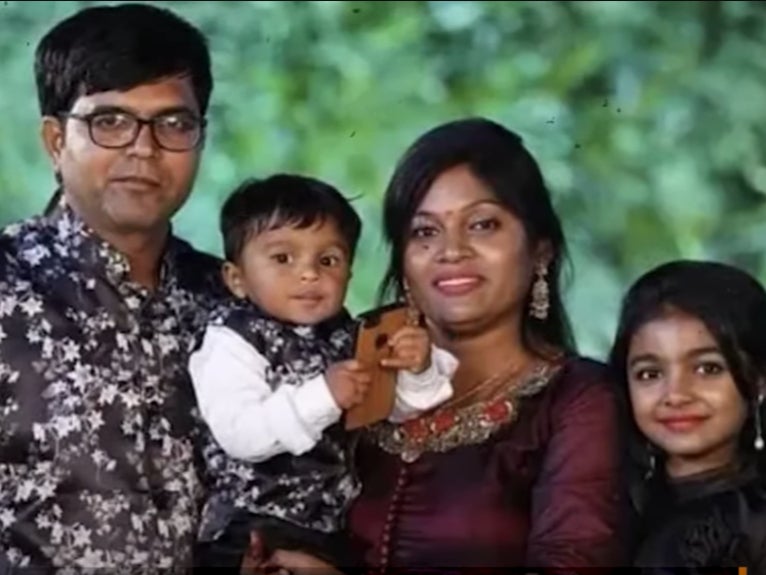 Police in India have arrested two suspected people-smugglers over the deaths of an Indian family of four whose frozen bodies were found near the US-Canada border last January.
The four were attempting to cross from Manitoba, Canada into the United States but were found lying together in a field just 12 metres away from the Minnesota border.
Police in the western Indian state of Gujarat said on Tuesday that besides the "illegal immigration agents they have arrested, they are also looking for two other agents based in the US and Canada.
The family of four were part of a larger group of people attempting to cross into the United States. While this family of four from Gujarat — identified as Jagdish Patel, 39, Vaishaliben, 37, their daughter, Vihangi, 11 and son, Dharmik, 3 — froze to death, others were detained by the US authorities after they crossed the border.
"The city crime branch has registered an offence in a case wherein the accused (agents) had forced 11 people to walk in the snow in a bid to get them illegally cross the US-Canada border, causing the death of four members of a family," Chaitanya Mandlik, a senior police official in Gujarat's capital city of Ahmedabad told reporters.
The Patels were from Dingucha village in their home state of Gujarat.
Indians and Canadians alike were stunned by the news when their frozen bodies were found last year. The family had been trudging through knee-to-waist-deep snow for 11 hours in Emerson, Manitoba where the temperature had dropped to more than 35 degrees Celsius below freezing.
The two arrested agents are accused of supplying the family members with paperwork and helping them get to the US. They are facing charges of culpable homicide not amounting to murder, the attempt at culpable homicide, human trafficking and criminal conspiracy, Mr Mandlik said.
"The victims were taken to Toronto in Canada and later to Vancouver. The agents then dumped them at Winnipeg in Manitoba province leaving them to cross over to the US on their own," Press Trust of India quoted Mr Mandlik as saying.
The Canadian Press quoted Manitoba police as saying that there was "no evidence to suggest the Patel family travelled to Vancouver". The local law enforcement said that they were working with the "international law enforcement partners to advance the investigation into the deaths" of four family members near the US border.
Join our commenting forum
Join thought-provoking conversations, follow other Independent readers and see their replies