Delhi imposes new lockdown restrictions as India coronavirus cases soar
Delhi roped in banquet halls and hotels as Covid facilities amid reports of shortages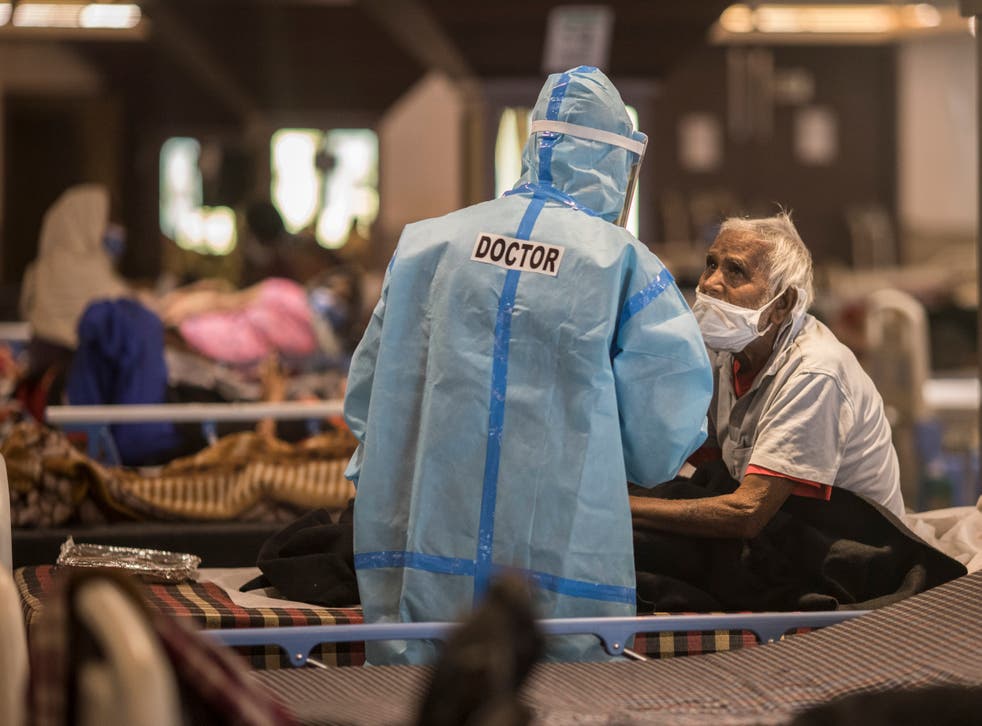 India's national capital Delhi will go under weekend curfew as the administration geared up to implement a host of new lockdown restrictions amidst an alarming surge in Covid-19 infections that hit a record of 200,000 cases in the last 24 hours.
Delhi recorded the highest single-day surge of more than 17000 cases, prompting chief minister Arvind Kejriwal to hold a press conference and announce restrictions "necessary to break the chain of transmission."
Malls, gyms, spas and auditoriums would be closed while cinema halls have been allowed to operate at 30 per cent of capacity on all days under fresh curbs.
People have been barred from dining-in restaurants, and only home deliveries are permitted, Mr Kejriwal announced.
"People have to work during the week but we are curtailing activities on weekends as that is time when people are out for leisure activities. These restrictions would not cause difficulties to people," he said.
Wedding ceremonies have been allowed but guests would be given e-passes to facilitate movement during curfew on weekends.
No restrictions have been imposed for people involved in essential activities, including healthcare workers.
"One weekly market per day per municipal zone to operate to arrest spread of coronavirus in Delhi," he added.
Delhi has followed the Covid-19 protocol of Maharashtra, one of India's worst-hit states, that first announced a weekend curfew. Last week it went on to expand the restriction till 1 May. Though the Maharashtra state government did not refer to the restrictions as a lockdown, but it has imposed prohibitory orders, disallowing the gathering of more than three people at a place.
Delhi, which has been seeing a constant spike in both infections and deaths, was already under night time restrictions, banning the movement of people between 10 pm and 5 am till 30 April.
Several doctors in both private and government hospitals in Delhi have said hospitals are brimming with patients and they are out of beds. Patients have complained that many hospitals have put them on a wait list.
Mr Kejriwal on Thursday claimed, however, that there was "no shortage of beds" in hospitals in Delhi. According to the latest data, more than 5,000 beds are available, he added.
On Wednesday, Delhi government announced that it will link banquet halls to government hospitals and hotels to private hospitals to increase bed capacity.
There are more than 14 million active cases in the country as videos, pictures and reports continue to paint a grim picture of the state of affairs of healthcare and overburdened crematoriums.
Join our new commenting forum
Join thought-provoking conversations, follow other Independent readers and see their replies