India sees record-high Covid cases as Mumbai forced into lockdown
Doctors in one region have turned a sports arena into a hospital to manage rising infections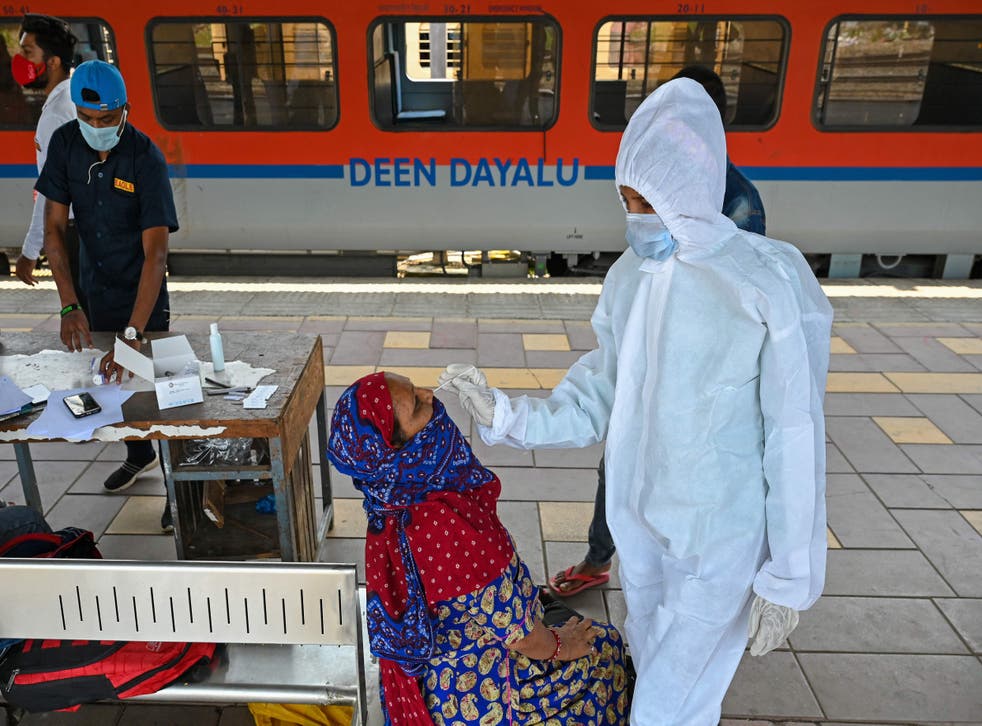 India has logged a single-day record of new Covid-19 infections as a second wave ravages the country, forcing large areas into lockdown.
There were 184,372 new coronavirus cases recorded on Wednesday.
This new milestone came as Maharashtra, the state considered to be the centre of India's second wave, was due to enter a full lockdown at midnight.
Before the restrictions come into effect Mumbai, the capital of India's second-most populous state, was busy with people buying emergency supplies.
"We don't know if we will be allowed to set up our stalls from tomorrow, so we're asking our customers to stock up as much as possible today," Susheela, a vegetable vendor, told Reuters.
Markets and grocery shops alike were thronged, with long queues forming.
Indian hospitals are feeling the strain as coronavirus cases and deaths continue to rise, with 1,027 fatalities logged on Wednesday, taking the total to 172,085.
Chhattisgarh state – one of several regions struggling with a surge in cases – set up a temporary 370-bed hospital in a sports stadium.
"The way Covid-19 cases are rising and people are getting hypoxia or low level of oxygen in the blood, there is a shortage of oxygen supply," said Avinash Chaturvedi, a doctor at the facility.
"We have converted this stadium into a Covid care centre to deal with that situation."
In the western state of Gujurat, there was a long queue of ambulances waiting outside Ahmedabad Civil Hospital on Wednesday, with some patients being treated there while they waited.
"My wife tested positive for Covid-19 on Sunday. We called an ambulance this morning to bring her to hospital as she was facing difficulty in breathing," Becharbhai Waghela, who was accompanying his wife Shantaben, 61, told Reuters.
"We have been waiting in the ambulance outside the hospital campus for the last two hours."
A hospital source, who declined to be named as he was not authorised to speak publicly, said a lot of private hospitals were short of oxygen and were sending their patients to public hospitals.
World news in pictures

Show all 50
Boris Johnson has cut short his upcoming trip to India as a result of the surging infections, though he will still meet with Narendra Modi, his opposite number.
"We've been in close contact with the Indian government about the PM's upcoming visit in light of the Covid situation in India. As a result of these discussions the prime minister has made the decision to reduce the length of the visit," a Number 10 spokesperson said.
Additional reporting by Reuters
Register for free to continue reading
Registration is a free and easy way to support our truly independent journalism
By registering, you will also enjoy limited access to Premium articles, exclusive newsletters, commenting, and virtual events with our leading journalists
Already have an account? sign in
Register for free to continue reading
Registration is a free and easy way to support our truly independent journalism
By registering, you will also enjoy limited access to Premium articles, exclusive newsletters, commenting, and virtual events with our leading journalists
Already have an account? sign in
Join our new commenting forum
Join thought-provoking conversations, follow other Independent readers and see their replies