International aid starts arriving as India reports new record 352,000 Covid cases
Hospitals continue to send SOS messages for basic healthcare facilities like oxygen and medicines 
Shweta Sharma
Monday 26 April 2021 11:08 Comments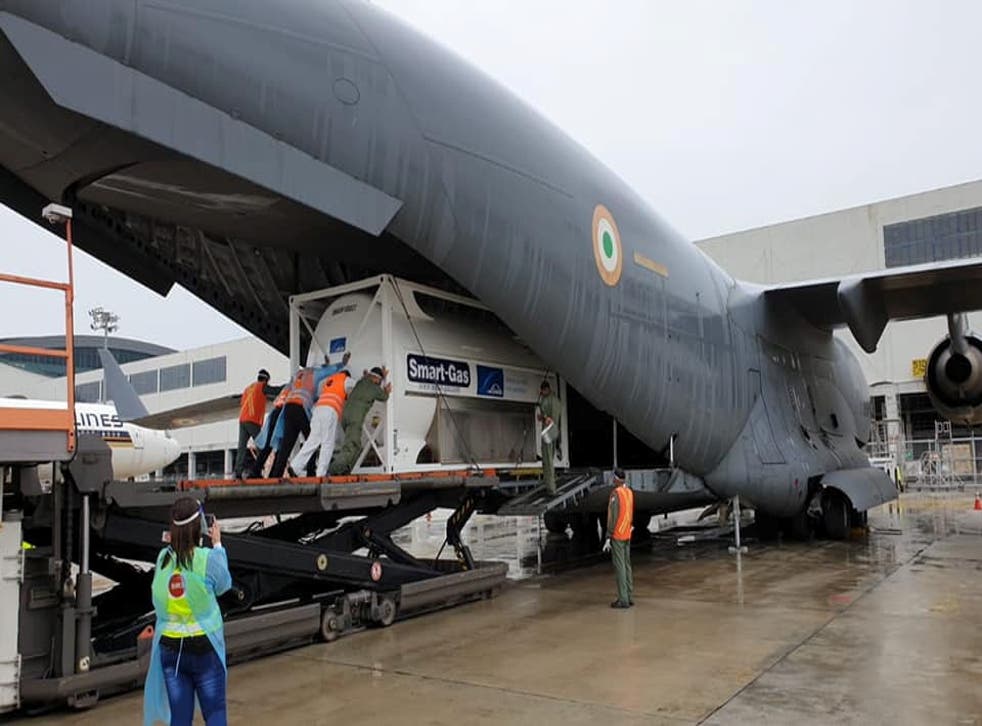 Leer en Español
Global efforts to help India during its devastating Covid-19 crisis have accelerated as a dozen countries offered to help while others expressed solidarity with the South Asian nation.
India for the first time reported both the highest number of deaths at 2,812 and the highest number of infections at 352,991 on Monday. It was the fifth consecutive day the country saw over 300,000 cases.
The international aid started arriving as India suffers an immense shortage of medical equipment as the country continues to witness a record surge in infections, showing no signs of receding.
While the UK, Singapore and Saudi Arabia have already dispatched the first consignment of aid, India's political rivals China and Pakistan have also offered help as the county battles the second wave of pandemic.
On Monday, India's prime minister, Narendra Modi, talked to his Japanese counterpart Suga Yoshihide over the phone, thanking him for providing assistance to India as the two discussed developing new partnerships to overcome challenges posed by the coronavirus, the foreign ministry said.
The UK will send 600 pieces of vital medical equipment including 495 oxygen concentrators and 120 non-invasive ventilators, along with 20 manual ventilators. It will be dispatched in nine airline container loads. A part of the UK's aid package arrived in India on Sunday.
Boris Johnson, the prime minister, said Britain stands "side by side with India as friend and partner during what is a deeply concerning time in the fight against Covid-19." He said, the "vital medical equipment" is now on its way from UK to India.
Dominic Raab, the foreign secretary, said, they have sent "several urgent deliveries of surplus medical equipment to our friends in India." "No-one is safe until we are all safe," he added.
The European Union said it is "pooling resources to rapidly respond" to India's request for assistance via the EU Civil Protection Mechanism.
Ursula von der Leyen, president of the European Union, said they were "alarmed by the epidemiological situation in India" and stand in full solidarity with the Indian people.
Other countries in Europe such as France, Denmark, and Germany, also extended their support to send much-needed oxygen to India.
"To the people of India, I want to express my sympathy on the terrible suffering that Covid-19 has again brought over your communities. Germany stands in solidarity with India and is urgently preparing a mission of support," Germany's chancellor, Angela Merkel, said on Sunday.
On Sunday night, an Indian carrier airlifted 500 BiPAPs (breathing support equipment) and 250 oxygen concentrators from Singapore. The first set of help arrived from Singapore on Saturday after four cryogenic oxygen cylinders, which were donated by India's Tata Group, landed in West Bengal state.
The US president, Joe Biden, said Washington is determined to help "just as India sent assistance to the United States as our hospitals were strained early in the pandemic."
It came after the US faced increasing pressure and opposition over its export controls on raw materials that were intended to enhance the country's own domestic vaccine supply. However, the Indian vaccine manufacturers urged the US to lift the ban as it was slowing down their ability to produce jabs.
The White House National Security Council said in a statement that the country has identified "supplies of therapeutics, rapid diagnostic test kits, ventilators, and Personal Protective Equipment (PPE) that will immediately be made available for India."
Emily Horne, a National Security Council spokesperson, said raw material to manufacture Covishield (AstraZeneca) "will immediately be made available for India" to aid vaccine shot production.
The top US infectious diseases expert, Dr Anthony Fauci, told ABC News on Sunday that the availability of vaccine raw material is "something that certainly is going to be actively considered."
Afghanistan expressed solidarity with India while Iran wrote to the Indian health minister, saying they would provide technical assistance, expertise and equipment to tackle the coronavirus pandemic.
Afghanistan's president, Ashraf Ghani, said: "Our hearts go out to the Indian people and government as they fight the horrendous outbreak of Covid. On behalf of the Afghan people and government, we send our condolences to the families who lost their loved ones and wish a quick recovery to those who are suffering from the virus."
Meanwhile, the hashtag #PakistanstandswithIndia trended in Pakistan despite a decades' long political rivalry as the coronavirus pandemic ravaging India continued to make headlines. Celebrities, activists, government officials and citizens expressed support and asked the government to offer aid to the country.
The prime minister, Imran Khan, offered prayers in a tweet for the "speedy recovery" of the people suffering from pandemic. "I want to express our solidarity with the people of India as they battle a dangerous wave of Covid-19. We must fight this global challenge confronting humanity together," he said.
Foreign Minister Shah Mahmood Qureshi offered to provide ventilators, BiPAP, digital X-ray machines, PPEs and related items even as Pakistan is itself issuing restrictions in the wake of rising cases.
"As a gesture of solidarity with the people of India in the wake of the current wave of Covid-19, Pakistan has offered to provide relief support to India including ventilators, BiPAP, digital X-ray machines, PPEs and related items," he said.
A host of other countries including Canada, Australia, Mexico, Slovenia, China, and Saudi Arabia have also offered to help or expressed solidarity to India.
Meanwhile, India is racing against time to ramp up its healthcare infrastructure by approving funding to oxygen plants in several districts, in a last-minute move to deal with crippling shortages amid barrage of criticism. The oxygen shortage has already claimed 25 lives in a hospital in Jaipur city and six died in Amritsar, Punjab.
The Delhi government further extended the lockdown on Sunday as overcrowded hospitals are turning away patients and continuing to report oxygen shortages. Nearly, 1 million cases have been reported in the last 72 hours across the nation.
The country has a total of 17 million infections and reported 192,000 deaths.
Register for free to continue reading
Registration is a free and easy way to support our truly independent journalism
By registering, you will also enjoy limited access to Premium articles, exclusive newsletters, commenting, and virtual events with our leading journalists
Already have an account? sign in
Join our new commenting forum
Join thought-provoking conversations, follow other Independent readers and see their replies