India detects first two omicron cases, health ministry confirms
India is now the 27th country in the world to report cases of the new omicron variant
Stuti Mishra
Thursday 02 December 2021 11:10 Comments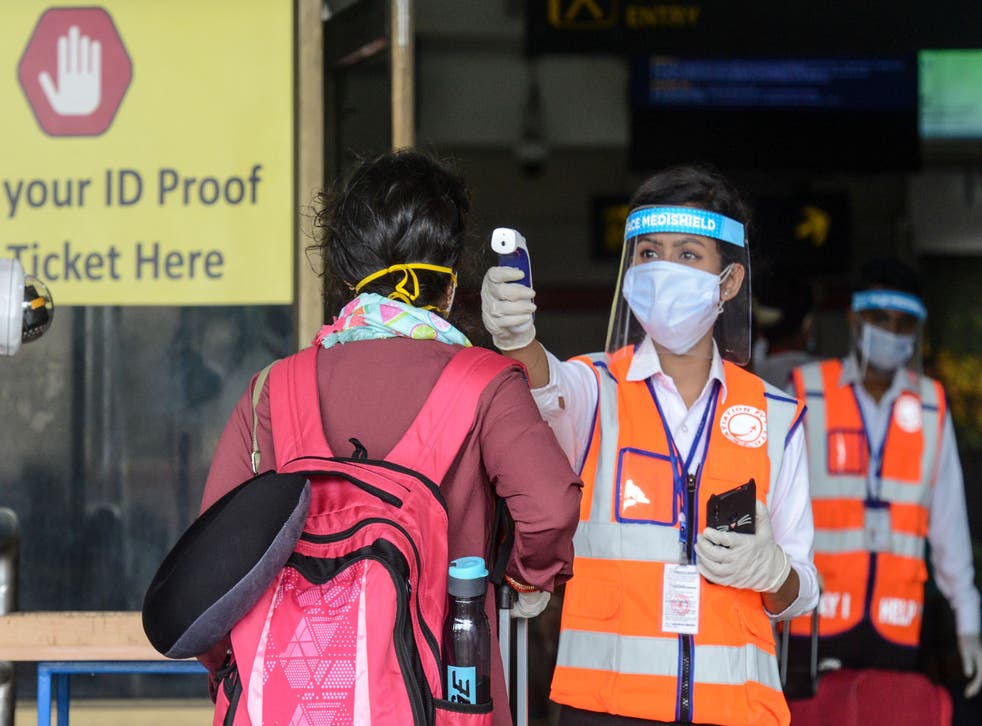 India has detected its first two cases of the omicron variant of Covid, the country's health ministry said on Thursday, with both cases recorded in the southern state of Karnataka.
With the confirmation of its first two cases, India becomes the 27th country in the world to report instances of the new variant that has triggered global alarm.
The infections involve two men, a South African national aged 66 who has since left India, and a 46-year-old Indian doctor with no recent travel history. The health ministry had earlier declined to elaborate on their travel histories or nationalities, citing their right to privacy. Their samples were taken on Wednesday night.
"All primary contacts and secondary contacts of both the cases have been traced and are being tested," the health ministry's joint secretary Lav Agarwal told a briefing.
Mr Agarwal said that in the last 24 hours since India introduced increased restrictions on travellers, some 10 passengers have been found Covid-positive in RT-PCR tests and the authorities have collected their samples and sent them for genome sequencing to determine whether the infections are with omicron or some other variant.
"There is no need to panic about the omicron detection, but awareness is absolutely essential. Follow Covid-appropriate behaviour, avoid gatherings," Mr Agarwal said.
Balram Bhargava, the head of the Indian Council of Medical Research, India's apex medical research body, urged people not to panic and to get vaccinated.
"Increased vaccine uptake is the need of the hour. Don't delay in getting fully vaccinated," he said.
Early analyses from South Africa, where the omicron variant was first detected last month, indicate that it could be considerably more transmissible than delta, and the new variant exhibits an "unusual" high number of mutations compared to the original SARS.CoV.2 virus that first emerged in Wuhan, China.
India was set to restart scheduled commercial international flights on 15 December, but the discovery of the omicron variant last week forced the country to ramp up testing and quarantine measures once again.
India has made quarantine mandatory for travellers from countries where omicron cases have been reported, classifying them as 12 "at-risk" and six "ultra-risk" countries targeted for additional measures. Testing on arrival is now mandatory for all foreign travellers.
Only 32 per cent of India's massive 1.4 billion population is fully vaccinated and the country suffered through a crippling second wave this year after the emergence of the delta variant, which saw its healthcare infrastructure crumble under the pressure of rising Covid cases. However, the rate of infection has gone down significantly in the last few months.
Register for free to continue reading
Registration is a free and easy way to support our truly independent journalism
By registering, you will also enjoy limited access to Premium articles, exclusive newsletters, commenting, and virtual events with our leading journalists
Already have an account? sign in
Join our new commenting forum
Join thought-provoking conversations, follow other Independent readers and see their replies