India suspends 'all categories' of visas for Canada citizens amid furious diplomatic row
Indian foreign ministry claims 'security threats' after Trudeau's explosive allegation of state-sponsored killing mean it cannot provide visa services safely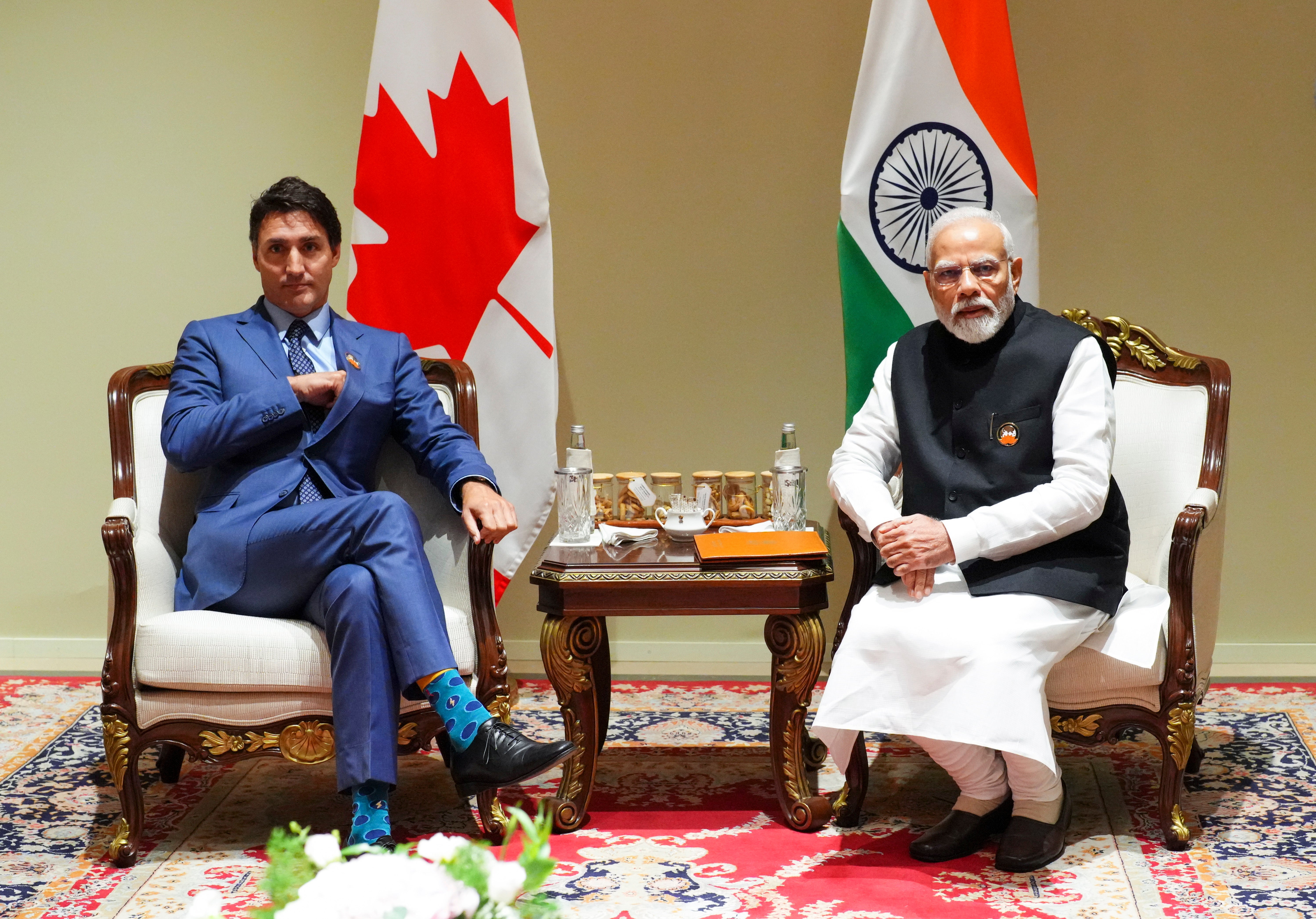 India says it is indefinitely suspending visa services in all categories for all Canadian nationals due to "security threats" to its consulates, amid a furious diplomatic row between the two countries.
Indian foreign ministry spokesperson Arindam Bagchi said they have suspended "all categories" of visas, including e-visas and for Canadian citizens applying from third countries.
And India has also moved to downsize the Canadian diplomatic presence in New Delhi, saying that Canada has more embassy workers in its capital than visa versa and that it wants to restore "parity".
It comes after Canadian prime minister Justin Trudeau said there were "credible allegations" of the Indian state's involvement in the murder of Sikh separatist leader Hardeep Singh Nijjar in Canada, triggering a furious tit-for-tat row.
Relations between India and Canada have nosedived after Mr Trudeau's allegation over the June death of Nijjar, a Canadian citizen and president of a gurdwara in Surrey, British Columbia.
"Any involvement of a foreign government in the killing of a Canadian citizen on Canadian soil is an unacceptable violation of our sovereignty," Mr Trudeau told the Canadian parliament on Monday.
Canada also ejected an Indian diplomat who it identified as heading the intelligence wing of the Indian High Commission in Ottawa.
India has rejected the allegations as "absurd" and responded by ordering a similarly high-ranking Canadian diplomat in Delhi to leave the country within five days.
It has also issued a new travel advisory warning Indian citizens against travelling to certain parts of Canada.
Mr Bagchi said in a press briefing on Thursday that it is "incitement of violence, inaction by Canadian authorities and the creation of an environment that disrupts the functioning of our consulates which is what is making us stop temporarily the issuance of visa services."
The confirmation by the foreign ministry came shortly after BLS International Services Limited, a company that manages the Indian government's visas, said services have been suspended citing "operational reasons".
Mr Bagchi on Thursday said Indian officials are in talks with their counterparts in Canada for the reduction in the number of people working in the Canadian High Commission in India.
"We've informed the Canada government that there should be parity in strength in our mutual diplomatic presence. Their number is very much higher than ours in Canada... I assume there will be a reduction from the Canadian side," he said.
The Canadian High Commission demanded India ensure the security of its diplomats and consular officers in India following a heightened threat after Mr Trudeau's statement. It said Canada had decided to temporarily "adjust" its staff presence in the country after some diplomats received threats on social media.
"In light of the current environment where tensions have heightened, we are taking action to ensure the safety of our diplomats," the Canadian High Commission said in a statement.
Mr Bagchi said they take such matters seriously and the security will be increased but asked Ottawa to also protect Indian diplomats there.
Wednesday's advisory from India's foreign ministry urged those visiting Canada or already residing there to exercise caution due to "growing anti-India activities and politically-condoned hate crimes".
"Recently, threats have particularly targeted Indian diplomats and sections of the Indian community who oppose the anti-India agenda," it said.
"Indian nationals are therefore advised to avoid travelling to regions and potential venues in Canada that have seen such incidents."
Canada's immigration minister Marc Miller rejected India's concerns, saying: "Canada, by any standard, is one of the safest, if not the safest, country in the world that is governed by the rule of law."
The growing rift centres around the murder of Nijjar, 45, who was fatally shot dead on 18 June in the parking lot of a gurdwara in Surry, British Columbia.
He was president of the Guru Nanak Sikh Gurdwara and a vocal advocate for the Khalistan movement, which calls for the creation of a separate nation for Sikhs out of India's Punjab state.
India, which sees the Khalistan movement as a threat to its national security, had designted Nijjar a wanted terrorist and issued a bounty of Rs 1m (£9,710) for information leading to his arrest. It accused him of leading a proscribed militant organisation and recruiting for criminal activities against India, charges his supporters strongly denied.
The issue of the Khalistan movement, which peaked in India in the 1980s with a violent insurgency in Punjab state, has long been a thorny issue in ties between India and Canada.
Canada has an estimated 1.4 to 1.8 million Indian-origin people, including the largest Sikh population in the world outside of India's Punjab state.
Asked if Canada's allegations about Indian state involvement in the murder of a Sikh leader would damage India's reputation on the world stage, Mr Bagchi claimed it was Canada that should be worried about "reputational damage" from the episode.
"I think it is Canada and its growing reputation as a safe haven for terrorists, for extremists, and for organised crime. And I think that's a country that needs to worry about its international reputation," he said.
Join our commenting forum
Join thought-provoking conversations, follow other Independent readers and see their replies