Indian state opens criminal case against man appealing on Twitter for oxygen for his grandfather
The case set off a debate on twitter and invited a case against the complaint
Shweta Sharma
Wednesday 28 April 2021 14:00 Comments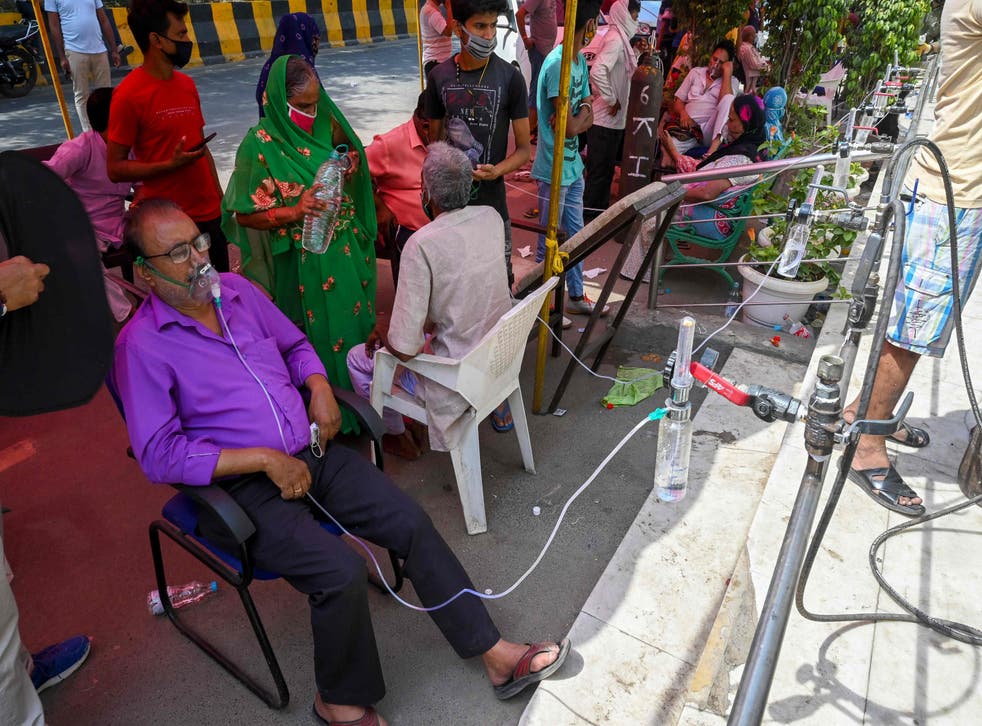 A criminal case has been opened against a man in India's Uttar Pradesh after he appealed on Twitter for an oxygen cylinder for his ailing grandfather, in a controversial case related to the state government's crackdown on people for allegedly spreading rumours over the oxygen crisis.
Shashank Yadav, 26, was charged by Uttar Pradesh police with allegedly spreading "false information" and spreading misleading information to create panic among the people, the Indian Express reported police as saying.
The case came after Yogi Adityanah, of India's ruling right-wing Bharatiya Janata Party, and the chief of Uttar Pradesh, ordered officials to act against those who they considered to be falsely claiming oxygen shortages, reported The Hindu.
It is the first Indian state to order a crackdown on people seeking help on social media amid a raging pandemic. Mr Adityanath repeatedly claimed there is no shortage of oxygen in his state.
The deadly second wave of coronavirus has wreaked havoc across the country.
On Monday, a four word tweet by Mr Yadav prompted a formal complaint.
Mr Yadav from Amethi region issued an SOS call on Twitter on Monday, saying: "Need oxygen cylinder asap." He tagged actor and philanthropist Sonu Sood to amplify his call for help without mentioning any details.
Later, his friend Ankit, whose second name is not known, retweeted his appeal and sent a direct message to the journalist of news website The Wire, Arfa Khanum Sherwani, to ask for help.
Ms Sherwani further amplified the tweet, tagging minister Smriti Z. Irani – a member of Parliament from Amethi town.
The minister swiftly responded to the call, saying Mr Yadav did not respond to her calls and she had alerted the authorities.
"Called Shashank thrice... no response on the number shared by you in your tweet. Have alerted office of @DmAmethi & @amethipolice to find and help the person in need," she said.
However, by the time Mr Yadav's grandfather had already died, Ankit informed Ms Sherwani and Ms Irani.
"Thank you for reaching out to us Smriti ma'am. Appreciate it. This is to inform you, with heavy heart, that Shashank's Nanaji (grandfather) is no more. For now, we can only pray for the departed soul. Thank you. Thanks to khanumarfa ma'am also," he said in a tweet.
While none of the corresponding tweets by anyone mention the ailing man had Covid-19, the police said the elderly man died of "heart attack" and booked Mr Yadav for "spreading misleading information" on coronavirus.
"Our purpose is to pass on the message that this is a crisis situation due to the pandemic and no one should create panic, sensation, and fear. You can post genuine calls for help on social media and we are bound to help you," an official of Amethi police said in a video.
Speaking to The Independent, Mr Sherwani said hundreds and thousands of desperate messages and cries for help have been floating on social media, which is "bad PR for a government which is very conscious of its image."
"Fearful of losing the perception game, they are cracking down on citizens who are asking for help and intimidating those amplifying these voices," Ms Sherwani, an award-winning journalist said.
She said the government was "abdicating its duty towards the public" in a time of crisis and it is only citizens who are helping each other with whatever they have.
The police said Mr Yadav has been released following a warning and formal charges laid against him.
The Independent contacted Mr Yadav but received no response.
A public interest litigation has been filed in the case by activist Saket Gokhale to restrain the Uttar Pradesh government from taking "illegal coercive" action "to clampdown" on criticism in response to Mr Yadav's case.
The ruling BJP government and state governments have been facing vehement criticism for its response to the coronavirus and shortages in the healthcare system.
The government has been also facing heat for the alleged cover-up of handling of Covid by asking Twitter to block posts that criticised the government or create panic by posting images of dead bodies taken out of context. About 100 posts were targeted, including some from leaders of the opposition.
While it has become a norm for people and even hospitals to raise desperate calls for help on social media platforms amid a crippling shortage of oxygen, medicines and bed, the Yogiadityanath government has denied any shortage in his state.
But fact-checking websites and reports suggested an acute shortage of beds and oxygen in Uttar Pradesh.
Solicitor general Tushar Mehta representing the government in a case on Wednesday underscored that "people are not getting beds in Uttar Pradesh due to a resurgence of the virus".
More than 300,000 people a day have been testing positive across India for the past week, with Uttar Pradesh contributing the second-highest number of infections after Maharashtra.
The country added highest number of both, 3,293 deaths and 360,000 infections on Wednesday, taking the total death toll past 200,000 and 2.9 million active infections.
Register for free to continue reading
Registration is a free and easy way to support our truly independent journalism
By registering, you will also enjoy limited access to Premium articles, exclusive newsletters, commenting, and virtual events with our leading journalists
Already have an account? sign in
Join our new commenting forum
Join thought-provoking conversations, follow other Independent readers and see their replies