Huge explosion at India fireworks factory kills nine people and damages dozens of homes
Locals complain of police inaction against illegal manufacturing unit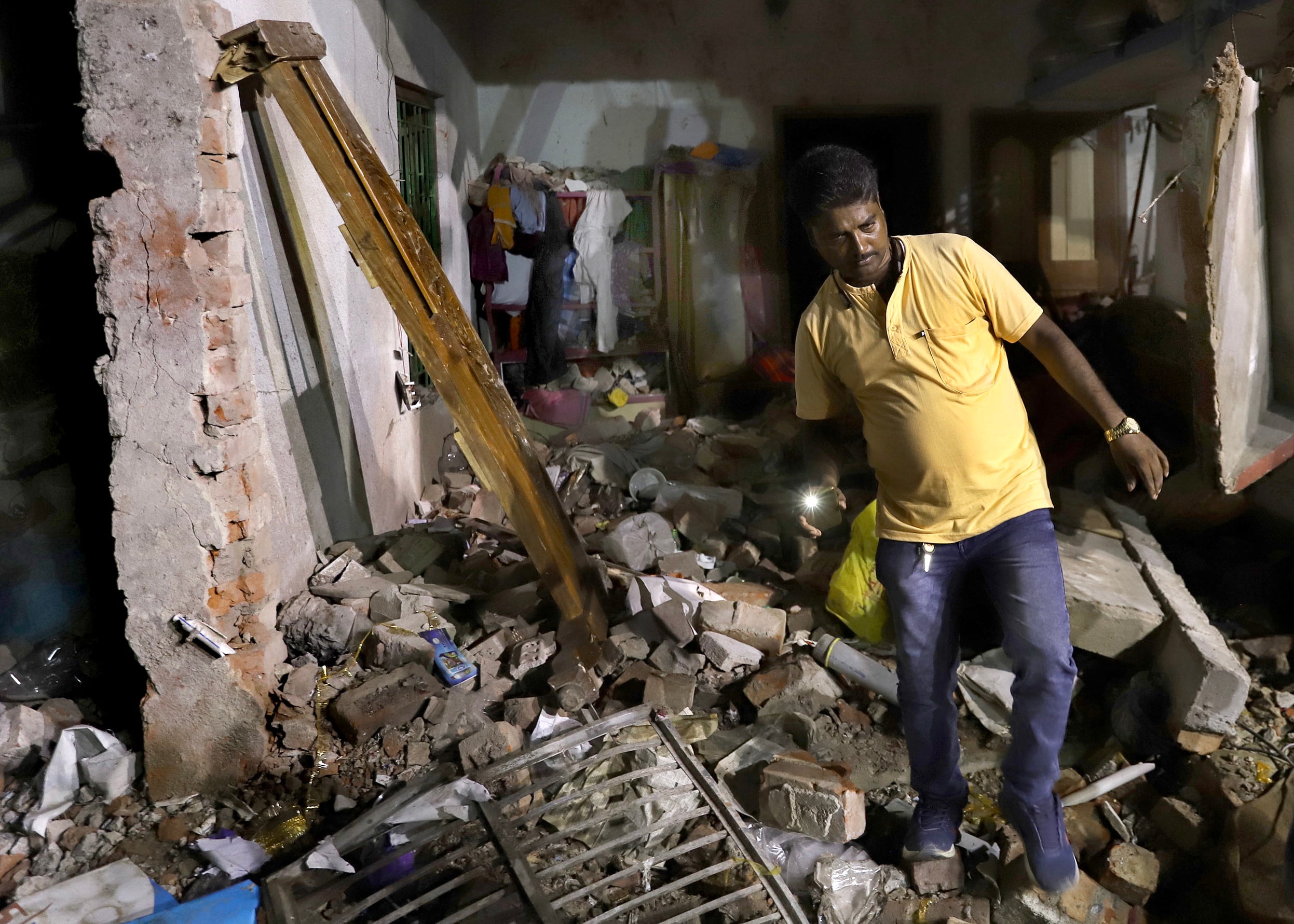 At least nine people were killed in an explosion at an unlicensed fireworks factory in India's eastern state of West Bengal.
Police have arrested one suspect involved in running the manufacturing unit, while a case has been registered against three other people. The factory was operating without a licence, the police said.
The building in Duttapukur, located nearly 35km north of the state capital Kolkata, was used to store large quantities of raw materials as well as in the production of fireworks.
The blast occurred at 8.30am on Sunday and was reportedly so powerful that it brought down the two-storey building in minutes. At least 50 houses in the vicinity were impacted by the explosion, with many suffering severe damage.
Five people were still in treatment for their injuries on Monday, the police said.
Dismembered human remains were recovered from various nearby buildings and a pond, officials said.
The man who ran the illegal operation, Keramat Ali, and his 21-year-old son Roushan Ali, were among the victims of Sunday's blast. The seven other bodies, including those of minors, have been kept at a morgue at the Barasat medical college and hospital for identification.
"The search operations continued the entire night. However, the lack of power in the area and the huge amount of debris scattered made it tough for us to conduct the searches and our investigation," a police officer said.
Arifa Bibi, a local resident, told The Hindu newspaper that she was thrown a few feet by the blast and that furniture and other items in her house fell because of the impact.
Locals claimed that had raised complaints to the police about the manufacturing unit but the authorities did not take any action.
"Now, when so many lives have been lost, what will the police do in arresting people?" asked Ratan Hasan Ali, a local, according to news agency PTI. "They should have taken necessary actions when we had complained to them."
Upon inspection, the police on Sunday discovered an elaborate setup to produce fireworks at the site of the blast. Small makeshift structures containing raw materials were also found in nearby bamboo groves, the police said.
West Bengal chief minister Mamata Banerjee had set up a committee to curb illegal fireworks units following a similar blast in Purba Medinipur district that killed over 12 people earlier this year.
Opposition parties in the state have demanded a probe be conducted by the National Investigative Agency.
Join our commenting forum
Join thought-provoking conversations, follow other Independent readers and see their replies