Death of horse during centuries-old riding festival in Japan prompts outcry over animal abuse
Thousands sign petition to stop race that sees horses cross near-impossible obstacles while being dragged and slapped by onlookers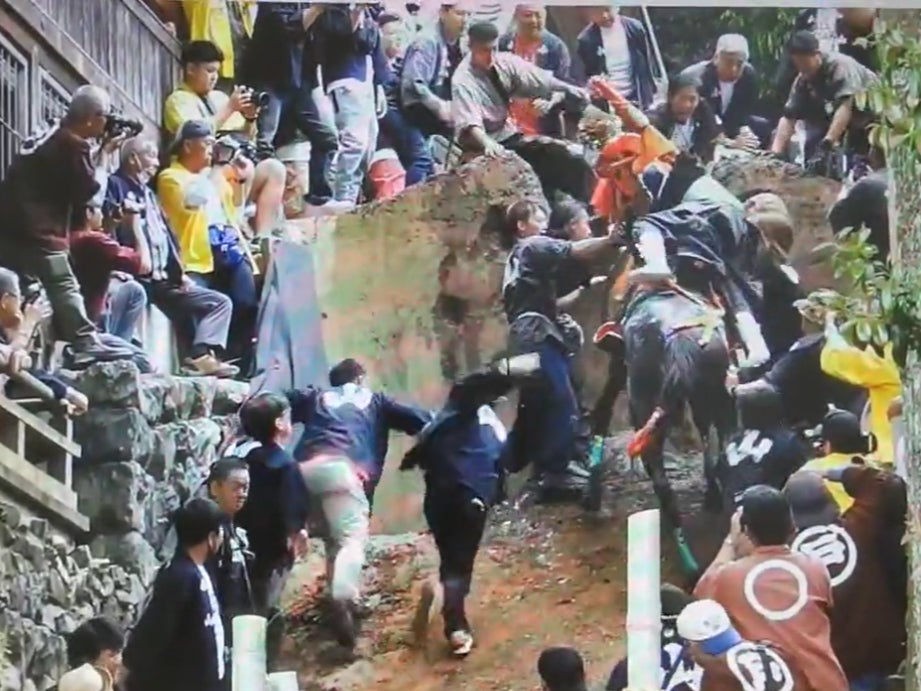 The death of a horse during a centuries-old riding festival in Japan has prompted allegations of animal abuse and a national outcry with calls growing to amend the rules.
The backlash began after a horse named Merzouga was put down after falling down the hill and fracturing its left leg during the two-day festival called Ageuma Shinji (Riding Horse) in May in the city of Kuwana in central Japan.
Merzouga's death led to an outpouring of grief on social media as more videos emerged of horses jumping through the tough terrains with their riders on the back and getting injured in the process.
Apart from Merzouga, five other horses were reported injured in this year's festival held on 4 and 5 May.
So far, the festival has been a cultural practice rooted in local traditions and beliefs and has a long history that dates back to the Edo period between 1603 1868. It is believed to have originated as a way to pray for a good harvest and protection against evil spirits.
However, the death of Merzouga has led to demands of the landscape for this race to be reviewed with the prefecture receiving 1,000 complaints.
The issue has also reached Japan's parliament with lawmakers discussing a petition filed to end the festival which collected more than 31,000 signatures.
The Life Investigation Agency NGO also filed a criminal complaint against 130 people linked to the Ageuma Shinji festival, demanding a review of terrain where the horses are made to run.
"Following a backlash over the euthanisation of Merzouga, a council made up of shrine officials, representatives of the prefecture, local police and local residents met behind closed doors on June 19 at the shrine," Ren Yabuki, the group's founder said, reported SCMP.
"The council then told local media that the structure of the hill, including the wall, was to be reviewed."
Now, in a win for campaigners, the prefectural government has announced it will review the slope and structure of the wall in line with animal welfare concerns.
Horses frequently face injuries during the festival as they are forced to jump through nearly impossible obstacles with some videos showing the animals smashing onto walls or falling down during the race.
Disturbing videos on social media show horses being dragged by onlookers, some also seen slapping them and hitting them with ropes, sticks and whips.
The 680-year-old Shinto festival takes place in the Japanese mountain town annually attracting visitors from around the country.
Riders dressed as ancient Japanese warriors participate in the 100m race where horses are made to run along a track up a steep hill that includes clearing a difficult two-metre high embankment before they can enter the precincts of the Tado Taisha Shinto shrine.
Join our commenting forum
Join thought-provoking conversations, follow other Independent readers and see their replies