Olympic gold medallist to be given new medal after mayor bit the first one
Takashi Kawamura apologised for biting the medal and offered to pay for a new one
Friday 13 August 2021 01:02 Comments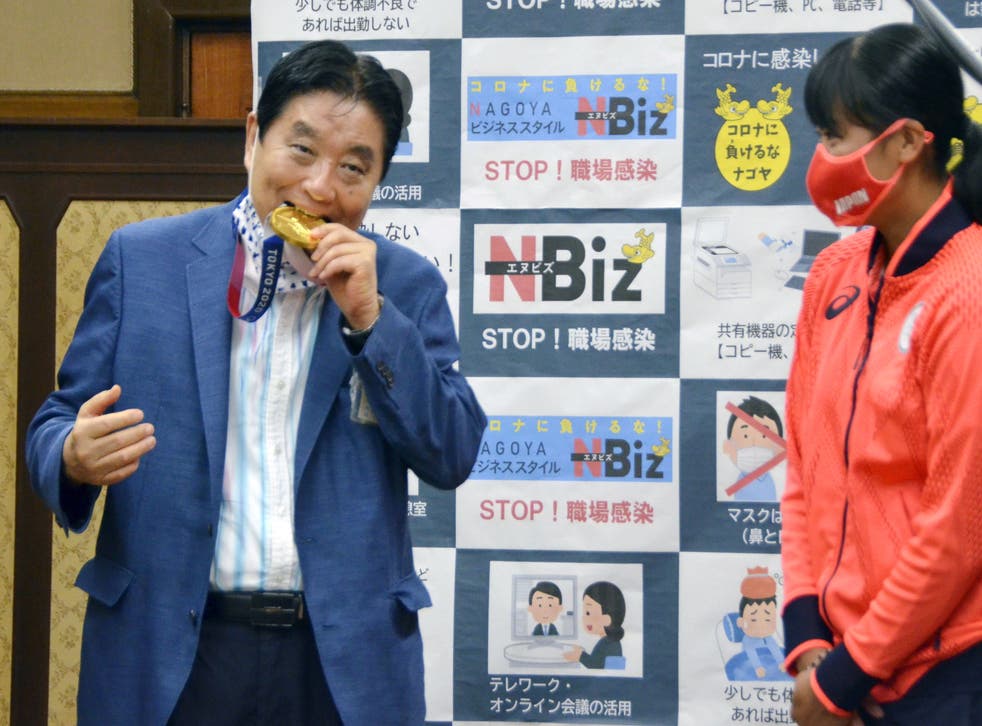 A member of Japan's gold medal-winning softball team will have her medal replaced with a new one after the mayor of her hometown bit the original.
Takashi Kawamura, the mayor of Nagoya, a city in central Japan, put Miu Goto's gold medal between his teeth at an event to celebrate her achievement at the Tokyo games last week.
The medal-biting prompted thousands of people to complain to city hall and swift condemnation on social media for Kawamura in disregarding Covid safety etiquette.
He promptly apologised and offered to pay for the cost of a new one.
Mr Kawamura told reporters on Thursday: "I'm really sorry that I hurt the treasure of the gold medalist".
Some Olympians also criticised the Nagoya mayor and said they treat their medals as treasures and that it was outrageous for Kawamura to bite one.
"I would cry if that happened to me," Naohisa Takato, who won gold for Japan in judo, said in a tweet. "I handle my own gold medal so gently not to scratch it."
Yuki Ota, a silver-medal winning fencer, said the mayor's action was disrespectful to athletes and was a bad idea for COVID-19 measures.
"With support from the International Olympic Committee and in line with her own intention, Ms Goto's medal is now set to be exchanged for a new one," Tokyo 2020 organisers said, adding that the IOC will bear the cost of the exchange."
Goto reportedly considered keeping the original but eventually accepted the IOC offer of a replacement.
Additional reporting by agencies
Register for free to continue reading
Registration is a free and easy way to support our truly independent journalism
By registering, you will also enjoy limited access to Premium articles, exclusive newsletters, commenting, and virtual events with our leading journalists
Already have an account? sign in
Join our new commenting forum
Join thought-provoking conversations, follow other Independent readers and see their replies