At least 47 dead after huge blast hits Afghanistan mosque during prayers
The latest explosion comes just a week after similar attack in Kunduz
Jon Sharman
Friday 15 October 2021 19:58 Comments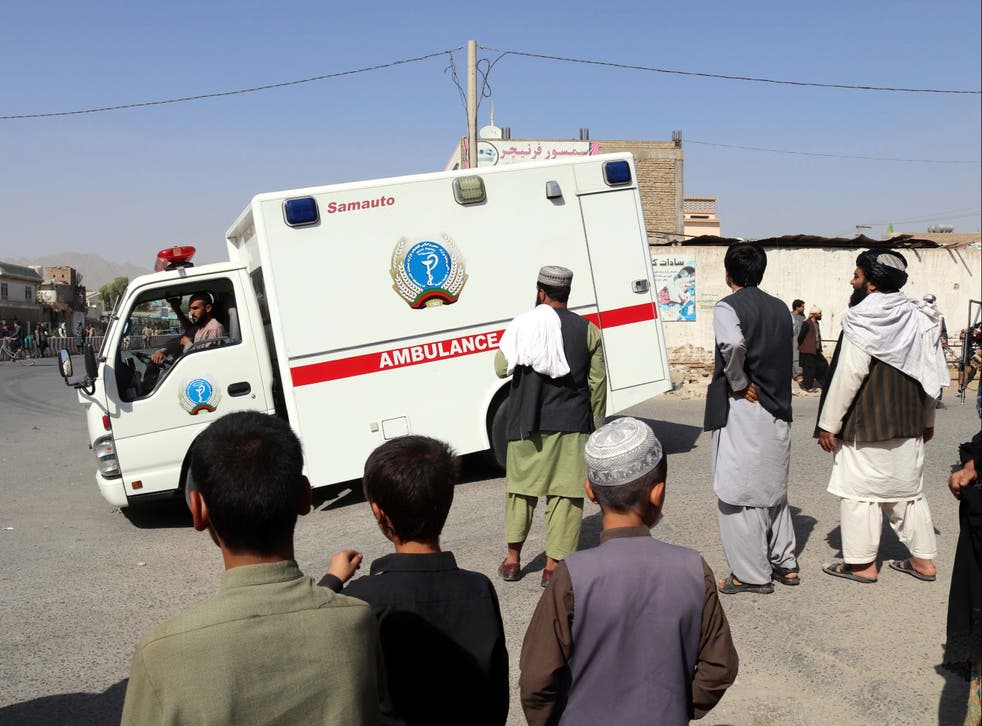 Suicide bombers have attacked a Shia mosque packed with worshippers attending Friday prayers in southern Afghanistan, killing at least 47 people and wounding 70, a Taliban official said.
A witness named Murtaza, who was in charge of security at the Bibi Fatima mosque in Kandahar, told the Associated Press that he saw two bombers. He said one detonated explosives outside the gate, and the other was already among the worshippers inside the mosque. He said the mosque's security personnel shot another suspected attacker outside.
Hafiz Sayeed, the Taliban's chief for Kandahar's department of culture and information, said 47 people had been killed and at least 70 wounded in the attack.
Authorities said they were still gathering details of the explosion, which happened a week after Isis claimed a bombing at another Shia mosque in the northern city of Kunduz. The death toll from that attack has been estimated as high as 80.
On Friday Taliban special forces arrived at the mosque to secure the site and an appeal went out to residents to donate blood for the victims. There was no immediate claim of responsibility.
The sectarian bloodletting has raised fears that Isis-K – an enemy of both the Taliban and the west – is expanding its foothold in Afghanistan.
Isis-K has claimed a number of deadly bombings across the country since the Taliban seized power in August after the withdrawal of US forces. The group has also targeted Taliban fighters in smaller attacks.
Afghanistan's returning rulers are now grappling with an escalating economic and humanitarian crisis that threatens millions with hunger.
Additional reporting by agencies
Register for free to continue reading
Registration is a free and easy way to support our truly independent journalism
By registering, you will also enjoy limited access to Premium articles, exclusive newsletters, commenting, and virtual events with our leading journalists
Already have an account? sign in
Join our new commenting forum
Join thought-provoking conversations, follow other Independent readers and see their replies