Bangladesh: At least 22 dead after passenger boat sinks
The vessel was carrying more than 100 people when it sank
Celine Wadhera
Sunday 29 August 2021 02:59 Comments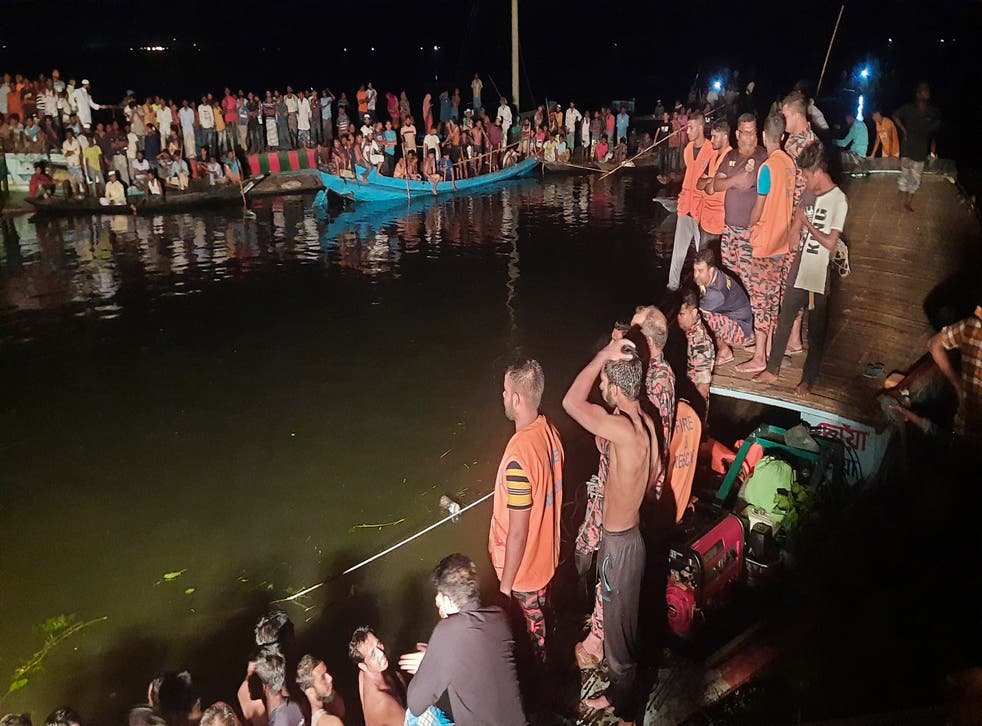 At least 22 people have died after a passenger boat carrying more than 100 people sank following a collision in a large pond in Bangladesh.
The vessel collided with two sand-laden bulkheads in the Brahmanbaria district, around 51 miles east of Dhaka, the Anadolu Agency reported.
Police official Imranul Islam confirmed that rescuers had retrieved 21 bodies from the scene on Friday night.
On Saturday, local police superintendent Anisur Rahman told the Anadolu Agency that the 22nd body had been recovered as the search and rescue operation continued.
No more passengers were thought to be missing despite initial reports that around 50 were unaccounted for.
Mr Rahman said that five people had been arrested, including the cargo boat drivers, a cargo boat owner and other staff of two sand-laden trawlers.
On Friday night, he said that one of the cargo boat's drivers and two assistants had been caught by locals in the Bijoynagar region and turned over to local authorities.
"Maybe many swam to safety. There was no passenger list. It happens here. Today, nobody came to us looking for any missing people," said Emon Sarker, a duty officer with the district's fire service and civil defence, who also provided the final death toll.
A witness to the accident told a Dhaka-based newspaper that two cargo vessels hit the passenger boat.
"I was grazing cattle on the bank. I heard a loud noise and saw the cargo vessels hitting the passenger trawler. I saw the trawler sinking quickly," Nurul Amin told The Daily Star.
Deadly accidents are common across Bangladesh, where water transport is commonly used to move people and goods across its 230 rivers. Unskilled operators and poor enforcement of water safety regulations are often at fault.
Register for free to continue reading
Registration is a free and easy way to support our truly independent journalism
By registering, you will also enjoy limited access to Premium articles, exclusive newsletters, commenting, and virtual events with our leading journalists
Already have an account? sign in
Register for free to continue reading
Registration is a free and easy way to support our truly independent journalism
By registering, you will also enjoy limited access to Premium articles, exclusive newsletters, commenting, and virtual events with our leading journalists
Already have an account? sign in
Join our new commenting forum
Join thought-provoking conversations, follow other Independent readers and see their replies