Bangladesh factory fire: At least 49 dead in blaze at food company outside Dhaka
Relatives clash with security forces as they protest over delays to rescue work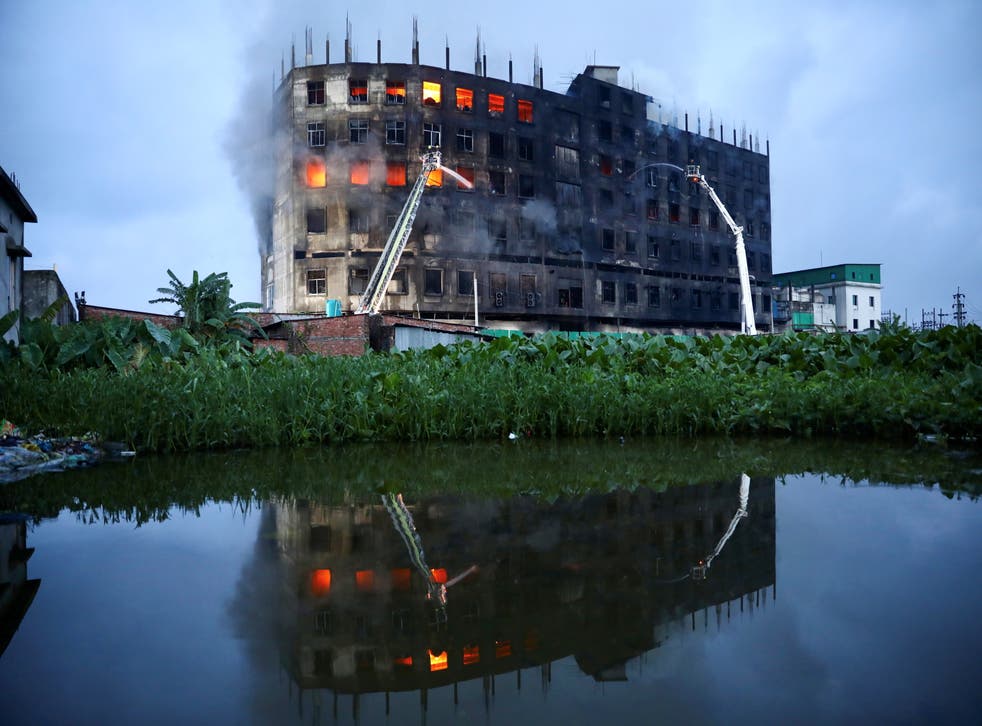 At least 49 people have died in a fire at a food and drinks factory outside the Bangladesh capital Dhaka, according to local TV reports.
A massive blaze broke out at the multistory building of Hashem Food and Beverage Ltd, a factory in Rupganj, near Dhaka on Thursday night, fire official Russel Shikder said.
At least 17 bodies have been recovered so far.
The blaze was doused on Friday morning, but the firefighters are struggling to recover bodies from the remains of the burned factory.
The exact number of casualties could not be confirmed, officials said, as more bodies are expected to be recovered.
According to an unidentified senior official who spoke to Ekattor TV on Friday, the factory was locked from the inside when the fire broke out.
It is still unclear how many people were trapped inside the building, but those who came out alive spoke of their fears that many others might not have managed to escape.
Many survivors were injured and some died outside of fatal injuries after jumping from the upper floors in an attempt to escape the fire, reported the Dhaka Tribune.
Distraught relatives of the victims staged protests in front of the fire-ravaged factory on Friday and blocked the nearby Dhaka-Sylhet highway for hours, clashing with security forces.
Head of the Dhaka fire department Dinu Moni Sharma told reporters the cause of the fire was suspected to be the stock of highly flammable chemicals and plastics kept inside the factory.
One of the survivors said the doors on the stairwell of the third floor were closed, blocking the exit route for many people who were trapped on higher floors.
The Asian nation has a long history of deadly fires in factories as well as the sprawling camps housing Rohingya refugees, which have been attributed to overcrowding and laxity in enforcing safety rules.
In March this year, at least 15 people were killed in the southeastern town of Cox's Bazar, home to hundreds of thousands of Rohingya refugees fleeing persecution in neighbouring Myanmar. At least 50,000 people were rendered homeless by the blaze.
In February 2019, at least 67 people died after a fire engulfed a 400-year-old area cramped with apartments, shops and factories in Dhaka itself. And in another major incident in 2010, 123 people were killed in Old Dhaka after a fire broke out in a house illegally storing chemicals.
Register for free to continue reading
Registration is a free and easy way to support our truly independent journalism
By registering, you will also enjoy limited access to Premium articles, exclusive newsletters, commenting, and virtual events with our leading journalists
Already have an account? sign in
Register for free to continue reading
Registration is a free and easy way to support our truly independent journalism
By registering, you will also enjoy limited access to Premium articles, exclusive newsletters, commenting, and virtual events with our leading journalists
Already have an account? sign in
Join our new commenting forum
Join thought-provoking conversations, follow other Independent readers and see their replies