The Independent's journalism is supported by our readers. When you purchase through links on our site, we may earn commission.
Bangladeshi capital rocked by second day of protest as blasphemous footage sparks wave of anti-Hindu violence
Scores of Hindu temples and shrines reportedly attacked during religious minority's largest festival
Andy Gregory
Sunday 17 October 2021 01:29 Comments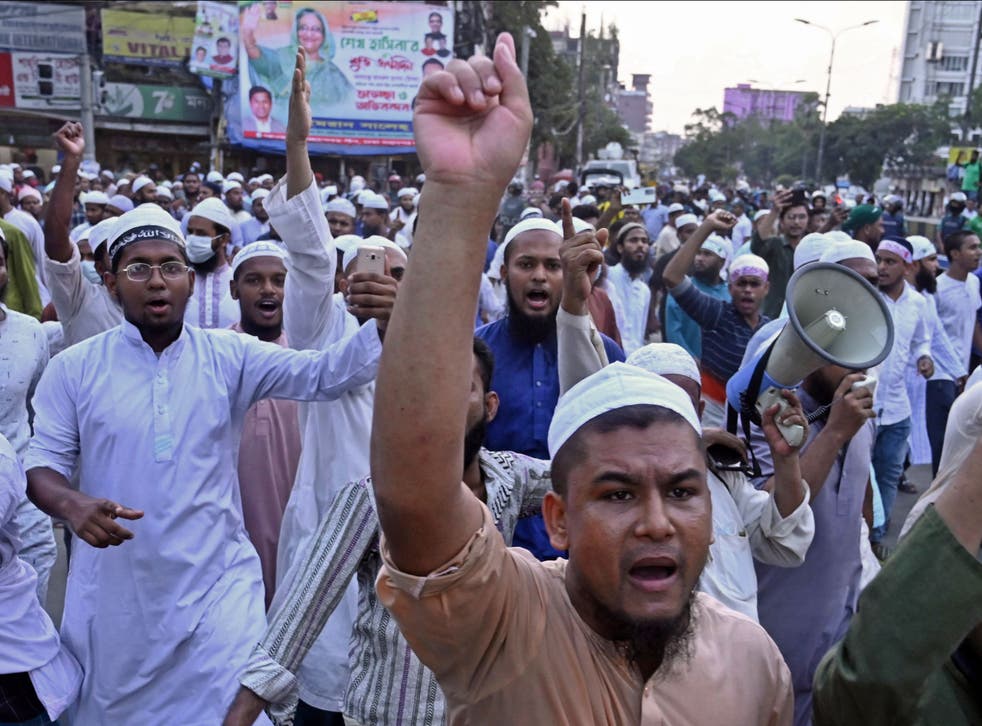 Thousands of protesters have taken to the streets of Dhaka as Bangladesh is rocked by its worst communal violence in years, sparked by allegations that the Quran was desecrated at a Hindu temple.
Carrying banners of Islamist political parties and chanting "hang the culprits", the crowd of some 10,000 people gathered outside the capital's main mosque on Saturday, a day after demonstrations there ended in clashes with the police featuring batons, tear gas and thrown rocks.
Separately, at a nearby intersection, roughly 1,000 Hindus protested against the wave of attacks on temples and killing of two Hindu devotees in another district where several temples were vandalised by furious crowds of Muslims this week.
The violence began on Wednesday after footage went viral on social media which allegedly showed a copy of the Islamic holy book being placed at the feet of an idol in a temple in the eastern Cumilla district.
Mobs of hundreds of people gathered in Cumilla and neighbouring areas, and are reported to have attacked 10 different Hindu temples and shrines. In Chandpur, which saw some of the worst violence, the district magistrate said police had "no choice" but to open fire on the crowd, killing three Muslims.
By the time the minority Hindus' largest festival, the Durga Puja, came to a close two days later, anti-Hindu violence had spread across the country – despite the government reportedly deploying paramilitary forces to more than half of Bangladesh's 64 districts and shutting down mobile internet access in Dhaka.
More than 150 Hindus were injured, at least 17 temples were targeted, and at least 80 makeshift shrines set up for the festival were attacked, Hindu community leader Gobinda Chandra Pramanik was quoted as saying, amid what is being reported as the worst communal violence in Bangladesh since 2016, when hundreds of Hindu homes were burned after a fake Facebook post alleged an insult to Islam.
On Friday, hundreds of Muslims attacked a temple in Begumganj, reportedly setting it alight. Two Hindus are said to have been killed.
Protests also erupted in the capital, where the Dhaka Metropolitan Police said several people were injured after the police charged with batons and tear gas to disperse the crowd, which was attempting to break through a police barricade.
"We ask the government to arrest those who defamed the Quran by putting it at the feet of an idol in Cumilla," said Mosaddek Billah Al Madani, president of the Islamist political party, Islami Andolan Bangladesh, who added that protesters demanded "the death sentence" for those responsible.
As protests erupted for a second day in the capital on Saturday, Rana Dasgupta, general secretary of Bangladesh Hindu Buddhist Christian Unity Council, suggested the violence was planned and aimed to drive religious minorities out of Bangladesh and turn it into a communal state, according to the Dhaka Tribune.
World news in pictures

Show all 50
Bangladeshi authorities have ordered an investigation into the origins of the offensive footage of the Quran, while prime minister Sheikh Hasina has promised to punish any perpetrators of violence, saying on Friday: "Nobody will be spared. It doesn't matter which religion they belong to. They will be hunted down and punished."
But in a meeting with Hindus to mark the Durga Puja, Ms Hasina also sought to link violence in Bangladesh to reports of anti-Muslim violence in neighbouring India, which has indeed angered Muslims in Bangladesh.
A state visit by Indian prime minister Narendra Modi earlier this year sparked fatal protests and attacks on Hindu temples, while some demonstrators in Dhaka on Friday reportedly chanting anti-India slogans.
"This isn't the first time that minorities in Bangladesh have come under attack," Amnesty International's South Asia campaigner, Saad Hammadi, told the New York Times.
"Targeting religious sensitivities to stoke communal tension is one of the worst forms of human rights violation. We urge the authorities to thoroughly and impartially investigate the incidents and bring those responsible for the violence to justice through fair trials."
Echoing Mr Dasgupta's suggestion that the attacks were "pre-planned", the Bangladesh Hindu Unity Council said: "We don't know what will happen in the future. But the Hindus of Bangladesh will never forget Durga Puja in 2021."
Additional reporting by AP
Register for free to continue reading
Registration is a free and easy way to support our truly independent journalism
By registering, you will also enjoy limited access to Premium articles, exclusive newsletters, commenting, and virtual events with our leading journalists
Already have an account? sign in
Join our new commenting forum
Join thought-provoking conversations, follow other Independent readers and see their replies