Imran Khan says last six months have been 'difficult to handle' for his family in UK
Former Pakistan PM survived an assassination attempt in November and his arrest earlier this month led to massive protests across the country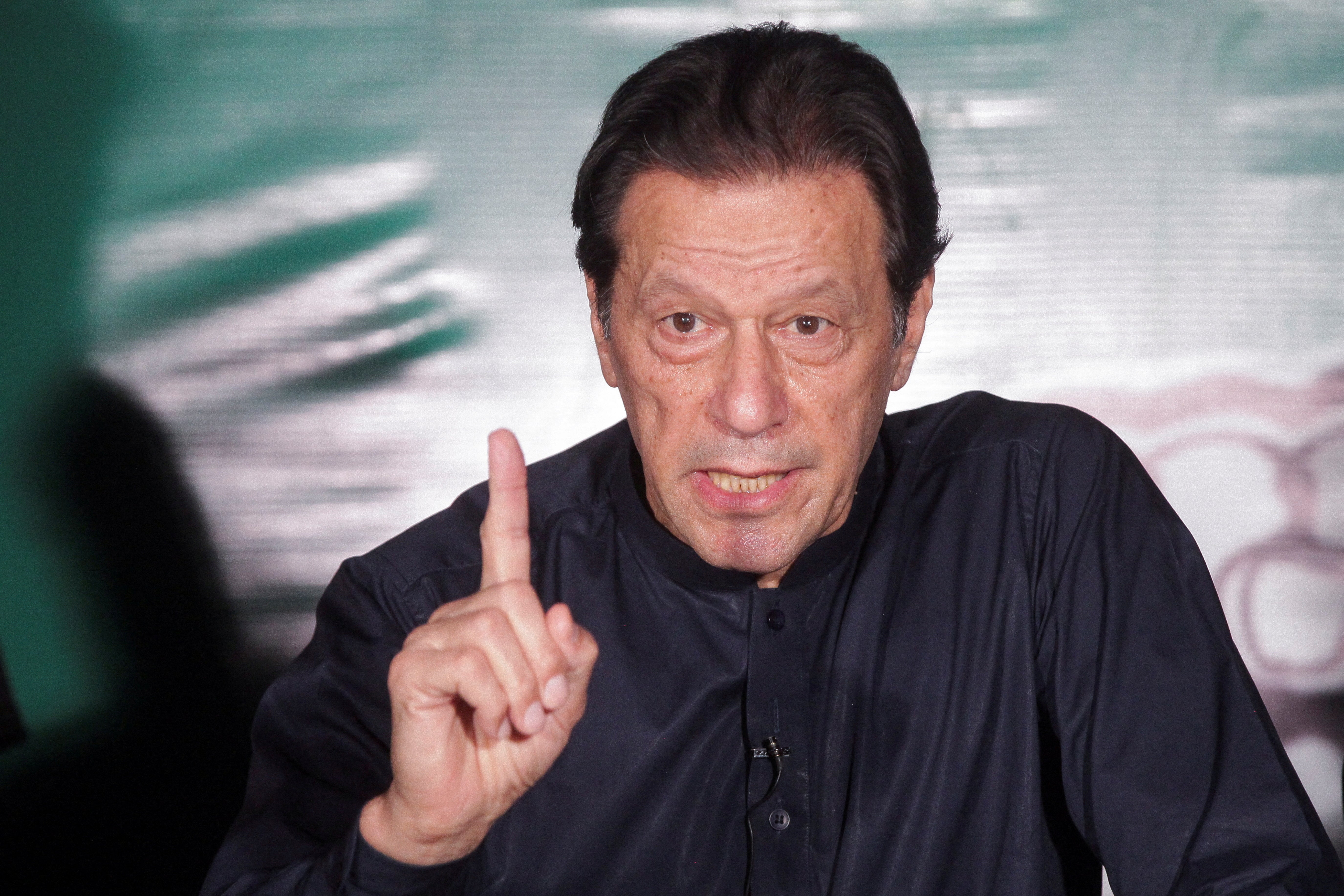 Former Pakistan prime minister Imran Khan says the tumultuous last six months have been "difficult to handle" for his two sons living in the UK with his ex-wife Jemima Goldsmith.
Mr Khan survived an assassination attempt in November last year, taking three bullet-wounds to the legs from a gunman armed with an automatic pistol at a political rally.
He returned to campaigning in March, calling for the government to agree to fresh elections, addressing large crowds of supporters from behind a bulletproof screen.
Yet within weeks he was dramatically arrested during a scheduled appearance at the Islamabad High Court, dragged out of the court premises by paramilitary forces linked to the interior ministry, an act which the Supreme Court later declared was illegal. Mr Khan claims other attempts on his life have been made, and accuses the government and intelligence agencies of orchestrating them – charges the authorities deny.
Speaking earlier this week in an exclusive interview with Independent Urdu, Mr Khan was asked if his sons, who live in the UK, feared for his life.
Mr Khan said: "Yes. You know, it's natural for all your sons to be worried.
"I speak to them. They're worried because there was an assassination attempt on me – that's when they came to see me... It's obvious[ly] not just the fear of assassination [but also] being put into jail. You know, for all your sons, it's quite difficult to handle."
During the interview, Mr Khan reiterated his claims that the Pakistan army chief wanted to "demolish" his party, the Pakistan Tehreek-e-Insaf [PTI]. He was asked if he was ready to talk to the army chief or the prime minister to bring a resolution to Pakistan's political turmoil.
He responded: "Then who are you going to talk to? The prime minister has nothing to do with it. These are just puppets."
However, he added that he was still ready to negotiate and open a dialogue with the country's army. "Yes, politicians should be ready to negotiate with anyone at all times. Because politicians resolve differences through dialogue and not through guns."
Mr Khan is facing more than 100 criminal charges including corruption and sedition, and has been granted pretection from arrest from many of these in the past two weeks. He says the charges are all politically motivated.
As well as causing distress, the criminal proceedings have directly impacted his family in Pakistan. His wife, Bushra Bibi, was present during a March police raid on his house in Lahore that took place while Mr Khan was away for a court appearance.
And she is also named as a defendant in corruption charges involving a trust that is in the pair's name. She was eventually granted temporary protection from arrest by a court after he predicted she will be targeted in what he describes as a government campaign to pressurise him into giving up his calls for new elections.
Join our commenting forum
Join thought-provoking conversations, follow other Independent readers and see their replies