Sex-shamed by Taliban and driven out of her homeland – but Afghanistan's last female taekwondo fighter refuses to give in
Exclusive: Forced to flee her home in Kabul after the Taliban takeover, 21-year-old Marzieh Hamidi faces both mental and physical challenges to start over again in a foreign land as a refugee, she tells Arpan Rai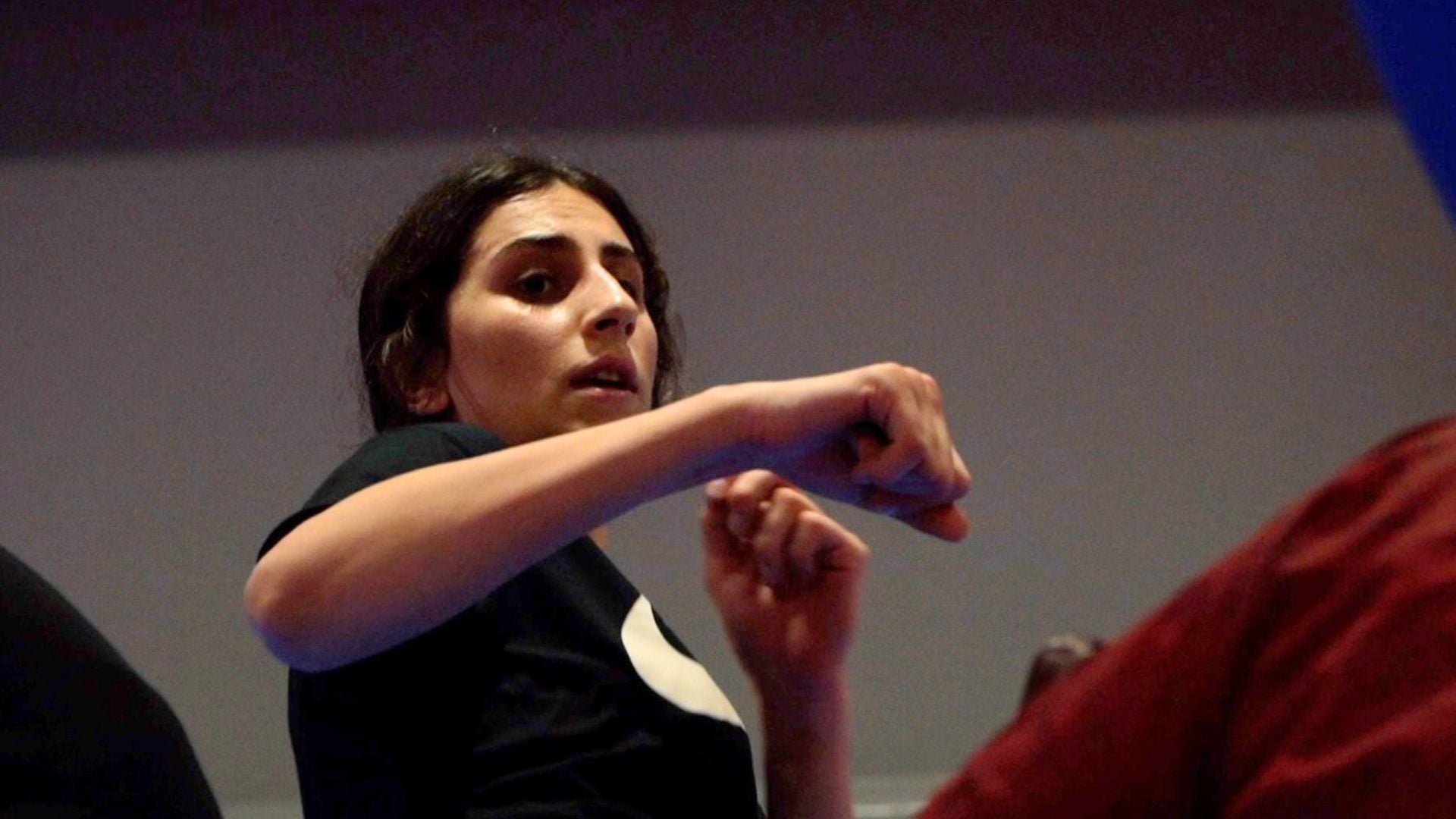 Her high front kick could easily take down an opponent and win her a medal in any championship. But in Afghanistan, taekwondo champion Marzieh Hamidi has been sex-shamed by the Taliban and driven out of her homeland.
"Many men in Taliban's Afghanistan have been led to believe women cannot be champions. When I open my legs high up for training, they say 'you lost your virginity, you're bad'," says Hamidi, who represented her country's national team before the Taliban took over.
"This is violence for me. It doesn't have to be a slap on my face. This is enough violence and destruction for my brain," she tells The Independent.
The 21-year-old, who fled Afghanistan after the Taliban stormed to power, says anger has been brewing like a storm inside her chest since August 2021 and her kicks and punches are now fuelled by that aggression and rage.
Taliban fighters were in the streets outside her house in Kabul's Karte Char, she says, as she watched them from her house window. Her father returned from an errand and told her, "they've arrived", leaving her in complete disbelief.
To gauge what was happening to her neighbourhood, the then 19-year-old Hamidi wore a burqa three times her size and went to her favourite cafe, dragging a friend along.
"We only saw the Taliban's armed fighters guarding every nook and corner, inside the restaurant and outside my house. The kind of men I had never seen before, in long beards and holding some sort of weapon. I did not see any woman out in public after that," she says.
She waited for the initial chaos at the Herat and Kabul airports to subside before being able to escape the oppressive regime. Her family changed their home thrice in Kabul.
Meet the Afghan refugee using taekwondo to fight against the Taliban
Eventually, she was evacuated by France along with 3,000 other people in November, making her a refugee once again – a label that has followed her around since birth.
She was born in exile in Iran in 2002 and managed to return to her home country in 2019, only living there for two years before being forced to flee again.
Hamidi will now be competing as part of the refugee team at the World Taekwondo Championship on 29 May in Baku, Azerbaijan.
"It breaks my heart to not have the colours of Afghanistan represent me at the world stage. It has hurt me a lot because it was my dream to be in the world championship alongside my home team but I take this as a chance to fight for myself, my country and my women and some people who are from the same country but will not support me for not wearing a hijab," Hamidi says.
"I will still represent them."
She will be pitted against taekwondo champions from across the world in the 57kg category, amid a gutting cycle of loss of her homeland, leaving her parents and family behind, watching her sports federation in Kabul collapse, and other team members disappear under the Taliban rule.
Even if she wanted to represent a Taliban-led Afghanistan, the hardline Islamist regime's oppressive gender policies have left her without a team – Afghanistan will only be sending men to compete in the world championship this year.
"Only boys are allowed to train in Afghanistan for taekwondo and only they are allowed to come to Baku. I will see the boys and men who have trained for the championship," she says.
The Taliban would never send women to championships as long as they are in power in Kabul, Hamidi says, adding that she would never represent them by choice if that changed.
"For me they are a group of terrorists. Because of them I had to start my life all over again, I had to leave my country. I am alone, I lost my home and I lost so many people back home in the war. I want to now show to the Taliban that refugees are not as weak as they are viewed," she says.
Seeing her country fall to the Taliban has taken a mental toll as tough as any physical battle, she says.
"Sometimes I zone out and my mind goes back to Afghanistan. I lost my fight in Belgium because of the Taliban, which was my first fight after fleeing Kabul. I was depressed and when I am reeling under that feeling, I do not have energy in my legs, in my body to fight and raise it high enough for a kick," she says.
"My coach asked me 'what happened to you' but I can never explain my mental fight to anyone else who is not from Afghanistan." How do you explain the horrors of becoming a refugee at the hands of the Taliban to people outside of the country, she asks. "No one will understand."
"There is no home. I chase that feeling every day but I spend sleepless nights to just feel I belong somewhere. I want to know what homeland means. I am told home is a feeling but right now I don't have that feeling as well," she says.
With all odds stacked against her, Hamidi says she is not afraid to call a spade a spade.
"My taekwondo is my fight because they banned it and I left there (Afghanistan). I came to Paris to become a champion to show them that if you ban me from there, I can continue here, that I can fight against you and I can fight against your mind [to show] that women are strong. I can do anything I want and I have the power," she says.
"I will fight for Afghanistan but I will do it my way. I will not be the Taliban's victim."
Join our commenting forum
Join thought-provoking conversations, follow other Independent readers and see their replies