Canadian MPs flag 'grave' human rights crisis in Pakistan to Justin Trudeau
'We don't know the veracity of the charges former prime minister Imran Khan faces but we believe, as in any democratic nation, those charges should be aired promptly and fully in open court'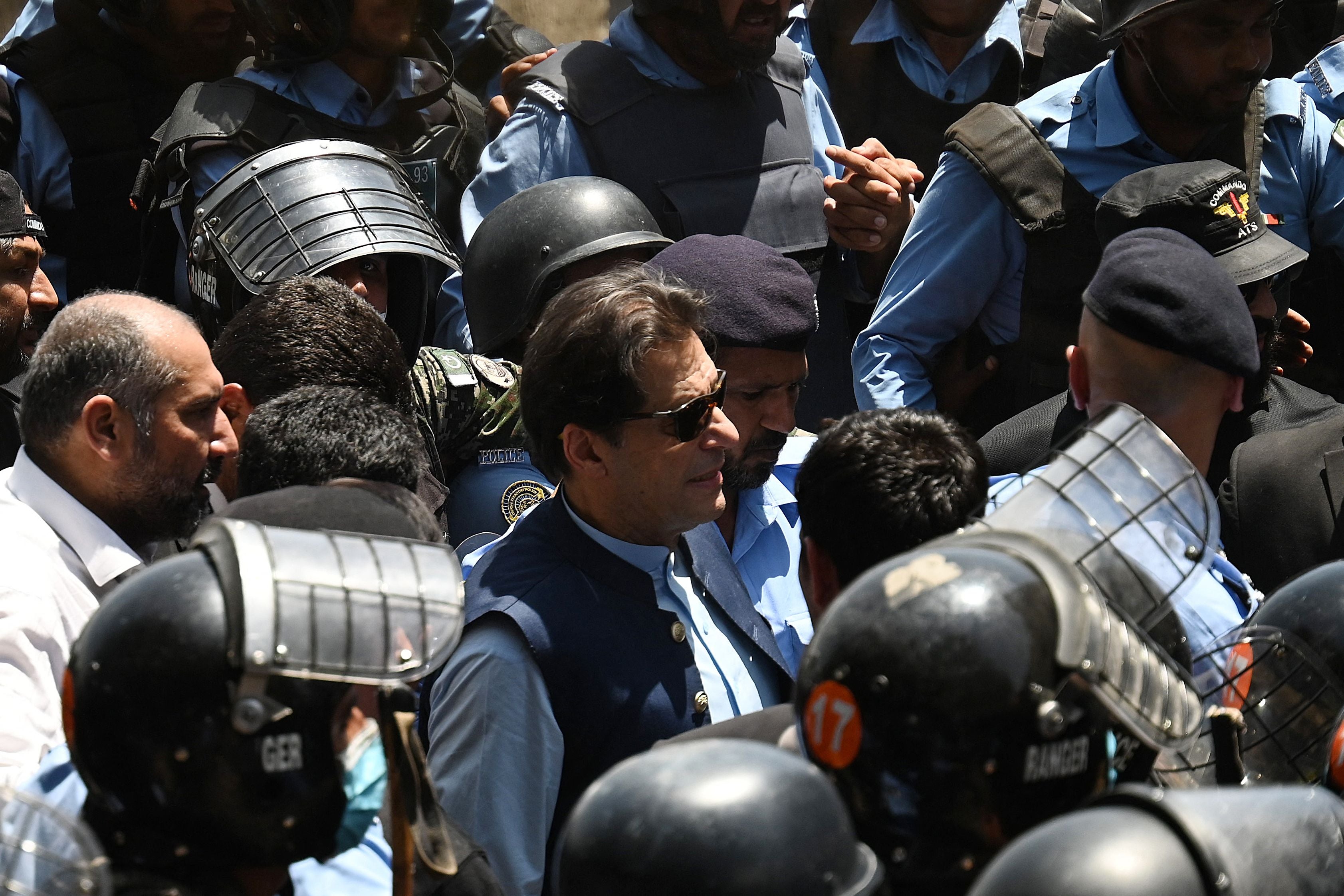 More than a dozen lawmakers in Canada have written to prime minister Justin Trudeau, underscoring the simmering situation in Pakistan after the arrest of Imran Khan.
Claiming to represent "thousands of concerned Canadians of Pakistani heritage", the letter undersigned by 16 members of parliament has asked Mr Trudeau to address the political turmoil that has led to widespread arrests and human rights violations in the south Asian country.
"As Parliamentarians, we have the collective responsibility and privilege to act as the voice of our constituents. And they have expressed deep concern about the strength of democracy, the rule of law and freedom of expression in Pakistan. These are critical and inalienable tenets of any society that we should never for granted no matter where we live or how we choose to express them," the letter shared by Scarborough centre chair Salma Zahid on Twitter read.
Citing the Supreme Court of Pakistan's ruling of the cricketer-turned-politician Mr Khan's arrest as illegal and unjust, the lawmakers said: "These actions aimed at any Pakistani or individual, for that matter, strikes at the very core of what we stand for as Canadians and as a leading international democracy".
"We don't know the veracity of the charges former prime minister Imran Khan faces but we believe, as in any democratic nation, those charges should be aired promptly and fully in open court and the independent legal system be allowed to do its work," the letter added.
The lawmakers have also said that while they call for the right of a peaceful protest to be respected, they condemn all acts of violence as well as the illegal arrest of innocent civilians, journalists and activists, especially women and children.
Anyone charged should have their cases heard in a civilian court, the lawmakers urged.
"Pakistan, and Pakistanis alone, should be the masters of their own destiny through free and fair elections governed by a robust respect for the rule of law, the constitution and human rights," the lawmakers said.
This comes in the wake of a politically turbulent month in Pakistan after the arrest and bail of Mr Khan and the police siege at his Zaman Park residence in Lahore.
More than 7,500 of his Pakistan Tehreek-e-Insaaf party workers, including women, have been arrested by the police. At least 10 people were killed in clashes between his supporters and police across the country.
The former prime minister is facing about 100 legal cases against him. He appeared before a court in his hometown of Lahore on Friday to seek protection from arrest in multiple terrorism cases that authorities have raised against the country's top opposition leader.
Mr Khan dialled down his campaign of defiance and said he would allow a police search of his home over allegations that he was harbouring suspects wanted in recent violence during anti-government protests by his supporters.
Since last week, small rallies in solidarity with the military have been held around the country denouncing attacks by Mr Khan's supporters.
Join our commenting forum
Join thought-provoking conversations, follow other Independent readers and see their replies