Sexual violence reports steadily surge in South Asia 'with rape victims facing stigma'
Rape victims subjected to 'two-finger test' described as 'unscientific, intrusive and re-traumatising vaginal examination'
Maya Oppenheim
Women's Correspondent
Thursday 22 April 2021 12:44 Comments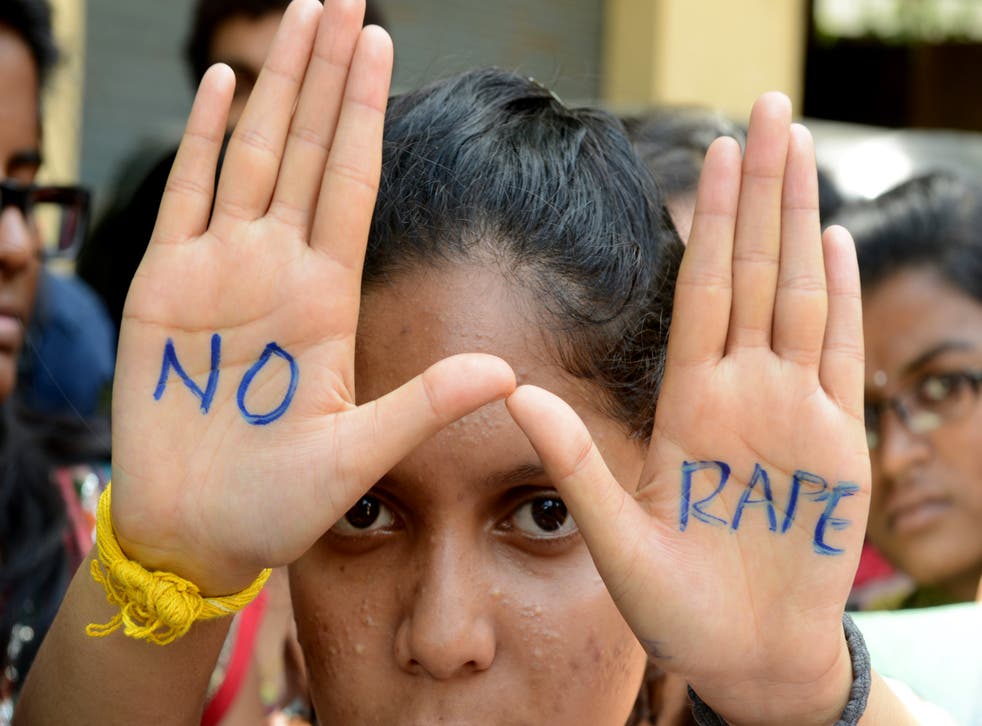 Sexual violence reports across South Asia have steadily risen in recent years with rape victims facing stigma and further violence for coming forward, a new report has found.
Research by Equality Now, an NGO, which champions rights of women and girls, discovered rape laws in the region are "insufficient, inconsistent, and poorly enforced" which means women are in danger of experiencing sexual violence.
The study found the profoundly patriarchal view only "chaste" and "moral" women and girls can be raped is commonplace - with rape victims' sexual history used against them and women routinely forced to provide highly discriminatory and invasive evidence.
Researchers, who analysed six nations spanning from Bangladesh to Bhutan, Nepal, Maldives, India and Sri Lanka, warned rape survivors and their families are pushed into informal community mediation, as well as facing victim-blaming, threats, bribery, being sacked or evicted, or enduring yet more violence.
Over 60 per cent of victims in Bangladesh, India and Nepal polled said they had to deal with attempts to make them settle or compromise their case.
While researchers found rape victims are subjected to the "two-finger test" which campaigners describe as an "unscientific, intrusive and re-traumatising vaginal examination" conducted on the erroneous idea the procedure can decipher if a women or girl's rape claims are true.
The report states the examinations, which are carried out in India, Nepal and Sri Lanka and involves a health professional medical putting two fingers into the vagina, are often utilised to claim the woman is lying.
The report states: "The test is often used to declare rape survivors as 'habituated to sex'. Medical evidence of past intercourse is used to cast doubt on the rape allegation, either to suggest a survivor lied about the rape, to imply that the rape wasn't harmful or to suggest the moral impropriety of the survivor and therefore her lack of entitlement to justice.
"If the hymen is still intact, the test is used to declare that rape could not have taken place, though it is scientifically proven that rape can take place without breaking the hymen.
"From a human rights perspective, conducting a test on rape victims that has no probative value is a violation of the personal integrity of the women and girls and could cause further trauma to these rape survivors."
Lengthy delays in police investigations, medical examinations, prosecutions and trials were found to be a prevalent issue, while reports of police officers simply refusing to either record a complaint or investigate allegations are also commonplace.
In Bangladesh, India, Nepal and Sri Lanka, people interviewed for the research warned individuals in the criminal justice system are open to bribery.
Divya Srinivasan, one of the report's authors, called for governments to carry out urgent action to give women and girls greater protection against rape and sexual assault and end "widespread impunity for perpetrators".
The human rights lawyer, who is a legal advisor for Equality Now, said "the bleak reality" is in some cases the "victim-blaming and discriminatory attitudes of justice system officials" block victims from seeking justice.
She added: "Men who commit sexual violence, especially those in from dominant communities, know they are unlikely to be punished because all levels of the system are weighted in their favour, and this impunity for crimes fosters an enabling environment that promotes further abuse."
Ms Srinivasan said they had heard of cases when police officers sought to convince victims to drop their complaints.
She added: "Failure to criminalise marital rape in Bangladesh, India, Maldives and Sri Lanka is one of the major gaps in rape law protections in South Asia. Legally permitting impunity for rape within marriage treats wives as the property of their husbands and takes away women's rights over their own body.
"In Bangladesh, the Maldives and Sri Lanka, laws explicitly permit the marital rape of children over certain ages, which not only deprives young girls of their right to sexual and bodily integrity merely on their marital status, but also implicitly encourages child marriages by providing special protection to child sexual abusers as long as they are married to their victims."
It comes after a damning United Nations report released last week found almost half of all women in developing nations are prevented from having autonomy over their bodies.
The study into 57 developing countries said denial of bodily autonomy includes being forced to have sex with their partners, as well as being prevented from using contraception, or seeking other types of healthcare.
Researchers discovered 20 countries or territories have "marry-your-rapist" laws that allow a man to evade prison or criminal prosecution if he gets married to the woman or girl he has raped.
Register for free to continue reading
Registration is a free and easy way to support our truly independent journalism
By registering, you will also enjoy limited access to Premium articles, exclusive newsletters, commenting, and virtual events with our leading journalists
Already have an account? sign in
Join our new commenting forum
Join thought-provoking conversations, follow other Independent readers and see their replies