Danny Fenster: US journalist heads home after release from jail in Myanmar
Journalist released following negotiations by former US diplomat Bill Richardson
Stuti Mishra
Monday 15 November 2021 18:03 Comments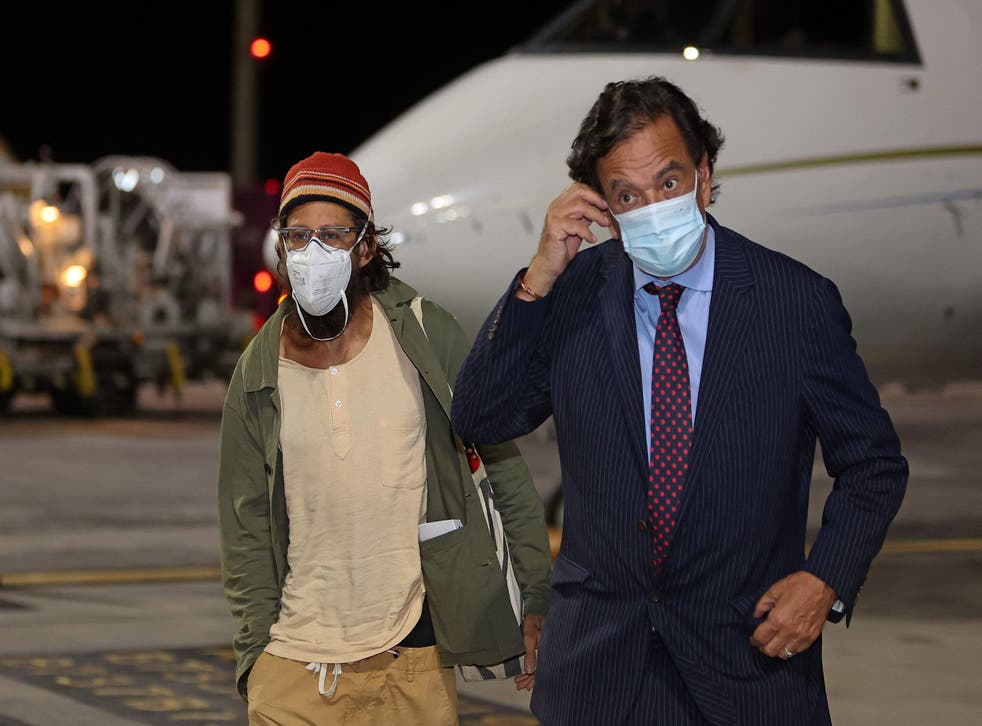 American journalist Danny Fenster said he was healthy and pleased to be heading home after flying to Qatar following his release from prison in Myanmar on Monday.
His release followed negotiations between former US diplomat Bill Richardson and the ruling military junta.
The 37-year-old, who is the managing editor of independent online magazine Frontier Myanmar, was arrested in May and sentenced last week to 11 years in prison for incitement and violations of laws on immigration and unlawful assembly, a ruling that drew international condemnation.
Mr Fenster left Myanmar with Bill Richardson, a former US ambassador to the UN, on a flight headed for Qatar. The Richardson Center posted a picture on social media of the two of them together about to board the jet.
"We are so grateful that Danny will finally be able to reconnect with his loved ones, who have been advocating for him all this time, against immense odds," Mr Richardson, who visited Myanmar earlier this month, said in a statement.
After arriving in Doha, Qatar, Mr Fenster said he was healthy and happy to be heading home.
"I feel great and am really happy to be on my way home. I'm incredibly happy for everything Bill has done," he told reporters on the tarmac, referring to Richardson's intervention.
"You just go a little stir crazy and the longer it drags on the more worried you are that it's just never going to end. That was the biggest concern, staying sane through that."
Asked if he had been mistreated, he said: "I was arrested and held in captivity for no reason, so I suppose so. But physically, I was healthy. I wasn't starved or beaten."
U.S. Secretary of State Antony Blinken commended U.S. officials as well as Mr Richardson for facilitating Mr Fenster's release.
"We are glad that Danny will soon be reunited with his family as we continue to call for the release of others who remain unjustly imprisoned," he said in a statement.
Mr Richardson's organisation said he negotiated the journalist's release during face-to-face meetings with the military leader who ousted the elected government of Nobel laureate Aung San Suu Kyi in February.
Myanmar's military-owned Myawaddy TV late on Monday announced that Mr Fenster. had been granted an amnesty after his conviction, saying it was due to requests from Richardson and also two Japanese representatives "to maintain the friendship between the countries and to emphasize humanitarian grounds".
A spokesman for Myanmar's ruling military council did not immediately respond to request for comment.
Mr Fenster's brother, Bryan, said the family was overjoyed.
"We cannot wait to hold him in our arms," he added. "We are tremendously grateful to all the people who have helped secure his release."
Mr Fenster was among dozens of media workers detained in Myanmar since a February coup that provoked public anger over the military's abrupt end to a decade of tentative steps towards democracy.
The military has accused many media outlets of incitement and spreading false information.
Mr Fenster's sentencing was the harshest punishment among the seven journalists convicted since the military took power. The United States had been pressing for his release and at the weekend condemned the ruling as an "unacceptable attack on freedom of expression".
The military regime has detained more than 9,000 people, including politicians, activists, protesters and other civilians following widespread peaceful protests against the coup. More than 1,200 people have been killed since February, including at least 131 detainees tortured to death.
Additional reporting by agencies
Register for free to continue reading
Registration is a free and easy way to support our truly independent journalism
By registering, you will also enjoy limited access to Premium articles, exclusive newsletters, commenting, and virtual events with our leading journalists
Already have an account? sign in
Join our new commenting forum
Join thought-provoking conversations, follow other Independent readers and see their replies