Thailand rescue team frees trapped Buddhist monk from flooded cave  
First rescue operation was abandoned after water level continued to rise due to downpour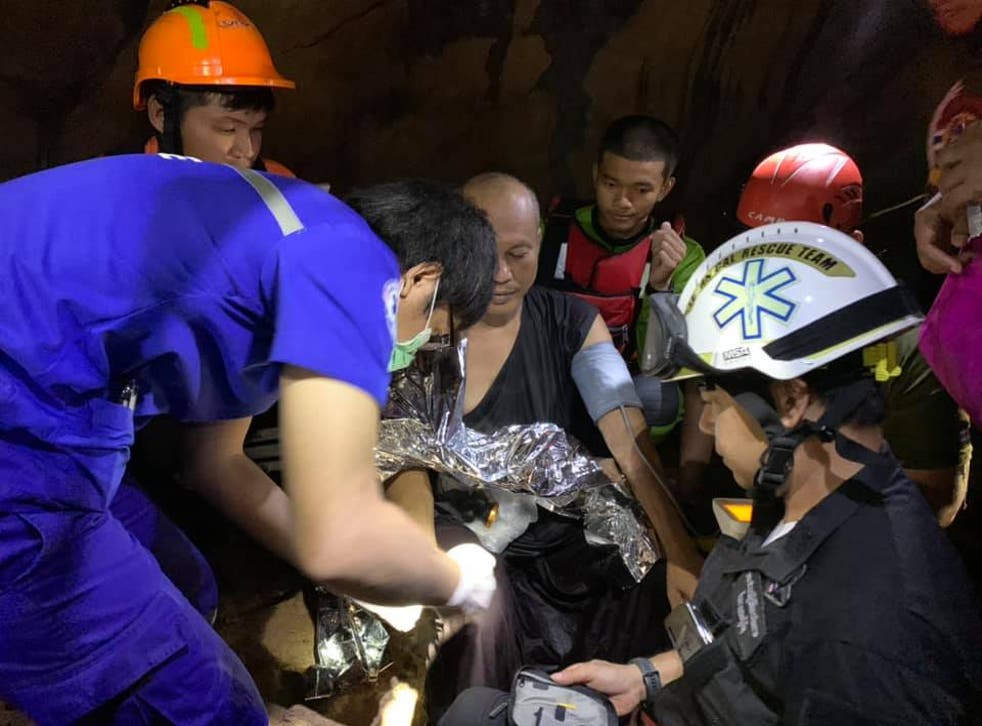 A Buddhist monk who was trapped for five days inside a flooded cave has been rescued after a gruelling three-hour operation involving more than a dozen Thai divers.
The 46-year-old monk, identified as Phra Ajarn Manas, had gone inside the Phra Sai Ngam cave on 3 April in Thailand's Phitsanulok province to meditate, according to the rescue unit's Facebook page.
A day later, an unseasonal rainstorm lashed the town for three days and flooded parts of the cave network.
Rescuers were called after villagers, who had seen the monk going inside the cave, alerted the authorities that he had not reemerged. Initially, a team of two divers was sent inside the cave to locate the monk and assess accessibility on Tuesday morning.
The unit had to navigate a flood-choked "gooseneck", a u-bend shaped area of the cave, before they could get to the monk. He was eventually found, unharmed but with a fever.
Read more:
On Wednesday, a 17-member dive team was sent into the cave to retrieve the monk in an operation lasting three hours.
Images from the scene showed divers carrying oxygen tanks while wading through the shallows of the cave.
The workers eventually brought him out after taking his blood pressure and providing first aid.
The incident was a reminder of the 2018 rescue of 12 Thai boys and their football coach from a flooded cave in the northern town of Chiang Rai. The rescue operation spanning over 10 days raced against monsoon and rising water levels inside the cave to save the boys, as young as 11, of the Wild Boars team. A Thai Navy Seal lost his life during the operation.
Join our new commenting forum
Join thought-provoking conversations, follow other Independent readers and see their replies