Deliveroo riders protest against pay and 'deteriorating' job conditions
The riders demonstrators outside the company's annual general meeting at 100 Bishopsgate in London.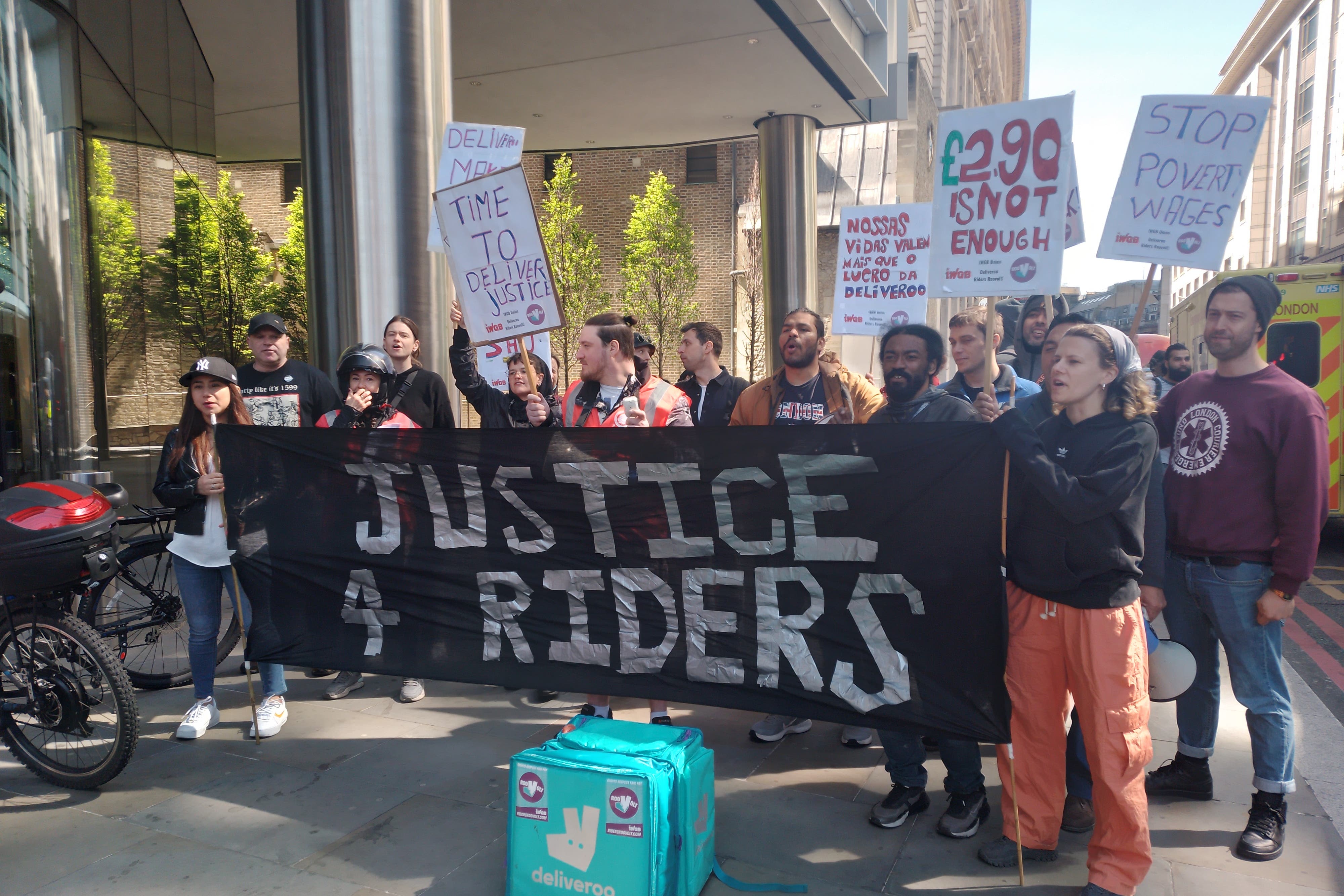 Riders for Deliveroo protested against "deteriorating" working conditions and low pay as the takeaway delivery giant's shareholders met in London.
Outside the company's annual general meeting (AGM) at 100 Bishopsgate in London, riders also raised frustrations with the bumper pay package of founder and chief executive Will Shu.
Demonstrators outside the venue held banners reading "Shame on Shu" and chanted: "Deliveroo, you're no good, pay your riders like you should."
It comes amid long-running concerns from delivery riders over their pay levels and worries related to their "independent worker" status.
Joe Durbidge, 31, who has worked for Deliveroo for four and a half years, told the PA news agency on Wednesday he has worked 50-hour weeks and been paid around as little as £2.90 per delivery.
"Conditions are deteriorating constantly but my fees have never gone up since I started," he said.
"Nobody's satisfied with the job. It's crazy.
"It's very hard work, it takes a lot out of you and it's hard to make a living.
"It's very physical, it's very mental because you're just constantly trying to work. Everyone's pushing themselves 1,000 miles an hour."
Another rider, father-of-two Carlos Gomes, 41, said he works more than 12 hours a day for Deliveroo, Uber and Stuart.
Mr Gomes told the PA news agency: "It's hard to make enough money. If you want more than £100, it's 14 hours a day.
"The salary is bad, we need to claim benefits, with our two boys, who are eight and three. It's no money."
Campaigners at ShareAction and IWGB (Independent Workers' Union of Great Britain) also co-ordinated so riders could confront bosses at Deliveroo inside the company's AGM.
It comes a month after the IWGB launched a challenge at the Supreme Court in a bid to secure collective bargaining rights for the firm's couriers.
Last year, Deliveroo formed a partnership with the GMB union but faced criticism from the IWGB.
Riders also criticised the pay deal for bosses at the company, with founder and chief executive officer Will Shu receiving a £600,000 salary for the past year – and total pay package worth £625,000 – despite the company posting a £245.6 million loss for 2022.
Ahead of the AGM, a Deliveroo spokeswoman said: "Deliveroo offers riders flexible work, attractive earning opportunities and security while they work. We see thousands of applications from people wanting to be riders each week, high satisfaction rates and very strong retention rates of those who sign up.
"We work closely with riders to make sure the work we offer reflects what they tell us they value."