'OilyFans' billboards show BP chief executive topless after earning £10 million
The campaign group Global Witness said the images are a light-hearted joke about a serious issue.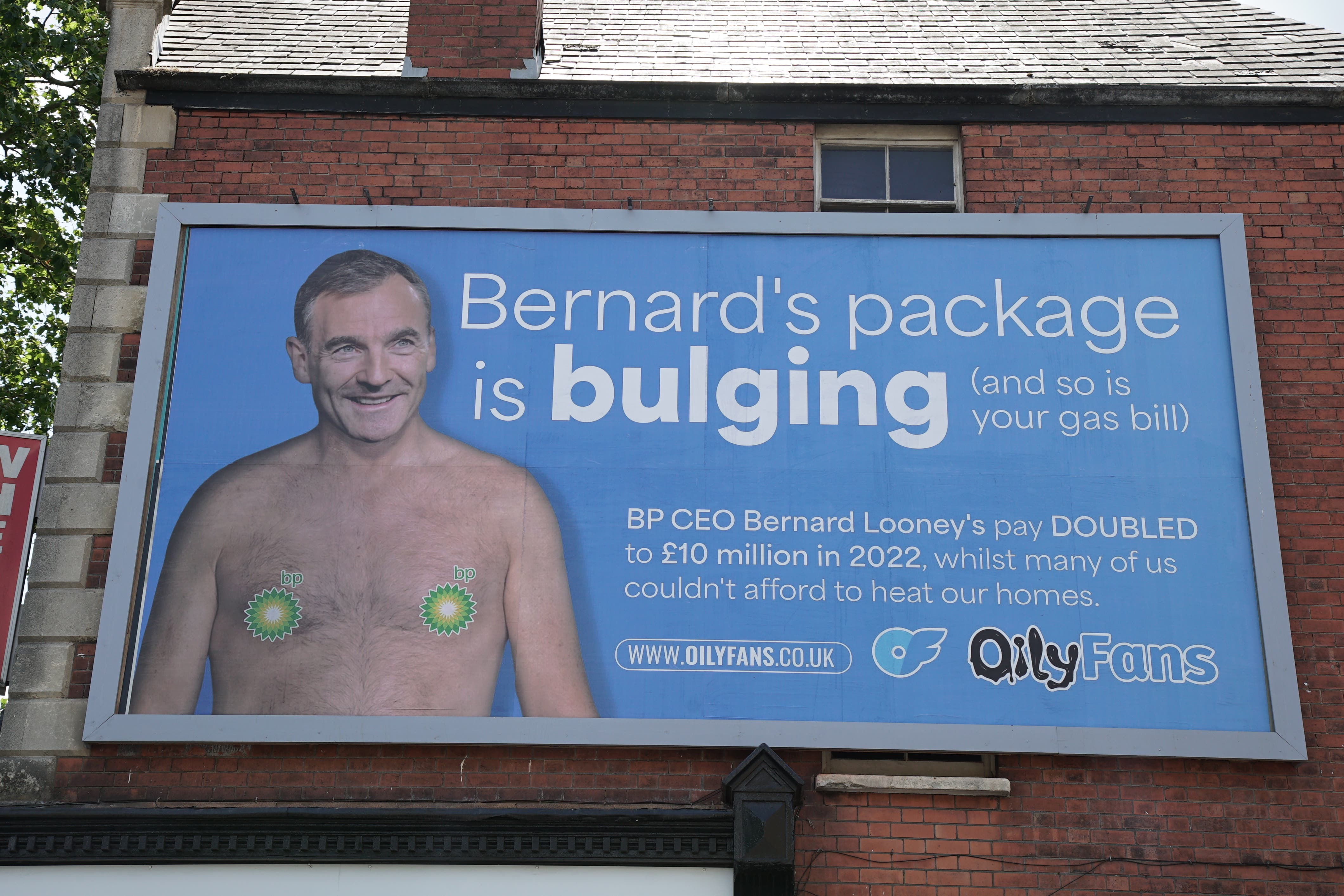 A set of billboards for the adult site OnlyFans has been rebranded by environmental activists to show the chief executive of BP shirtless.
Following complaints to the Advertising Standards Authority (ASA), Global Witness bought out three advertising slots around London to comment on the pay package of Bernard Looney, whose earnings went from £4.5 million to £10 million last year.
Nearly a fifth of the company's shareholders voted against the pay package at a turbulent annual meeting in April with campaigners denouncing the decision saying many ordinary families cannot afford to pay their energy bills.
Global Witness said its 'OilyFans' replacement of the previous adverts was a light-hearted jest about a serious topic.
Alice Harrison, fossil fuels campaign leader at Global Witness, said: "BP's CEO saw his pay packet bulge, whilst the rest of us were plunged into a deep and damaging cost-of-living crisis – that's something we really aren't fans of.
"Although light-hearted in nature, our action today is intended to highlight the very serious issue of an energy system that pays out to polluters and penalises ordinary people.
"The £10 million Bernard Looney took home last year would take the average UK worker 300 years to earn. This means, in a year when parents were sending their kids to school hungry and pensioners were riding the bus all day to stay warm, Bernard Looney was laughing all the way to the bank."
The original billboards showed model Eliza Rose Watson in underwear advertising her OnlyFans account page.
She paid for four posters in Harrow, Tottenham, Lambeth and Edgware and the ASA said in early July that it was reviewing complaints that said the images were inappropriate for children.
Global Witness has taken over three of these, on Bruce Grove in Tottenham, Norwood High Street in Lambeth, and Deansbrook Road in Edgware.
A BP spokesperson said: "A poster like this doesn't merit comment."