Earth Day 2021
Can Joe Biden be America's comeback kid on climate?
On the eve of its landmark summit, senior climate correspondent Louise Boyle asks whether America can convince the world it's back to fight the climate crisis for the long-haul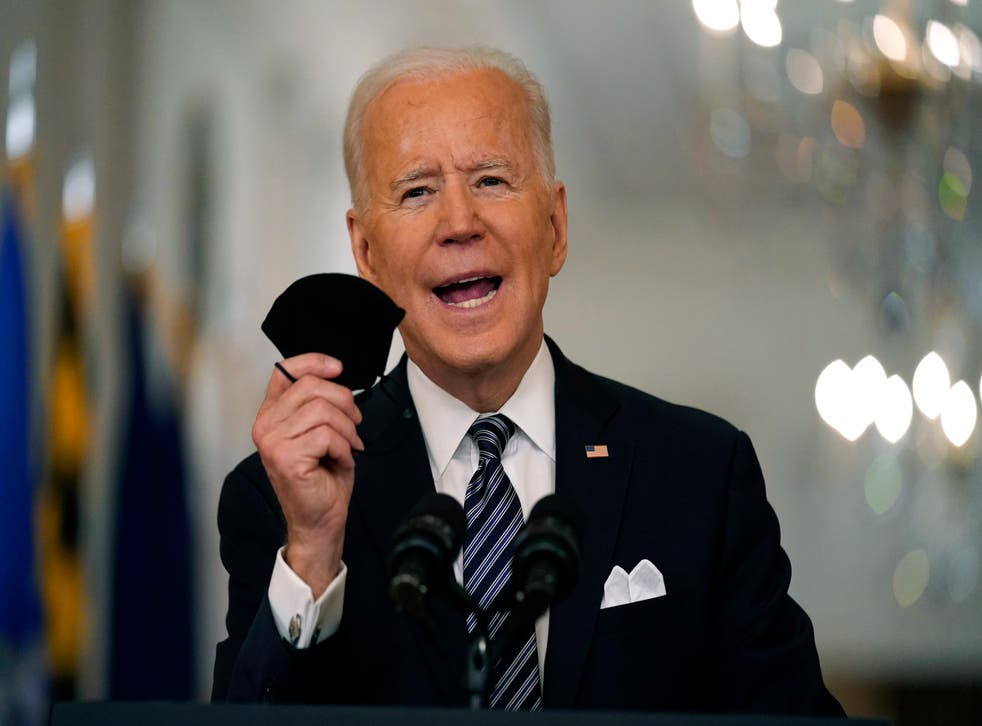 S
ince taking office in January Joe Biden has worked through a laundry list of climate issues, making good on his campaign promise of bold action on a crisis he's described as "an existential threat". 
The moves – including rejoining the Paris Agreement and making climate central to the sweeping $2.3 trillion "American Jobs Plan" infrastructure bill – have been building to the president's first major milestone on the world stage.
Coinciding with Earth Day on Thursday, Mr Biden will convene 40 world leaders for a two-day virtual summit to drive ambition ahead of the United Nations climate talks, known as COP26, in Glasgow this November.
The guest list includes allies and adversaries alike, putting aside other fraught geopolitical issues in the hopes of more dramatic climate action. Invitees include leaders of the Major Economies Forum on Energy and Climate, which total about 80 per cent of global emissions, and nations on the frontlines of the climate crisis who are already facing more extreme weather and rising sea levels.
The planet is on a collision course with climate breakdown. The current emissions trajectory would see average global temperatures rise to more than 3C by the end of the century, causing more extreme weather, sea-level rise, and temperature increases making parts of the world uninhabitable.
Scientists say we must remain well below 2 degrees Celsius (C), above pre-industrial levels, and aim for an increasingly ambitious 1.5C goal to avoid the worst. But just this week, a report from the International Energy Agency noted that emissions are expected to spike in 2021 as the world rebounds from the pandemic.
It's at this precarious moment the US is gearing up to retake its mantle. For the four years former President Donald Trump occupied the White House, the country has been virtually absent on the climate crisis at a national level, exiting the Paris deal and reversing emissions goals and environmental protections.
David Waskow, director of the World Resources Institute's International Climate Initiative, told The Independent that it was not unreasonable for the international community to harbour doubts about the US but noted that there hasn't been complete stasis over the past four years. 
"I do think it's important to mention that although the federal government was not moving forward – in fact, trying to put obstacles in the path of climate action – there was action ramping up quite steadily from sub-national governments, states and cities, and also from the private sector," he said.
On the first day of the White House summit, the US will highlight the role that these entities have played with a session on the efforts of cities, states, and indigenous groups to achieve a green recovery.
In terms of the US regaining credibility on the global stage, Mr Waskow said that "the key is to bake this into the cake" at a domestic level.
"One way is the American Jobs Plan which has provisions that will create traction on a number of fronts for climate action: renewable energy, transport, especially electric vehicles, the retrofitting of buildings and energy efficiency.
"The other is continued action at state and local level. There's no question that a number of states are really ramping up. In just the past few months, California announced it's going to phase out sales of internal combustion engine automobiles by 2035, and we saw that followed by General Motors by the same date."
He added: "There's a bit of a feedback loop. As you have these national-level investments through Congress, spurred by the Biden administration, it will create the economic context for even greater action by cities, states and businesses. As an example, there's significant funding in the American Jobs Plan for electric vehicle (EV) charging infrastructure that will make it much easier for all those other actors to go faster on the EV front."
Over the past few months Mr Biden has dispatched climate envoy John Kerry, the former secretary of state and a well-known figure on the world stage, on what has appeared to be a global apology tour, aimed at convincing the international community that America is back and means business. 
It's a stance that's been met with some skepticism. Zhao Lijian, spokesman for the Chinese Foreign Ministry said last week that "the US chose to come and go as it likes with regard to the Paris Agreement".
He added: "Its return is by no means a glorious comeback but rather the student playing truant getting back to class. It is still yet to present its NDCs, has offered nothing on how it plans to make up for the lost four years, and has not cleared its long-overdue payment to the Green Climate Fund."
It's not the first time America has flip-flopped on an international agreement to tackle global warming. Former president George W Bush killed off the 1997 Kyoto Protocol when he took office, after it had been joined by his predecessor Bill Clinton.
In a speech earlier this week, Secretary of State Antony Blinken conceded that while America had catching up to do, it would not shy away from pushing other countries for more aggressive climate action. 
"We can start with leading by the power of our example," he said.
The US is expected to announce an updated "Nationally Determined Contribution", its Paris-mandated, emissions-reduction target, at the summit. According to reports, it will be at least a 50 per cent cut by 2030 (from 2005 levels) which is almost double the commitment former President Obama made in Paris in 2015, providing a standing from which to nudge others to do more.
President Biden has also moved swiftly to ratify another global agreement, the Kigali Amendment, which would cut the powerful super-pollutants, hydrofluorocarbons (HFCs), after Mr Trump refused to sign despite bipartisan support for the deal.
And diplomats for the US and China, the world's two largest carbon emitters, agreed to cooperate leading up to the summit. The agreement was reached by Mr Kerry and his Chinese counterpart Xie Zhenhua during talks in Shanghai last week.
It is unclear whether China will update its emissions pledge at the summit but others have already made announcements this week. The European Union passed legislation to cut emissions by 55 per cent, while the UK announced that it will slash emissions by 78 per cent by 2035, from 1990 levels.
Senior Biden administration officials said at a pre-summit briefing on Wednesday said while the US understood that it had to make good on its word and commit to climate action, "we're looking for others to also raise their ambition".
"And the point of the summit is to galvanise that action, to bring people to the table to talk about what is possible and how we can move forward," one official said. "We can solve this crisis, but only if we work together."
Join our new commenting forum
Join thought-provoking conversations, follow other Independent readers and see their replies