Boris Johnson calls on world leaders to be 'awesome' at Glasgow climate summit
Chances of success in crucial Cop26 gathering upgraded after Biden finance promise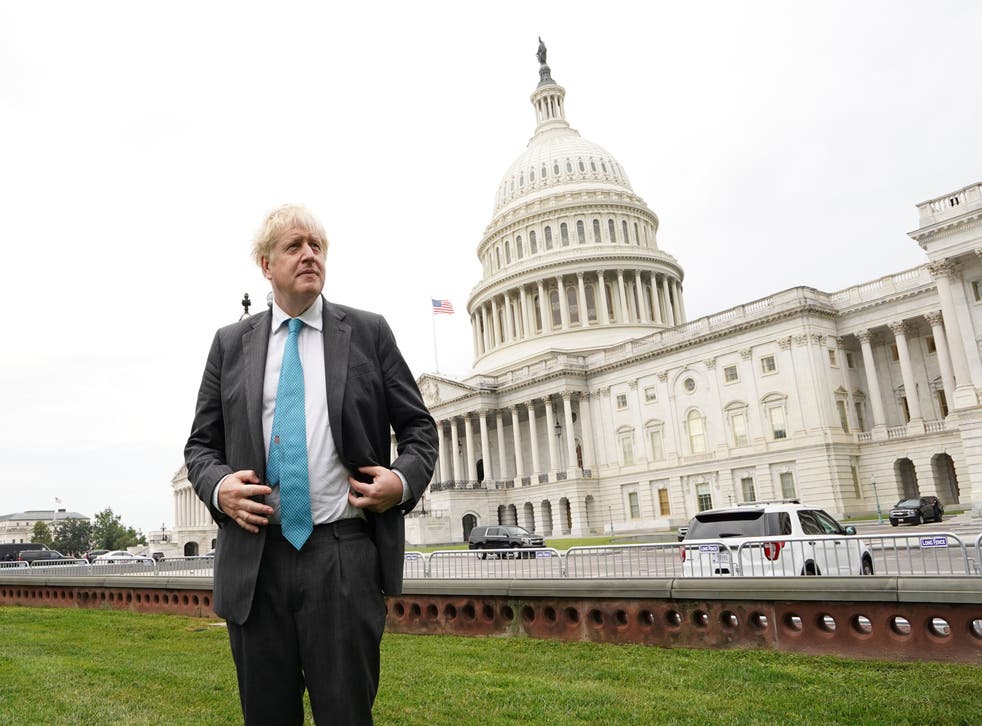 Boris Johnson has called on world leaders to be "awesome" at November's climate change summit in Glasgow, as he completed a US visit which has heightened expectations of a deal to curb global warming.
The prime minister said he had upgraded his assessment of the chances of success in Glasgow from six out of 10, following a $5bn (£3.7bn) climate finance pledge from Joe Biden and a Chinese promise to stop building coal-fired power stations overseas.
But he stepped up pressure on Beijing to follow up its initiative by also swearing off investment in the fossil fuel domestically, at a time when 43 new coal-fired power plants and 18 blast furnaces are slated for construction in China.
In a keynote speech to the United Nations general assembly in New York, Mr Johnson said that Glasgow must mark "a turning point for humanity", when countries come together to throw off the adolescent belief that they can continue trashing their home planet for their own gratification without reaping the consequences.
UK news in pictures

Show all 50
But he insisted that this need not mean sacrificing prosperity or the capitalist search for economic growth.
Instead, he said that private sector investment in science and innovation would deliver the breakthroughs needed to keep temperature rises within 1.5 degrees above pre-industrial levels.
He pointed to the UK's record of moving from 80 per cent reliance on coal to less than two per cent, as well as the rapidly growing British market for electric vehicles and the country's position as the "Saudi Arabia of offshore wind", as indications of how government investment and private sector innovation could drive the move towards net-zero.
In a direct challenge to Beijing, he said: "I thank President Xi for what he has done to end China's international financing of coal and I hope China will now go further and phase out the domestic use of coal as well, because the experience of the UK shows it can be done."
Assuring fellow leaders that halting climate change need not mean destroying growth, he said: "When Kermit the frog sang It's Not Easy Bein' Green, I want you to know, he was wrong – and he was also unnecessarily rude to Miss Piggy.
"We have the technology. We have the choice before us."
Failure at Glasgow to deliver the carbon-emission reductions and the $100bn fund to help developing countries adapt would consign the world to insupportable temperature rises of 2.7 degrees or more by the end of the century, leading to "desertification, drought, crop failure, and mass movements of humanity on a scale not seen before", he warned.
And he said: "Our grandchildren will know that we are the culprits, and that we were warned.
"And they will know that it was this generation that came centre stage to speak and act on behalf of posterity and that we missed our cue
"And they will ask what kind of people we were to be so selfish and so short-sighted."
Mankind was "awesome in our power to change things and awesome in our power to save ourselves", said the prime minister.
"And in the next 40 days we must choose what kind of awesome we are going to be.
"I hope that Cop26 will be a 16th birthday for humanity in which we choose to grow up, to recognise the scale of the challenge we face, to do what posterity demands we must.
"And I invite you in November to celebrate what I hope will be a coming of age and to blow out the candles of a world on fire."
Arriving in the US at the start of his three-day visit on Monday, Mr Johnson gave a gloomy "six out of 10" assessment of the chances of reaching a deal at Glasgow to take on the climate accords secured in Paris in 2015.
But as he completed his stay, buoyed by president Biden's promise to double US contributions to climate finance, a more confident PM told reporters: "When I said six out of 10 it was more than 50/50. I thought we were in with a good chance.
"The worst thing now would be any kind of complacency. There are lots of things that now have to go right. Some things are starting to go a bit better now."
Join our new commenting forum
Join thought-provoking conversations, follow other Independent readers and see their replies