Global carbon emissions are more than levels reported by countries, says study
Some countries claim 'managed forests' absorb more carbon than estimates suggest, say scientists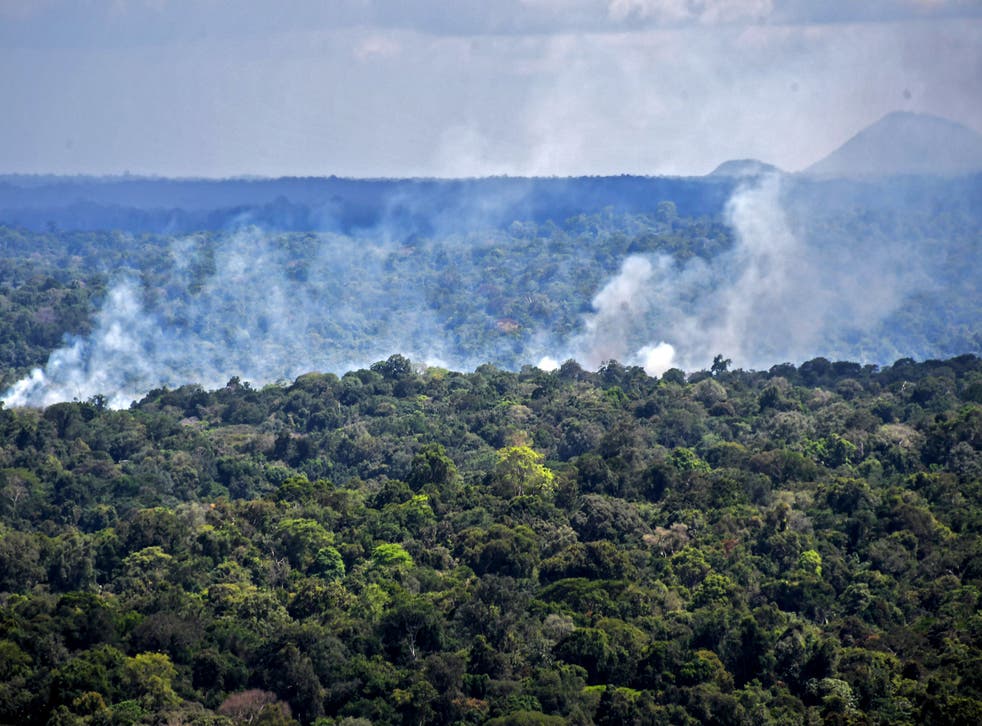 Leer en Español
The amount of climate-warming carbon emissions that reach the atmosphere every year is much greater than the levels that are reported by countries, according to a new study which says the gap could be as much as the quantity of the greenhouse gas emitted annually by the US.
In order to meet the Paris Agreement goal of limiting global heating to no more than 2°C - and ideally 1.5°C - above preindustrial levels, countries have attempted to reduce their carbon emissions by either lowering fossil fuel use or by increasing carbon sinks with tree planting or carbon capture technology.
However, scientists from Imperial College London say there are subtle differences in how balances of carbon sinks and sources are calculated at the country level compared to what new global models suggest.
While countries, using their national greenhouse gas (GHG) inventories, monitor national emissions using methods agreed by the Inter Governmental Panel on Climate Change, global models use different methods to estimate future emission pathways consistent with the Paris Agreement goal.
According to their new study, published in the journal Nature Climate Change, this calculation gap could lead to countries "underestimating the level of action they need to take to reach their targets."
"Progress towards the Paris Agreement goals is checked periodically by a five-yearly 'global stocktake', with the first starting in 2022. This will involve adding up and comparing countries' planned climate actions with what science indicates is necessary globally to reach the agreed climate goals," Joeri Rogelj, research director of the Grantham Institute – Climate Change and Environment at Imperial, explained.
"If there's a gap – and make no mistake, given where we are today it is guaranteed that there will be one – it will be expected that countries should adjust their actions, so we need to ensure the calculations are correct," Mr Rogelj, one of the co-authors of the study, added.
The new research takes into account the differences caused by land use change across the globe on the effect of carbon sources and sinks – particularly on what are defined as "managed forests" throughout the world.
As an example, the scientists said when deforestation occurs, this human made or anthropogenic land use change can alter a carbon-sink to a source of the greenhouse gas since the trees are no longer absorbing the carbon from the atmosphere.
They said there can also be indirect results of human activities that can change this source-sink equation for a region.
In one method of calculating emissions, they said scientists calculate the direct human-induced effects separately from natural effects, including those that are indirectly anthropogenic, with the aim to provide globally consistent estimates.
In the second method, the researchers said the direct and indirect human-induced effects are treated together, and natural contributions are estimated separately.
The country GHG inventories consider a broader forest area than global models, the scientists said, adding that this method considers some human-induced effects seen in the global models as "natural".
"Two largely independent scientific communities have developed different approaches to estimate the anthropogenic CO2 flux from land – with different purposes and scope – which are valid in their own specific context," the scientists wrote in Carbon Brief.
The scientists believe the difference between the two models may allow countries to be more flexible in their estimates, and some may adjust their calculations to show more carbon-absorbing managed forest land.
According to the study, there could be close to 3 billion hectares of such managed forest land around the world that may provide different carbon emission estimates than those calculated using independent models.
"There is a considerable difference between the managed forest areas considered by the IAMs – around 0.5bn hectares – and the NGHGIs – around 3bn hectares," the scientists noted.
This may lead to some countries claiming that their managed forests absorb large amounts of carbon dioxide, and they may not need to cut enough emissions from cars, homes and factories.
While both methods are "valid in their own specific context," the scientists believe the need of the hour is better transparency and comparability of these estimates, across countries and with global models.
They called for further studies to develop country-specific adjustments comparing the emission levels based on the two methods, but they added that countries that had previously used an "incomparable benchmark" may need to update their target.
Join our new commenting forum
Join thought-provoking conversations, follow other Independent readers and see their replies