Honduras family has assets frozen by US over drug trafficking, now their crocodiles are starving to death
US sanctions on a farm in Honduras could lead to the death of thousands of crocodiles and lions
Emma Henderson
Thursday 05 November 2015 15:44 Comments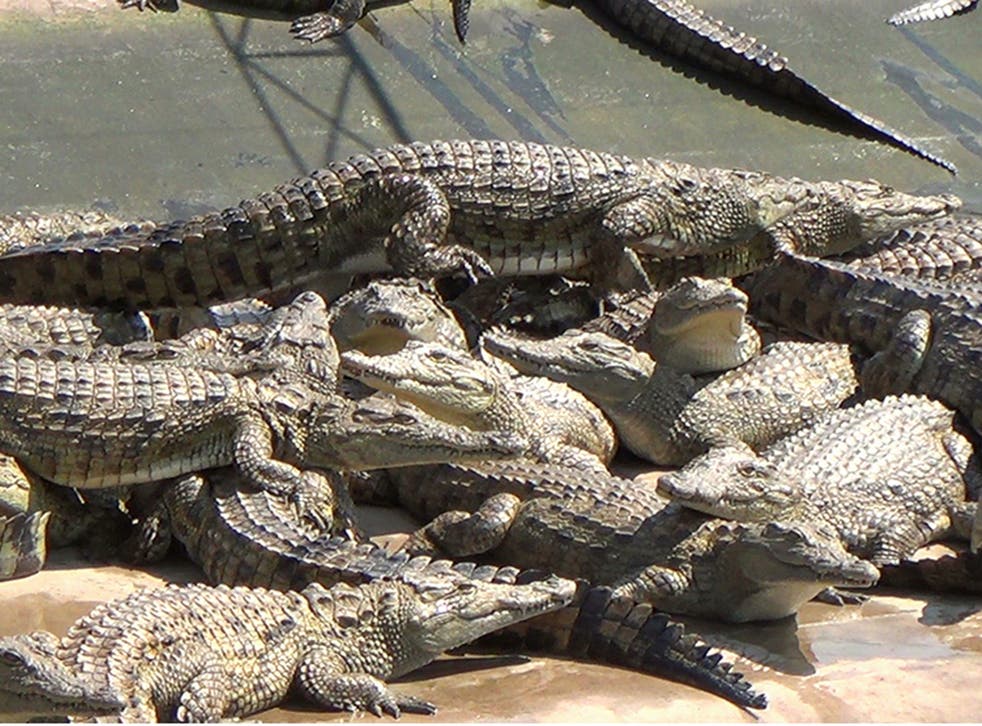 More than 10,000 crocodiles are starving to death on a Honduran family-owned farm after the wealthy owners have had their assets frozen following US money laundering and drug trafficking accusations.
The Rosenthal family – who have interests in banking, media, property and tourism – have been imposed with the sanctions by the US Treasury Department.
Although the farm was not one of the seven Rosenthal businesses designated for US sanctions, the crocodiles and seven lions are unable to be fed as the family don't readily have access to any money.
The US Treasury Department had said on 7 October, that it was targeting 79-year-old Jamie Rosenthal, his son Yani and his nephew Yankel, "for their money laundering and drug trafficking activities".
The animals live on the 30 acre (70 hectare) property, named Crocodrilos Continental, in San Manuel near the city of San Pedro Sula. Around 11,000 American crocodiles are spread out over 135 pools, along with an estimated 60 new-born crocs.
One worker on the farm, who asked to go under the pseudonym of Jose told AFP: "The crocodiles and lions are dying of hunger, and we are too because we haven't been paid the last two weeks."
He went on to say: "Forty animals have already died. They were taken away in boxes by trucks to be buried."
The farm owners have a yearly budget of around $1 million (£6,500) for the farms' upkeep, including paying employees' wages and food for the animals. The family now say they do not have enough free capital to keep up the maintenance of the farm.
Regional authorities have tried to come up with a plan to save the crocodiles, by delivering 1.5 tons (3,000 pounds) of chicken.
Jose said that: "The 3,000 pounds doesn't amount to much because a crocodile eats the equivalent of half a horse in a day".
However, workers have refused to feed the animals the meat until they received their $340 (£220) a month wages, which they have not had since the second week of October.
An official at Honduras' state Forest Conservation Institute (ICF), Pablo Dubon, told AFP that executives running Cocodrilos Continental told authorities the freezing of the Rosenthals' assets has led to the accounts used to pay the workers and buy animal feed being blocked.
The Rosenthals are a powerful family in Honduras and Jamie was vice-president of the country from 1986-1989 and Yani was a minister in the government from 2006-2009.
The sanctions also don't allow the farm to carry out its usual exportation of crocodile meat and skins to the US, which has affected their Banco Continental. The bank, headquartered in San Pedro Sula, is being liquidated on order of the Honduras' Banking Commission and a newspaper owned by the family has also been shut.
Register for free to continue reading
Registration is a free and easy way to support our truly independent journalism
By registering, you will also enjoy limited access to Premium articles, exclusive newsletters, commenting, and virtual events with our leading journalists
Already have an account? sign in
Join our new commenting forum
Join thought-provoking conversations, follow other Independent readers and see their replies