10% of British wildlife at risk of extinction as species show massive decline
Comprehensive study reveals hedgehogs, turtle doves and red squirrels among species seeing biggest falls
Charlie Cooper Comments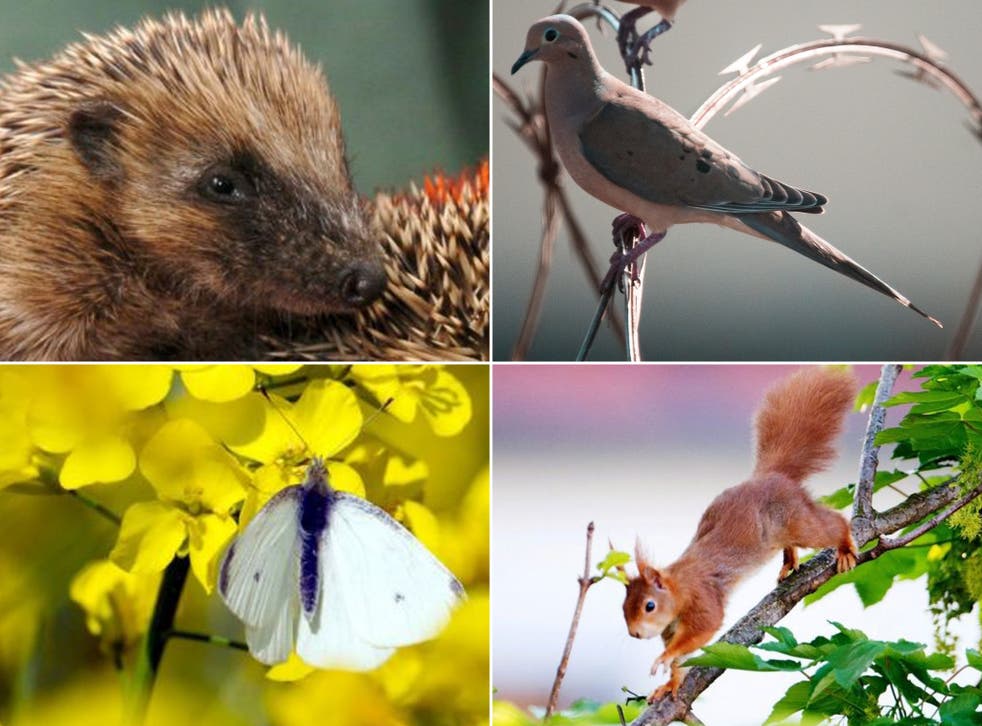 Almost two thirds of British species have declined in the past 50 years and one in 10 faces the risk of extinction from our shores, according to an extensive new report into the state of Britain's nature.
The report, one of the most in-depth health checks on Britain's wildlife in recent years, brought together 25 wildlife organisations large and small, from the RSPB and The Wildlife Trusts to the British Lichen Society and the Bat Conservation Trust.
Its findings, based on studies of 3,148 species, offer clues to the overall fortunes of the UK's 59,000 species. Hedgehogs, turtle doves and red squirrels were among the species seeing the biggest falls in recent years, while butterflies, moths and bats also saw rapid declines.
Sir David Attenborough, who will present the State of Nature report at The Natural History Museum in London on Wednesday evening, called the findings "a stark warning".
"This report shows that our species are in trouble, with many declining at a worrying rate," he said.
"However, we have in this country a network of passionate conservation groups supported by millions of people who love wildlife. The experts have come together today to highlight the amazing nature we have around us and to ensure that it remains here for generations to come."
He told the BBC this morning that people wanting to help wildlife could turn to one of the many wildlife organisations which he said were "knowledgeable and willing to help anybody who wants to know how to support these species that they're concerned about."
The report draws on data gathered by a large number of smaller, more focused surveys carried out over recent years.
Turtle doves have declined by 93 per cent since 1970 - a decline that follows the pattern of many farmland birds affected by changing habitats and agricultural practices. Hedgehogs have seen rapid decline, with numbers declining by a third in this century alone, with urban development and intensive agriculture blamed. Meanwhile the small tortoise shell butterfly, once common, has declined by 77 per cent in just 10 years thanks to a string of cold, wet summers and loss of habitat.
Dr Mark Eaton, a lead author on the report, said: "These declines are happening across all countries and UK Overseas Territories, habitats and species groups, although it is probably greatest amongst insects, such as our moths, butterflies and beetles. Other once common species like the lesser spotted woodpecker, barbastelle bat and hedgehog are vanishing before our eyes.
"Reliable data on these species goes back just fifty years, at most, but we know that there has been a historical pattern of loss in the UK going back even further. Threats including sweeping habitat loss, changes to the way we manage our countryside, and the more recent impact of climate change, have had a major impact on our wildlife, and they are not going away."
Register for free to continue reading
Registration is a free and easy way to support our truly independent journalism
By registering, you will also enjoy limited access to Premium articles, exclusive newsletters, commenting, and virtual events with our leading journalists
Already have an account? sign in
Join our new commenting forum
Join thought-provoking conversations, follow other Independent readers and see their replies