El Nino could make 2015 'the hottest year on record'... and 2016 will be even hotter
Findings will demolish climate sceptics' claims of a global warming slowdown
Tom Bawden
Monday 14 September 2015 09:22 Comments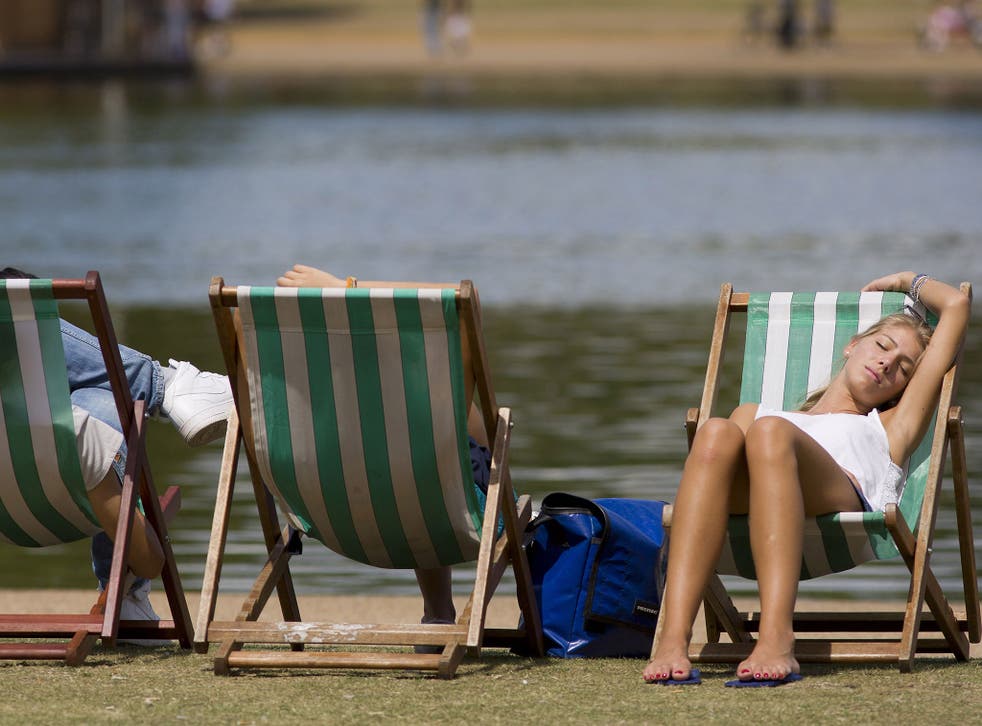 The slowdown in global warming is likely to end within two years as the Earth's climate system undergoes a radical shift that could push temperatures to record highs this year and next, according to the Met Office.
The findings will demolish claims by climate sceptics that the slowdown in the rate of global warming over the past 17 years proves that scientists' concerns are exaggerated.
And it will put further pressure on world leaders to agree strong action to curb carbon emissions at a key UN climate change summit in Paris in December – regarded as crucial if global warming is to be limited to 2C, beyond which the consequences become increasingly devastating.
The research predicts the world has entered what could be one of the strongest El Niño events in the past century – a change to the climate system that increases the world's temperature by warming the Pacific Ocean and which can be hugely damaging, causing droughts and extreme weather all over the world.
It forecasts that this El Niño event could be at least as strong as in 1997-98, which caused deadly mudslides in South America, a crippling drought in South-east Asia and extreme weather in many other parts of the world.
It could also push the average global temperature – which hit a record high in 2014 and is expected to increase again this year – to a third consecutive record in 2016. At the same time, the rate at which the temperature rises could enter a period of higher increases, at a similar level to that seen before the slowdown began.
"Global mean temperatures in 2014, 2015 and 2016 are likely to be at or near record levels... It is now likely that decadal warming rates will reach late 20th century levels in the next couple of years," said Professor Adam Scaife, of the Met Office Hadley Centre. Apart from potentially pushing the world into record temperatures, El Niño has already weakened the Indian monsoon season and has increased the risk of droughts in South Africa, Indonesia and Australia. It could also be a force for good, potentially bringing rain to California which has suffered drought.
El Niño events typically last nine months to two years, although they can potentially go on for four years.
The research, peer-reviewed by the University of Reading's Professor Rowan Sutton, has also identified a second major change to the climate system – which is likely to warm the planet further, again by increasing the temperature of the Pacific Ocean.
Pictures that show we are killing our planet

Show all 21
After a 15-year "cool" phase, during which the Pacific Ocean has dragged down the world's average surface temperature, the signs are it has entered a "warm" phase, according to Professor Scaife.
He said that these natural shifts in weather patterns have happened for millennia but that their effect on the temperature is becoming even more profound given the rising volume of greenhouse gases in the atmosphere.
"A lot of these things can occur without the influence of human beings. However, they are now occurring on top of the influence coming from man's activity, so when they occur, when the El Niño comes and raises the global temperature, that is the icing on the cake, that is the extra bit that creates a record," he said.
Professor Sutton added: "If greenhouse-gas driven warming continues unabated the long-term effects on global and regional climate will dwarf those from short-term fluctuations like El Niño.
"Unless there's a big volcanic eruption it looks likely that globally 2014, 2015 and 2016 will be among the warmest years ever recorded. This isn't a fluke. El Niño is an important factor, but this comes on top of the longer-term warming caused by human activities," Professor Sutton added.
El Nino: What causes it
An El Niño event occurs when the prevailing winds that circulate over the tropical Pacific start to weaken, which warms the surface waters of the tropical east Pacific substantially above its usual level. It typically raises the chances of dry conditions in parts of Asia, Australia, southern, northern and sub-Saharan Africa and Central America, but brings a tendency for wetter conditions in equatorial east Africa and the south of the US.
So far this year, El Niño is thought to be behind a series of unusual weather events. Apart from putting the world on course for a record average temperature in 2015, these include a relatively dry Indian summer Monsoon, where rainfall is currently 10 per cent less than normal.
Rainfall was also lower than normal in South-east Asia and Central America in May and June.
Register for free to continue reading
Registration is a free and easy way to support our truly independent journalism
By registering, you will also enjoy limited access to Premium articles, exclusive newsletters, commenting, and virtual events with our leading journalists
Already have an account? sign in
Join our new commenting forum
Join thought-provoking conversations, follow other Independent readers and see their replies