2017 to be the hottest year on record that wasn't affected by El Nino
The last three years have been the hottest ever to be recorded
Andrew Griffin
Monday 06 November 2017 12:11 Comments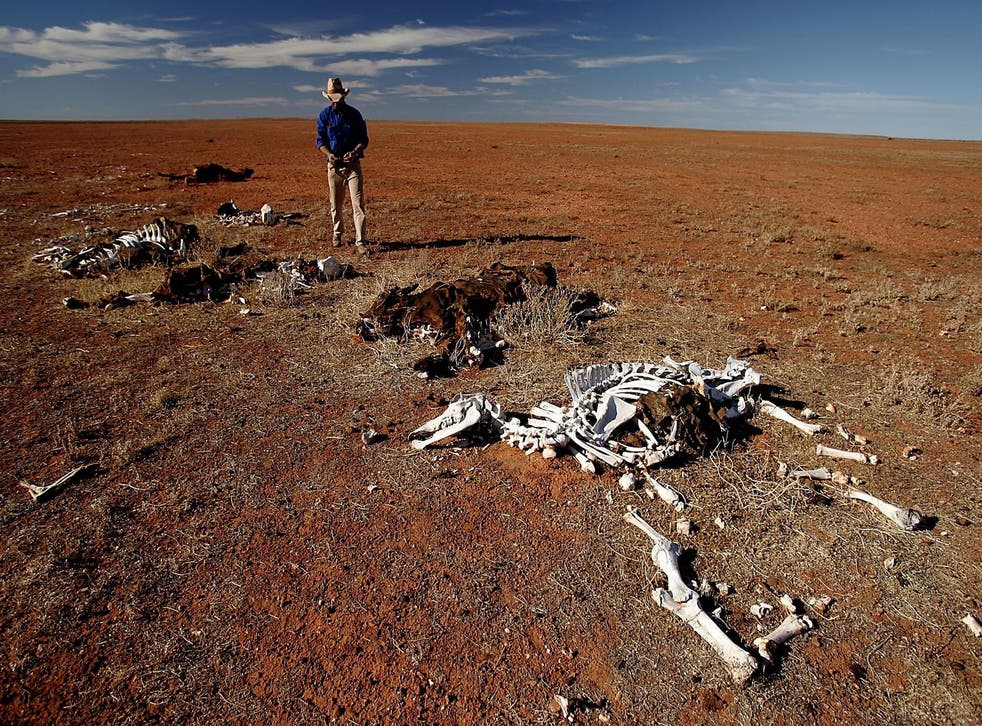 This year will be the hottest ever that wasn't affected by the El Nino weather event, according to the UN.
The prediction is a shock because El Nino has been used to explain rising temperatures and occasionally to suggest that the temperature isn't warming at all. The new finding shows that the climate is in fact warming rapidly, even without the effect of the El Nino which pushes up temperatures across the world.
Even accounting for that, this year will be one of the three warmest on record. Already, 2016 and 2015 were the hottest years yet.
10 photographs to show to anyone who doesn't believe in climate change

Show all 10
In an announcement as annual UN climate change talks hosted by Fiji begin in Bonn, Germany, the WMO said the average global temperature from January to September 2017 was 1.1C above the pre-industrial era.
As a result of a powerful El Nino, 2016 is likely to remain the hottest year on record, but 2017 is expected to join 2015 as the second or third hottest year.
The years 2013 to 2017 are likely to be the hottest five-year period on record.
Parts of southern Europe including Italy, North Africa, parts of eastern and southern Africa and the Asian part of Russia experienced record warm conditions.
Other indicators of rising temperatures include Arctic sea ice, which was well below average throughout 2017 and was at record low-levels for the first four months of the year, while sea ice cover in Antarctica also hit record lows.
Globally, sea surface temperatures in 2017 are on track to be among the three highest on record, with some significant coral "bleaching" caused by over-warm oceans, including on Australia's Great Barrier Reef.
Major, high-impact hurricanes battered the US, with Harvey in August, followed by Irma and Maria in September.
Ophelia reached major hurricane status more than 600 miles further north-east than any previous North Atlantic hurricane and caused significant damage in Ireland.
While there is no clear evidence climate change is making hurricanes such as Harvey more or less frequent, it is likely human-induced global warming is making rainfall more intense and rising sea levels worsens storm surges, the WMO said.
During 2017, exceptionally heavy rain caused a landslide in Sierra Leone, many parts of the Indian subcontinent were hit by flooding, as was Peru and area of southern China, while east Africa remained gripped by drought.
Italy saw drought and record temperatures, heatwaves hit parts of South America, eastern Australia and southwest Asia, and wildfires raged in Chile, Portugal and the US.
WMO secretary-general Petteri Taalas said: "The past three years have all been in the top three years in terms of temperature records. This is part of a long term warming trend.
"We have witnessed extraordinary weather, including temperatures topping 50C (122F) in Asia, record-breaking hurricanes in rapid succession in the Caribbean and Atlantic reaching as far as Ireland, devastating monsoon flooding affecting many millions of people and a relentless drought in East Africa.
"Many of these events - and detailed scientific studies will determine exactly how many - bear the tell-tale sign of climate change caused by increased greenhouse gas concentrations from human activities," he said.
Additional reporting by Press Association
Register for free to continue reading
Registration is a free and easy way to support our truly independent journalism
By registering, you will also enjoy limited access to Premium articles, exclusive newsletters, commenting, and virtual events with our leading journalists
Already have an account? sign in
Join our new commenting forum
Join thought-provoking conversations, follow other Independent readers and see their replies