26,000 new jobs lined up in Nick Clegg's seven-year plan to boost offshore windfarms
Deputy PM wants to more than quadruple industry, but critics say lack of clear targets is holding back confidence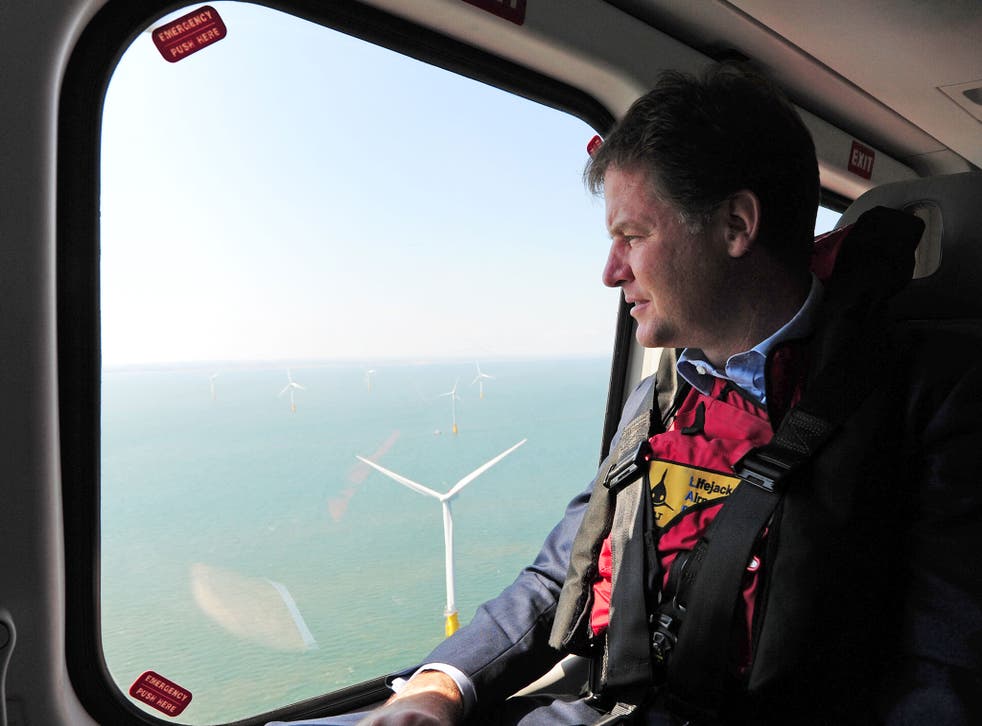 The Deputy Prime Minister today launched an audacious plan to more than quadruple the size of Britain's offshore wind industry within seven years, creating 26,000 new jobs and transforming sea-based turbine energy into a £7bn-a-year business by 2020.
But Nick Clegg's plan was immediately shot down by critics who said the scheme was doomed to failure because the lack of clear green energy targets beyond 2020 meant wind industry companies did not have the long-term confidence they needed to set up shop in the UK.
Mr Clegg unveiled a package of new measures to boost the development of wind farms and to ensure that the projects were largely designed, built and run by British companies.
The measures were announced at the official opening of the £1bn Lincs windfarm off the coast of Lincolnshire, that has been developed by British Gas-owner Centrica and will produce enough electricity to supply 200,000 households. They include £46m to support the "supply chain" of goods and services needed to build the wind turbines and to help developers bring innovative new wind power-related products to the market.
More importantly, the government is proposing a new requirement that would make subsidies for building offshore windfarms contingent on the developers agreeing to rely largely on British suppliers.
Only about 40 per cent of offshore UK windfarms use parts and services supplied by British companies, compared to about 70 per cent in the oil and gas industry.
Business Secretary Vince Cable, who is also involved in the drive to boost wind power, said: "There is a dearth of British companies involved in the industry and a lack of skills. This is unsatisfactory."
"We have a world class offshore wind industry that is bigger than the rest of the world combined, but it's not being done by Britain. Most of the turbine manufacturing and platform development is being done in Europe," Mr Cable added.
Mr Cable wants British companies to make up 70 per cent of the offshore wind supply chain, to match the oil and gas industry.
But politicians and renewable energy executives were sceptical about the government's chance of coming anywhere close to its target. In particular, they blame Chancellor George Osborne's decision last year to overrule a proposal by Energy Minister Ed Davey that would have required Britain's electricity supply to become almost entirely green by 2030. Britain's sole renewable energy target - to generate 30 per cent of electricity from green sources by 2020 - runs out in seven years, after which power companies are free to increase their use of fossil fuels.
Tom Greatrex, Labour's Shadow Energy Minister, said: "The failure to include a decarbonisation target is a gaping hole at the heart of the government's offshore wind industrial strategy.
"Firms such as Vestas, Alstom, Siemens and General Electric have all scrapped plans for new wind turbine factories in Britain, or put them on hold, because of uncertainty about the government's commitment to clean energy," he added.
Maria McCaffrey, chief executive of RenewableUK, the trade association for wind and marine power, added: "This strategy clearly identifies the extraordinary opportunity that offshore wind offers to the UK. But there's still a danger that the industrial opportunity could be wrested from our European competitors if the Government sends mixed messages on its commitment to renewables."
Ms McCaffrey was referring to well documented tensions between the pro-wind Mr Davey and the gas-focussed Chancellor, culminating in his removal of the decarbonisation target from the Energy Bill currently passing through Parliament.
Will Straw, of the Institute for Public Policy Research think tank, said that in order to commit vast amounts of cash to new plants, offshore wind companies needed to be sure there would be a demand for their products and services well beyond 2020.
"These micro announcements are broadly sensible but the government's offshore wind strategy risks failing without a macro statement about the level of ambition beyond 2020. Vince Cable's desire to see 70 per cent of the supply chain coming from Britain looks unrealistic without a clearer long-term signal."
The prospect for offshore wind farm investors was given a boost in June when the government proposed increasing subsidies from their current level of about £130 per megawatt hour to £155 from 2014, falling to £135 in 2018. However, the government said the increase was not enough to be decisive, in the absence of a clear energy policy framework.
UKIP MEP Roger Helmer also criticised the government's announcement, but on different grounds. "Not only is Nick Clegg mad, he is also about 18 months out of date - no one is interested in wind power any more. Pumping more money into it is just madness, they've completely useless."
Join our new commenting forum
Join thought-provoking conversations, follow other Independent readers and see their replies