35,000 walrus gather on north-west Alaska beach 'for a rest'
Pacific walrus are struggling to find sea ice for resting in the Arctic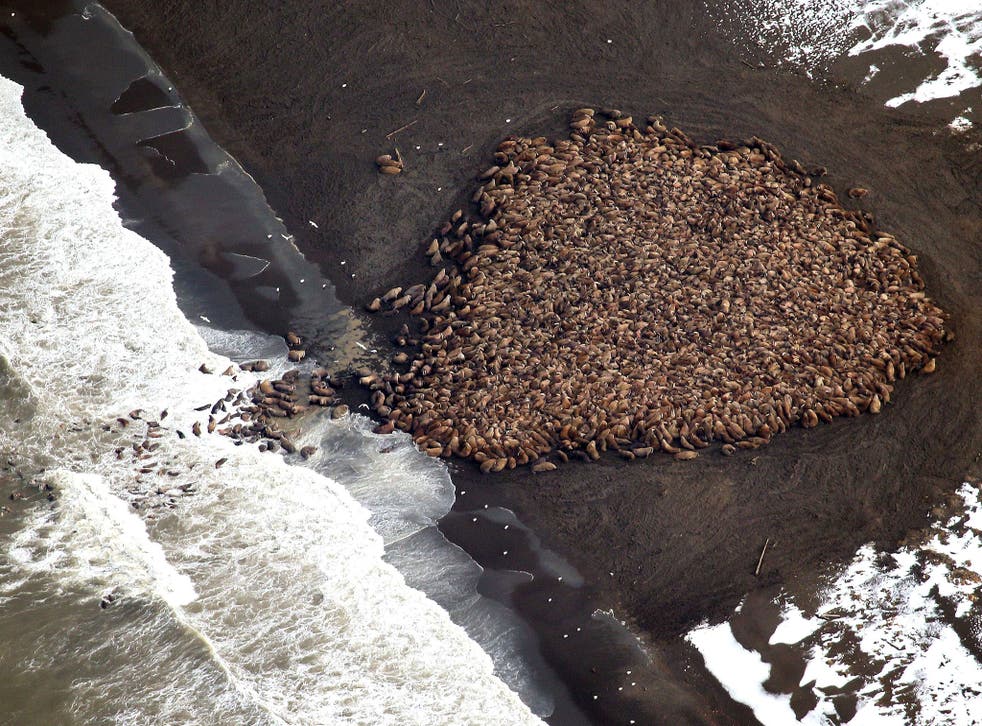 An estimated 35,000 pacific walrus have been spotted ashore on a beach in north-west Alaska.
Unlike seals, the mammals cannot swim indefinitely and are now coming ashore in record numbers as they struggle to find sea ice for resting in the Artic.
They use their tusks to "haul out," or pull themselves onto an ice floe or rocks.
The National Oceanic and Atmospheric Administration (NOAA) photographed the huge gathering about five miles north of Point Lay.
Point Lay is an Inupiat Eskimo village 300 miles southwest of Barrow and 700 miles northwest of Anchorage.
As temperatures warm in summer, the edge of the sea ice recedes north. Females and their young ride the edge of the sea ice into the Chukchi Sea, the body of water north of the Bering Strait.
The World Wildlife Fund said walrus have also been spotted gathering in large groups on the Russian side of the Chukchi Sea.
Margaret Williams, managing director of the group's Arctic program, said the phenomenon is "another remarkable sign of the dramatic environmental conditions changing as the result of sea ice loss".
Where not to visit if you love animals

Show all 9
"The walruses are telling us what the polar bears have told us and what many indigenous people have told us in the high Arctic, and that is that the Arctic environment is changing extremely rapidly and it is time for the rest of the world to take notice and also to take action to address the root causes of climate change."
Additional reporting by The Associated Press
Join our new commenting forum
Join thought-provoking conversations, follow other Independent readers and see their replies