Government to make 40 per cent of Britain available for fracking
Coalition forges ahead with licences
Tom Bawden
Tuesday 17 December 2013 22:16 Comments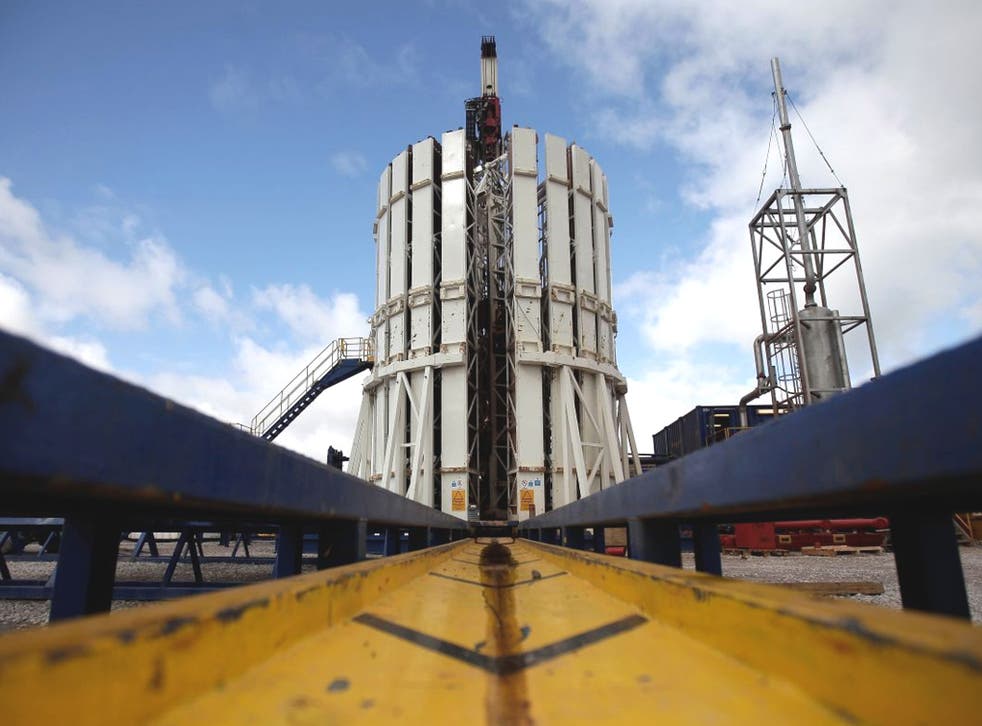 The vast disruption that could be caused across the country by fracking has been laid bare, with the Government announcing it would make 40 per cent of Britain available to companies to explore for oil and gas next year.
Local communities could be subjected to thousands of wells being dug every year in the search for fossil fuels – requiring billions of litres of water, with dozens of lorries passing by every day – after the Coalition said it would put oil and gas licences covering 100,000 square kilometres up for auction next summer.
The auction, which would give the licence-winners exclusive rights to explore an area for oil and gas, but would require additional permits for fracking, would add to the 19,000 square kilometres of licences that have already been sold to hydrocarbon producers.
Opponents of the drilling technique were quick to criticise the plans. Friends of the Earth energy campaigner Tony Bosworth said: " These plans cast a dark shadow over many communities across Britain who could now face the threat of fracking in their backyard."
Harry Huyton, head of energy and climate policy at the RSPB, added: "We asked that the most ecologically sensitive parts of the country, such as protected areas, be excluded from licensing. Sadly, this scenario is not even considered in the documents released by the Government because it might have the 'unintended consequence' of restricting fracking activity."
The sites include the Liverpool Bay, the Thames Estuary and The Wash – the "bite" out of the west coast between Lincolnshire and Norfolk that is very important for wading birds and other wildlife, Mr Huyton said. Fracking has been linked with water pollution in the US, while Britain's first fracking site, near Blackpool, was forced to suspend operations in 2011 after being found to have caused two earth tremors.
But the Government sought to boost its chances of widespread fracking by saying that next year's licences, together with those already awarded, could generate almost £1bn for local communities, according to a new environmental assessment of fracking by the engineering firm AMEC.
The money would come from a £100,000-per-well payment, irrespective of whether it contains gas or oil, and 1 per cent of any revenue generated – which could be between £2.4m to £4.8m a site.
But the Government also revealed that HGV trucks could pass near homes as many as 51 times a day as they travelled to and from the wells.
The ferrying of people and materials could continue for up to 145 weeks, or nearly three years, during which time trucks could pass by a given property more than 50,000 times.
The trucks would mainly be carrying water to the site to be used in the fracking process, which involves blasting a mixture of sand and chemicals into the rock at high pressure to release shale gas. Trucks leaving the site would mostly contain waste water, the report said.
Launching an environment assessment of the forthcoming licensing round, Energy Minister Michael Fallon said he was "stepping up the search for shale gas" – although he declined to say whether he would allow fracking under his own house. "There could be large amounts of shale gas available in the UK, but we won't know for sure the scale of this prize until further exploration takes place. It is an exciting prospect, which could bring growth, jobs and energy security," he said.
The Government talked up the economic potential of next year's licensing round, predicting 150 new licences would create between 16,000 and 32,000 jobs, and produce as much as 8.64 trillion cubic feet of gas during the 2020s.
---
Video: fracking in the UK
Register for free to continue reading
Registration is a free and easy way to support our truly independent journalism
By registering, you will also enjoy limited access to Premium articles, exclusive newsletters, commenting, and virtual events with our leading journalists
Already have an account? sign in
Join our new commenting forum
Join thought-provoking conversations, follow other Independent readers and see their replies